This eggplant pickle recipe can revamp a simple or boring meal into something much more exciting.
By Nik Sharma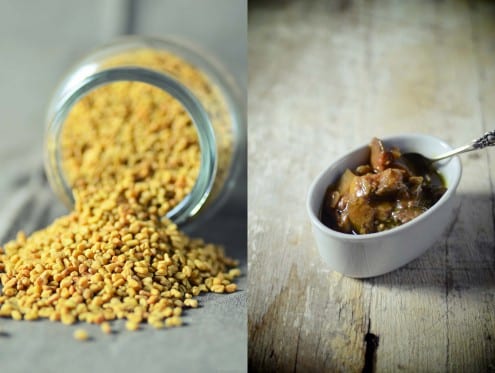 Breathing in the delicious aromas from the cumin, fenugreek, and fennel seeds while they sputtered in the hot oils, was heavenly. The flavors get even more bolder once the vinegar and jaggery cook with the eggplant cubes over the stove. Jaggery is a type of raw sugar that can be found at most Indian grocery stores but a lighter variety of brown sugar would do equally well in this pickle. For this particular recipe use fresh eggplants that are not bitter such as the Thai varieties to get a great tasting pickle. I prefer to buy my eggplants on the day I plan to cook them otherwise they get brown and bruised (They ripen very fast once plucked from the plant and will brown even in the refrigerator). Since I made a batch of this pickle, we have eaten it daily with almost every meal possible which makes me worry that maybe I should have made a larger batch!
This eggplant pickle recipe can revamp a simple or boring meal into something much more exciting.
Ingredients
2 cups vegetable oil like peanut or mustard (I used peanut oil)
2 teaspoons fenugreek seeds
2 teaspoons cumin seeds
2 teaspoons fennel seeds
¾ cup garlic, thinly sliced
¾ cup fresh ginger root, finely julienned and peeled
2 tablespoons Kashmiri chili powder or any other hot dried red chili powder (cayenne)
2 teaspoons turmeric powder
5 pounds eggplant, cut into 1 inch cubes (do not peel)
1 cup fresh green/red thai chili peppers, halved
2½ cups apple cider vinegar
¾ cup jaggery or light brown sugar
2 tablespoons salt
Instructions
Heat the oil in a large non-reactive pan or deep pot on a medium-high flame. When the oil is hot add the fenugreek, cumin, and fennel seeds. The seeds will begin to sputter, immediately reduce the heat to a medium-low flame to prevent the seeds from burning.
Immediately add the garlic and ginger to the oil. Stir till they turn golden in the hot oil.
Add the Kashmiri chili and turmeric powders and cook for 15 seconds.
Add the eggplant and halved chili peppers to the hot oil and spices.
Stir in the vinegar and sugar. Stir the contents of the pot carefully, reduce the heat to a simmer and cover the contents with a lid. Cook the pickle for one hour with occasional stirring. If the eggplant begins to stick to the bottom of the pot, then add more vinegar (but never add water).
Season the pickle with the salt and adjust the balance of the sweet and sour by adding more jaggery (sugar) and/or vinegar.
Transfer the cooled pickle into clean and sterile canning jars. Make sure there is a little bit of oil floating on the surface of the pickle in each jar. Seal the jars and process for 20 minutes (canning time can vary depending on your altitude).