This is an unconventionally delicious and healthy approach to traditional potato skins, now served with Quinoa.
By Tania Goulart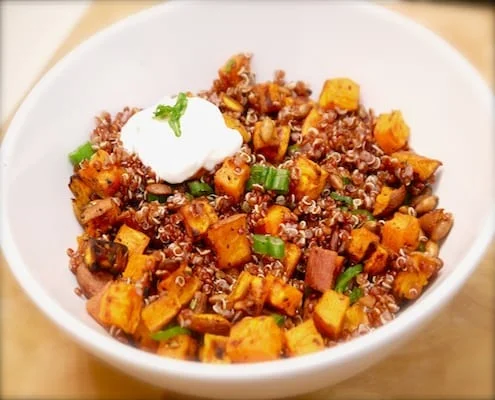 Rosemary, Garlic, and Paprika Roasted Sweet Potatoes with Quinoa, Spicy Pepitas, and Horseradish Yogurt Sauce
This is an unconventionally delicious and healthy approach to traditional potato skins.
Ingredients
Rosemary, Garlic, and Paprika Roasted Sweet Potatoes:
2 large or 3 medium sweet potatoes, cut into ½ inch cubes
2 tblsp extra virgin olive oil
4 cloves of garlic, minced into a paste
3 tblsp fresh rosemary, chopped
2 tsp. smoked sweet paprika
salt/pepper
Cooked Quinoa with Scallions:
Red quinoa 1 cup (will yield about 3 cups cooked)
1 ¾ cup water.
2 tblsp extra virgin olive oil
salt/pepper
4 tblsp scallions, divided (1 tblsp separated for garnish)
Spicy Pepitas:
½ c pepitas (aka raw Pumpkin seeds)
1 tblsp extra virgin olive oil to coat
⅛ tsp Cheyenne pepper (1/4 tsp if you want super spicy pepitas)
salt/pepper
Yogurt Sauce:
⅓ cup 2% greek yogurt (I used Fage)
2 tsp horseradish prepared
½ tblsp fresh lime juice
Instructions
Preheat the oven to 450 degrees. In a bowl toss the cubed sweet potato with the olive oil, garlic, rosemary, smoked sweet paprika, salt and pepper. Place the seasoned cubes onto 2 baking sheets. Make sure there is space between the sweet potatoes or they will steam and not roast. Make sure to toss a few times while they are roasting for even roasting. Remove them after 25 to 30 min once they are slightly browned and crisped on the edges. Set them aside to cool.
While the potatoes are roasting, prepare and cook the quinoa. Rinse the quinoa, swirling it to ensure removal of any dirt or residue outside the grain. Once rinsed, bring the quinoa to a boil in 1 ¾ cup of water with 1 tblsp EVOO, then turn down to a medium simmer and cover for 15-20 min (until the curly tails emerge). Take the cooked quinoa off of the heat and leave the lid on to steam for about 10 minutes. Pour the 1 tblsp EVOO on the cooked and steamed quinoa fold it once or twice to coat with oil and lightly season with salt and pepper. Add 3 tblsp of the scallions into the bowl, toss once again gently, and set aside in a large bowl to let cool.
While the potatoes and quinoa cool make the spicy pepitas (DO NOT skip this part! This is the key to give this dish an unearthly "bacon-y" flavor that will make it all worthwhile.) Preheat the oven to 300 degrees. In a small bowl, toss the pepitas with the olive oil, cheyenne, salt and pepper. Lay the pepitas on a roasting sheet and spread them so they are not crowded upon each other, leaving space between them so they do not steam. Roast for about 10 – 15 min until golden brown, watching carefully as they can easily burn and tossing them every 4-5 minutes.
While all your pepitas are in the oven and the rest of your ingredients are cooling, make the yogurt sauce. In a small glass bowl – whip up the yogurt until it gets slightly fluffy – add the horseradish and lime juice until mixed.
In the large bowl of quinoa, add the roasted sweet potatoes, roasted pumpkin seeds and the scallions and toss lightly until the ingredients are just incorporated. Distribute into 4 or 6 bowls and add a large dollop of the yogurt-horseradish sauce. Garnish with a few scallions if desired.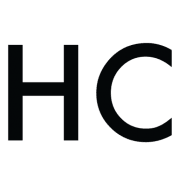 Tania Goulart
Tania Goulart is a lover of all things foodie. Based out of San Francisco, California, she enjoys the good fortunes of her hometown - the thriving local food culture, abundance of culinary resources, and some of the best produce in the world. A self-taught cook and food writer, her passion is natural, whole foods cooking, using only the freshest, local and sustainable ingredients. You can follow her at her blog, The Urban Farmerette (www.theurbanfarmerette.com), where she chronicles her adventures focusing on seasonal ingredients, gluten free, and Portuguese fare.