Dianna Muscari gives us a wonderful jelly donut muffins recipe with a Valentine's Day twist.
By Dianna Muscari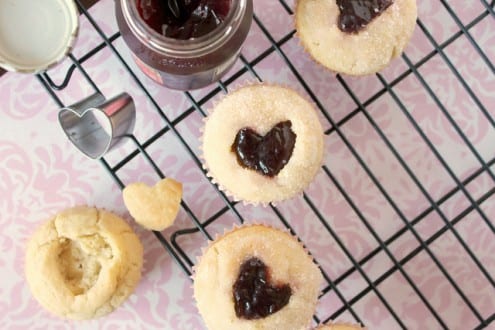 Valentine's Day Jelly Donut Muffins
A wonderful jelly donut muffins recipe for Valentine's.
Ingredients
2 cups all-purpose flour
1 tablespoon baking powder
⅛ teaspoon salt
½ cup sugar
2 eggs
1 cup milk
⅓ cup +1 tablespoon canola oil
1 teaspoon vanilla extract
Approx ⅓ cup jelly (I used raspberry, but you can use your favorite!)
½ cup butter, melted
¾ cup sugar
Instructions
Preheat the oven to 400 degrees. Line a muffin tin with paper liners, set aside.
In large bowl, combine flour, baking powder, salt, and sugar. Combine well.
In a separate bowl, beat eggs, milk, oil, and vanilla extract together until well combined.
Pour wet ingredients into dry ingredients and stir until just combined (don't overdo it, it's ok if there are a few lumps.)
Using an ice cream scoop, portion batter into liners evenly. Bake for 20 minutes or until tops are domed and golden. (Test with a toothpick to make sure centers are done.)
Remove from oven and cool on a cooling rack for 10 minutes, or until cool enough to handle.
Set up dipping station: Melted butter in one small bowl, granulated sugar in the other.
Gently dip the top of each muffin in the melted butter, shaking lightly to remove excess, then press into sugar. Repeat with all muffins. Set on cooling rack.
Gently press a small heart-shaped cookie cutter into the top of each muffin, pushing about half way in. Carefully remove cutter and the heart-shaped section of muffin. (Save for snacking!)
Fill the heart shaped wells to top with jelly.
Enjoy with your sweetheart!
Dianna Muscari
Dianna Muscari blogs about her cooking and antics on The Kitchen Prep. A self-taught cook and baker, Dianna shares with her readers the messes and successes she encounters in the kitchen. Along with her recipes - which range from healthy to hearty to downright decadent - Dianna shares anecdotes about life, marriage, travel, and living in Florida. Her conversational writing style draws you into her kitchen for a meal and a laugh as she navigates through life one recipe at a time.