Dassana Amit with a beautiful and simple recipe for a strawberry almond milkshake.
By Dassana Amit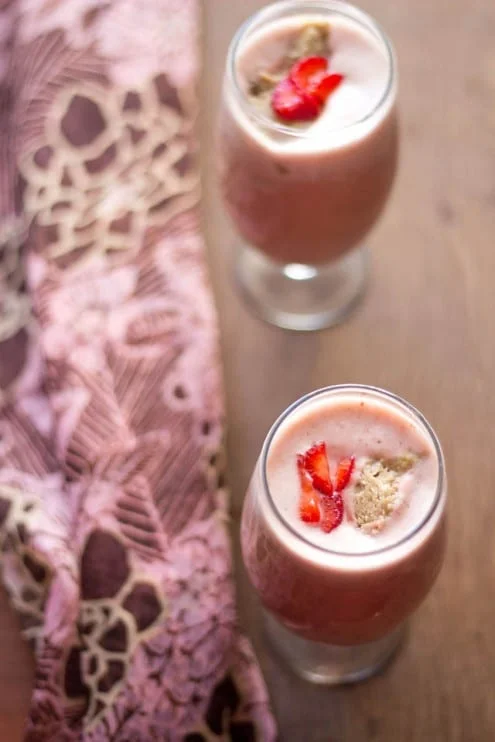 Strawberry and Almond Milkshake
A beautiful and simple recipe for a strawberry almond milkshake.
Ingredients
200-250 gms strawberry, hulled and chopped
2 and ½ cups almond milk or regular milk
½ tsp vanilla powder or vanilla extract or half of a vanilla bean scraped(optional)
powdered jaggery or organic cane sugar as required
2 scoops vanilla or any ice cream
ice cubes (optional)
Instructions
except for the ice cream, pour all the ingredients in a blender.
blend till smooth.
pour in tall glasses.
gently place a scoop of the ice cream in the milkshake.
garnish with some chopped strawberries or dry fruits.
serve immediately.
Notes
the strawberry milkshake can also be served without ice cream. for the almond milk, blend 1 cup of blanched & peeled almonds with 3 cups water. strain through a fine sieve or muslin. keep the milk in a jar or bottle covered in the refrigerator for 3 days. the remaining almond meal can be added to breads, cakes, muffins, cookies.
Dassana Amit
Dassana never intended to start a food blog. She never ever thought about blogging in her wildest of dreams. Her only passion in her life was meditation. As she went deeper in meditation, she realized that her inborn gift of cooking delicious & healthy food needs some creative expression. So she started her blog " Veg Recipes of India " as an outcome of creative flowing energy. Now she has also combined her another gift i.e photography with cooking. When not blogging & food photographing - she works as a web developer and seo expert.