PARTNER POST — The holiday season is here and it is time to add some Italian flair to your menu with authentic ingredients from Colavita and Perugina's rich Italian chocolate.
Bring everyone together around the table this holiday season with an easy, hearty pancetta and shrimp pasta. Finish off the Italian-style meal with a soft orange and chocolate semolina cake.
By Amanda Powell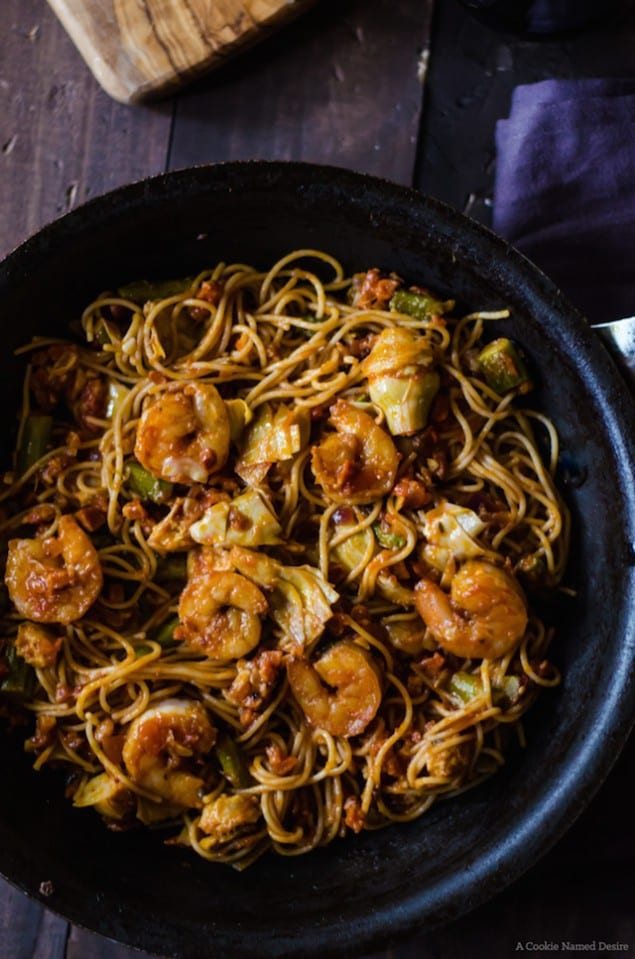 My family is fairly busy and doesn't get to spend much time with one another. We all unconsciously tend to make more of an effort to make sure we have our family dinners together around the holidays. When we are together, I try and make something delicious, hearty and that will have everyone smiling as we eat together around the table.
My family especially loves this shrimp and pancetta pasta. It is probably our favorite way to eat pasta. I usually add a few vegetables to the mix and really fell in love with the way chopped asparagus and Colavita artichokes went with everything. The best part about this pasta dish is that is comes together fairly quickly!
Ever since making my lemon and lavender semolina cake this summer, I've been dreaming about making a similar cake for the colder months. This chocolate orange polenta cake is that cake. It has my favorite chocolate and orange flavor combination with a hint of warming cloves and chopped Perugina chocolate hazelnut truffles spread throughout. What I love about the chocolate truffes (which are by Perugina and are called Baci which means kisses in Italian) is that they have the most amazing chocolate hazelnut cream on the inside with bits of hazelnut and a whole hazelnut nestled inside. It's the perfect treat for a chocolate hazelnut lover and works incredibly well in this cake.
The orange polenta cake is unbelievably moist with a wonderfully hearty crumb from the polenta and the flavor is made more complex with the addition of Colavita extra virgin olive oil. All in all, it's the perfect winter cake.
Together, the shrimp and pancetta pasta and orange polenta cake make a delicious and flavorful dinner that everyone makes sure they are home for.
See Also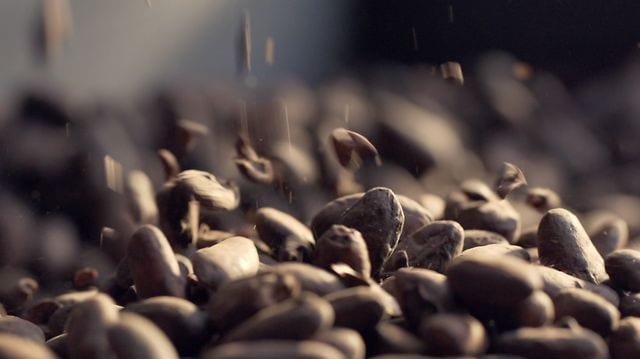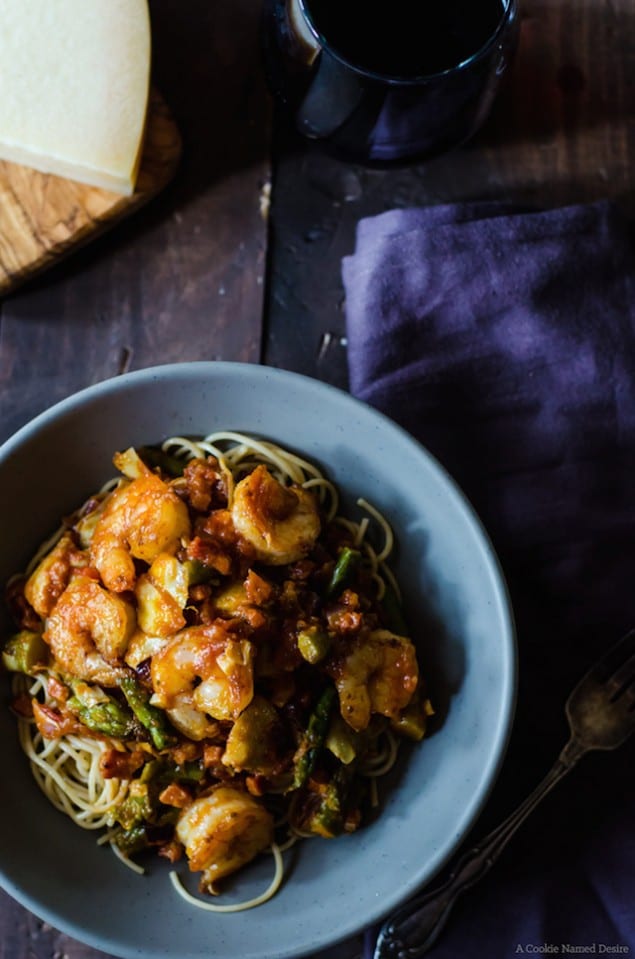 Shrimp and Pancetta Pasta
Bring everyone together this holiday season with a hearty pancetta and shrimp pasta. Finish the Italian meal with a soft orange and chocolate olive oil cake.
Ingredients
1lbs Colavita spaghetti
4 oz pancetta, cut in small cubes
1 lbs shrimp, peeled and deveined
½ medium red onion, diced
2 cloves garlic, finely diced
1 cup chopped asparagus (may substitute with sweet peas)
⅓ cup chopped Colavita artichoke hearts
1 26oz jar Colavita tomato basil sauce
Instructions
Bring a large pot of water to a boil and add salt. Add the spaghetti and cook for about 8 - 10 minutes, or until cooked. Drain and rinse. Lightly coat the spaghetti with about 2 tablespoons of extra virgin olive oil.
In a large skillet, cook the pancetta over medium high heat until the fat is rendered and the pancetta is crispy. Remove and set aside. Leave the fat in the skillet.
Cook the shrimp in the skillet with the pancetta fat. Cook for about 2 minutes on each side. Take out and set aside with the pancetta.
Add a tablespoon of extra virgin olive oil to the skillet and cook the onion and garlic until the onion is translucent. Add the asparagus and artichoke hearts and cook for about 4 - 5 minutes. Add the pancetta and shrimp back to the skillet and cook until heated through.
In a large pot (I used the one I cooked the spaghetti in), add the tomato basil sauce and cook until it is heated through. Add in the shrimp mixture into the pasta sauce. Serve with the spaghetti.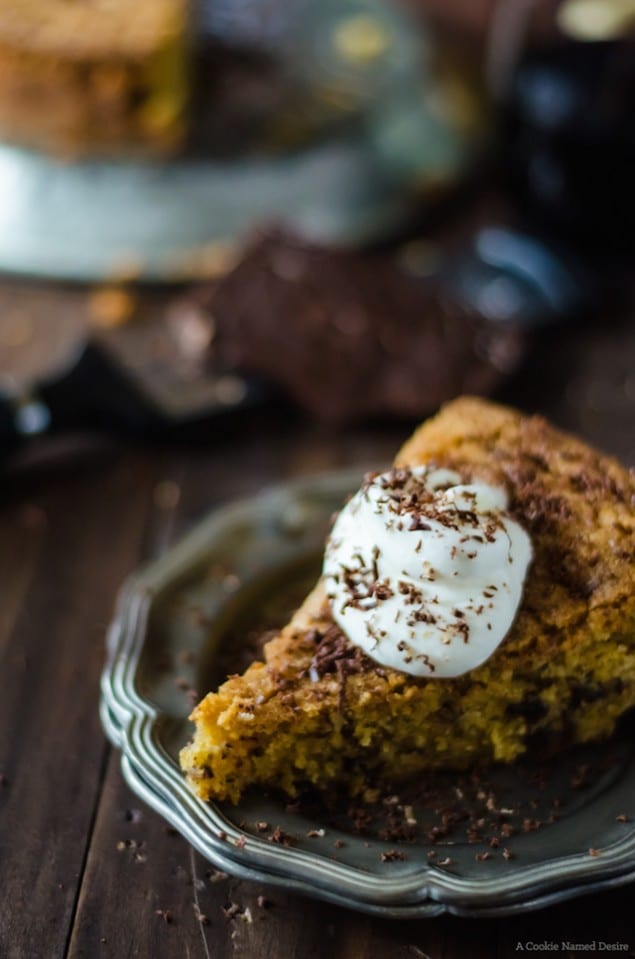 Chocolate and Orange Polenta Cake
Recipe Type:
Cake, Dessert
Ingredients
1 cup polenta
1¾ cups almond flour
2 teaspoons baking powder
½ teaspoon salt
½ teaspoon ground cloves
½ cup (1 stick) unsalted butter, room temperature
⅓ cup extra virgin olive oil
¾ cups sugar
3 large eggs, room temperature
zest of t=2 oranges
1 teaspoon vanilla extract
8 Perugina dark chocolate hazelnut truffles
1.25 oz Perugina orange chocolate bar, plus more for sprinkling
Instructions
Lightly grease a 9-inch round cake pan. Preheat the oven to 350 degrees F.
In a small bowl. mix together the polenta, almond flour, baking powder, salt, and clvoes. Set aside.
In a mixer, beat the butter until smooth. Add the oil and sugar and beat until light. Beat in each egg, one at a time, mixing well between each egg. Mix in the zest and extract.
Pour the dry ingredients into the wet and mix until combined. Chop the truffles and the chocolate bar. Fold into the batter. Pour the batter into the pan and bake for 35 - 40 minutes. Allow to cool in the pan for about 20 minutes, then transfer to a wire rack to continue cooling. Top with fresh whipped cream and more chocolate orange shavings
Amanda Powell
Amanda is a self-taught baker and photographer. Her passion for food began when she started college in London and was able to experience authentic food from across Europe. She loves being in the kitchen with her daughter and developing her skills in the kitchen.