A hearty Portuguese soup is packed with beans, linguica, and vegetables for a hearty one pot meal.
By Phoebe Lapine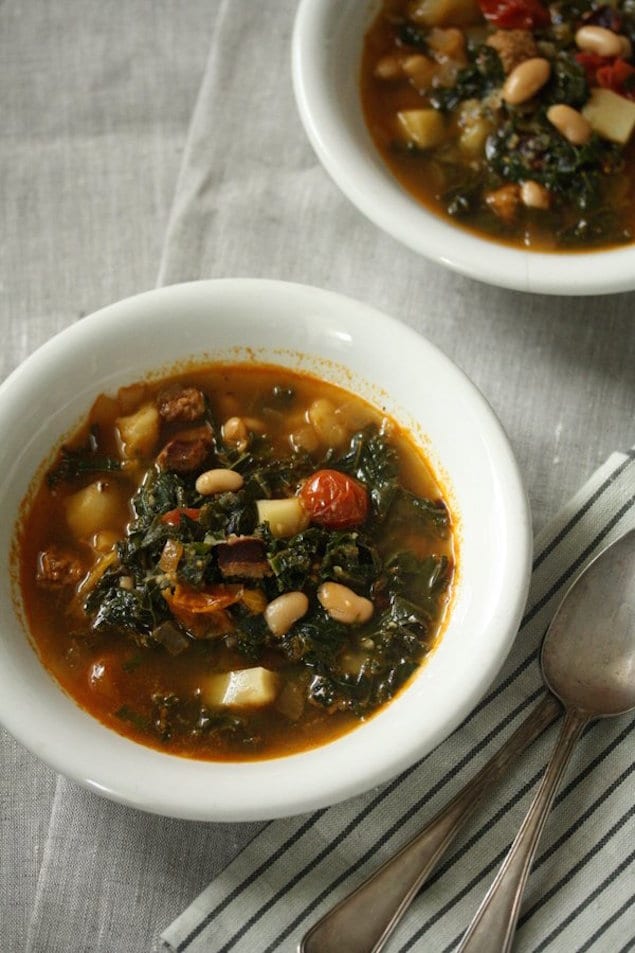 One of the interesting quirks of The Cape is that there's a fairly robust Portuguese population. This was true of Providence as well, where I went to college. So I should have some idea by now of why that is, but during my four years there, I just ate my hangover Portuguese muffins in ignorance.
On Martha's Vineyard, if you're a tourist, you can easily miss the subtle influence. Once you start paying attention though, you'll notice that the butcher, the seafood shop, and the gourmet markets all sell their own versions of Portuguese kale soup. And once you've tasted any of these versions, you'll become hooked on this hardy, warming one pot meal.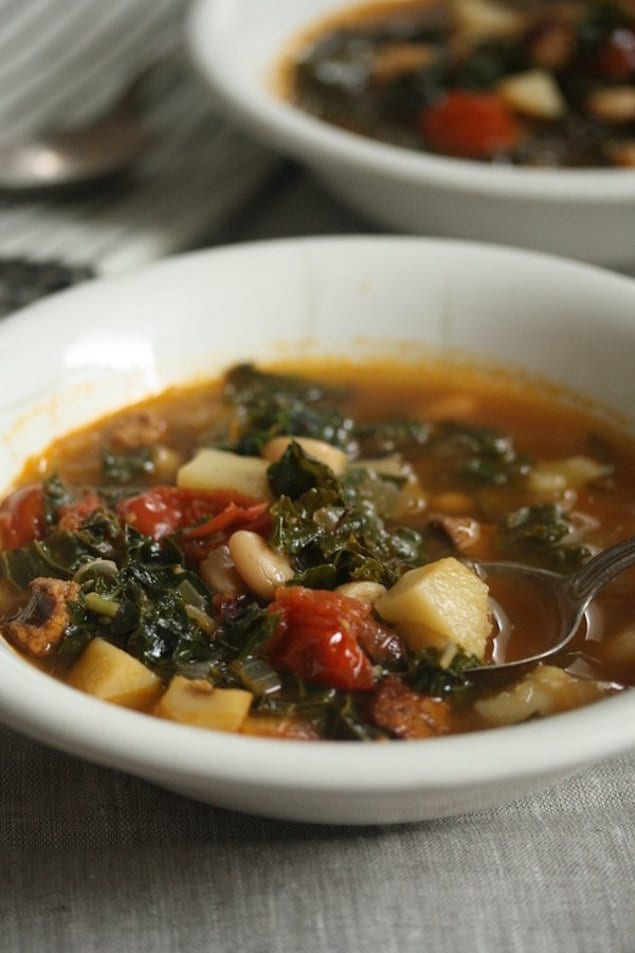 I decided to make my own version of Portuguese Kale Soup. Without knowing exactly what varieties of mystery meat the restaurants of the Cape put in their soup (I think some of those boiled hot dogs make an appearance?), I went with just the classic smoked linguica. Instead of adding diced tomatoes or the paste, I decided to use some of the lingering Farmer's Market cherry tomatoes to add a bit of brightness alongside the wilted kale. And because I think kidney beans are the devil's legume, I went with some white beans instead.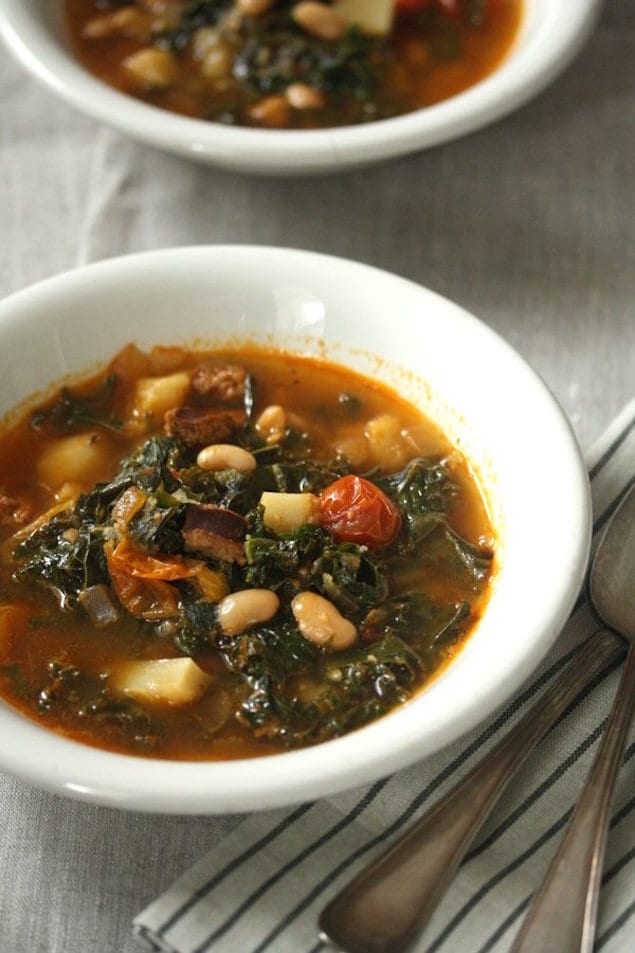 Between the sausage, potatoes, beans and kale, this soup covers all the food groups and is hearty enough to constitute a meal all on its own.
So as the nights get a little cooler, and you need an easy one pot meal to carry you through, I hope you'll turn to this Portuguese kale soup recipe.

Caldo Verde: Portuguese Kale Soup
A hearty Portuguese soup is packed with beans, linguica, and vegetables for a hearty one pot meal.
Ingredients
2 tablespoons olive oil, divided
½ pound smoked chourico, linguica, or kielbasa sausage, diced
1 medium sweet onion, diced
2 garlic cloves, minced
½ teaspoon paprika
1 teaspoon sea salt
¼ teaspoon red chili flakes
1 pint mixed cherry tomatoes, halved
1 small russet potato, peeled and diced
8 cups water, chicken or beef stock
1 bay leaf
1 bunch kale, stems removed, and thinly sliced
One 15-ounce can white or kidney beans, rinsed and drained
Instructions
In a large stockpot or Dutch oven, heat 1 tablespoon of the oil. Brown the sausage over high heat until charred on all sides, about 4 minutes. Remove to a bowl.
Add the remaining oil and sauté the onion until translucent, 5 minutes. Stir in the garlic, paprika, chili flakes and salt; cook one minute more. Add the cherry tomatoes and cook until they've begun to blister, soften, and release their juices, about 5 minutes.
Return the sausage to the pot, along with the potato, stock or water, and bay leaf. Bring to a boil over high heat, then reduce to medium-low. Simmer the soup until the potatoes are tender, about 15 minutes.
Fold in the kale and beans and continue to simmer until soft, another 10 minutes. Taste for seasoning and add more salt as necessary.
Ladle the Portuguese kale soup into bowls and enjoy alongside crusty bread.
Notes
You can mash a few of the potatoes or beans to create a thicker broth.