This recipe is one of those hassle free, little clean up meals that anyone can cook.
By Nancy Lopez-McHugh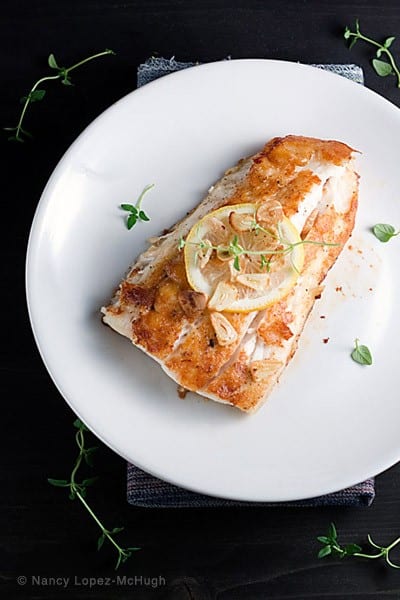 Fish is a great food to maintain a healthy waistline. It is also a light meal perfect for the summer heat. Being overstuffed on a hot summer day is not the best feeling and fish will not leave you feeling so. Another reason why fish makes good hot weather food is because it is so easy and fast to cook. Fish is a pretty hard thing to mess up so even the novice cook can whip up a great fish dinner in no time. This recipe is one of those hassle free, little clean up meals that anyone can cook.
Healthy Pan Fried Nile Perch Fillets:
Serves 2
2 Nile Perch Fillets
1.5 tbsp olive oil
5 garlic, thinly sliced
salt, to taste
ground black pepper, to taste
1 lemon, juiced
frying pan or grill pan
1. Heat the frying/grill pan over medium high heat. Add enough olive oil to coat the pan. Pat dry the Nile Perch fillets with a paper towel. Season with salt and pepper on both sides, set aside. Fry the garlic slices until just golden and crispy, be careful not to burn as they will taste bitter. Spoon out the garlic and set aside, leaving the oil. Squeeze half the lemon into the frying/grill pan and mix with the oil. Then place the fillets in the pan and grill on one side for 8 minutes. Flip and cook another 6 minutes or until the fish is firm and cooked through. Squeeze the remaining lemon juice into the grill pan and over the fillets.
Garnish with the fried garlic slices and a slice of lemon and leftover olive oil from the pan, if desired. Serve with a light salad, grilled seasonal vegetables, and or steamed rice.
Nancy Lopez-McHugh
Nancy Lopez-McHugh is a food blogger, photographer and published author. Most recently she has published "Yummy Pics: A Food Blogger's Guide To Better Photos".