Pan Fried Lemon-Parmesan Crusted Chicken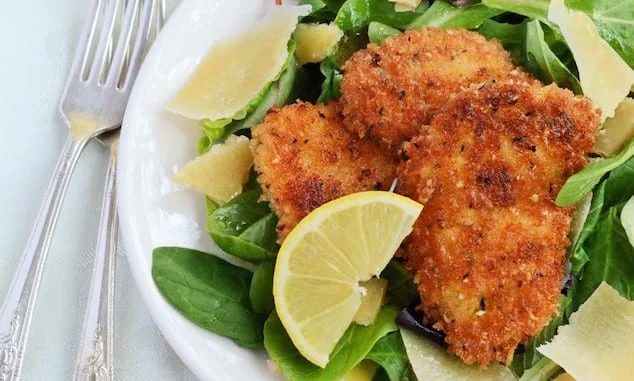 A crust of panko and parmesan coats the chicken that is served over greens with a simple lemon dressing. Almost a complete meal in one recipe.
By Angela Baylis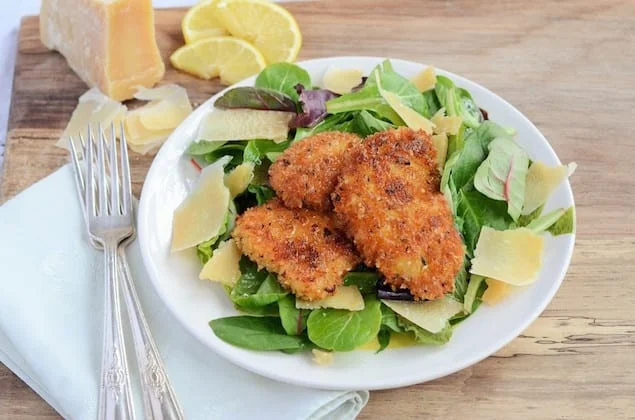 This parmesan-lemon crusted chicken is one of my favorite meals. A simple lemon vinaigrette, salad greens, and some chicken: dinner is served.
My mom originally got her recipe for lemon and parmesan chicken recipe from Ina Garten's cookbook, but it's been through many iterations over the years.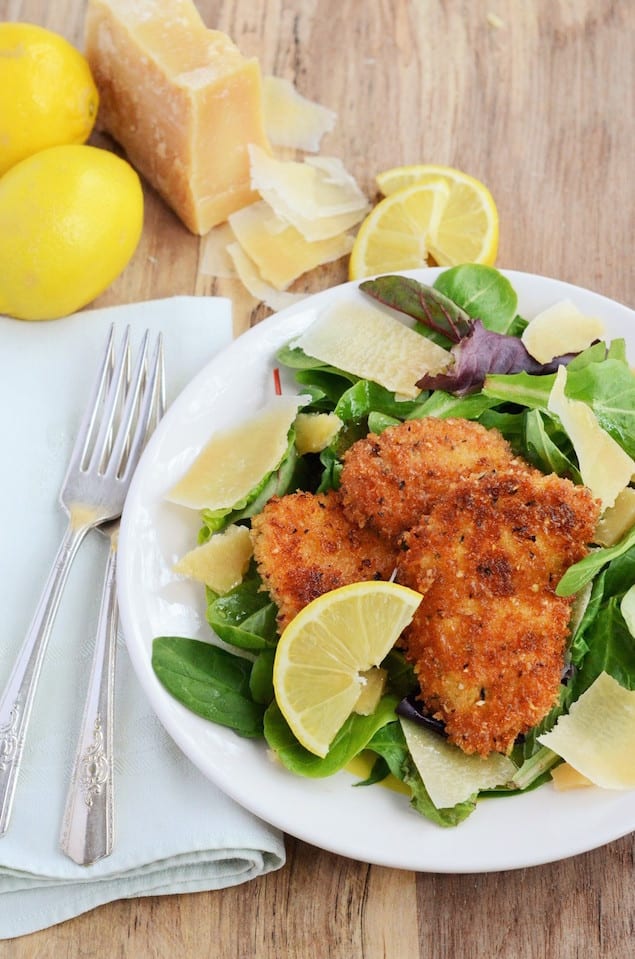 The chicken is pan fried with a crust of panko bread crumbs and parmesan, then served over greens with a really simple lemon dressing and more shaved parm on top. It takes some effort- I won't lie to you- but I promise, this is an incredible meal that you and your family will love. Plus, it's a solid enough dinner that you don't really need to serve anything else, except maybe another vegetable on the side.

Pan Fried Lemon-Parmesan Crusted Chicken
A crust of panko and parmesan coats the chicken that is served over greens with a simple lemon dressing. Almost a complete meal in one recipe. Inspired by Ina Garten's recipe.
Ingredients
4 boneless, skinless chicken breasts
¾ cup lemon juice
¾ cup olive oil
½ teaspoon kosher salt
½ teaspoon black pepper
1½ cups finely grated parmesan
1½ cups panko bread crumbs
1 Tablespoon each of dried basil, dried oregano, and paprika
3 eggs + ¼ cup water
1 cup flour
1 Tablespoon each of kosher salt, paprika, onion powder, dried basil, dried oregano, and black pepper
2 Tablespoons garlic powder
1 teaspoon each of white pepper, dried thyme, and cayenne pepper
½ cup of olive oil for cooking, about
½ cup shaved parmesan
Fresh mix of salad greens
Instructions
Combine the lemon juice, ¾ cup olive oil, and ½ teaspoon each of salt and black pepper. Set aside.
Slice the chicken breast against the grain, into 1" thick slices, then pound each peice thin under plastic wrap. Cover and set in fridge.
Combine grated parmesan, panko, and 1 tablespoon each of dried basil, dried oregano, and paprika on a large plate.
Combine the eggs and water on another large plate until very smooth.
Combine the flour and remaining spices on another plate.
Heat up 2 T olive oil in a large skillet over medium heat.
Dredge the chicken in flour, then egg mix, then the breadcrumb mix. Cook for about 2 minutes per side or until golden and cooked through. Add new oil to the pan as needed.
Serve the chicken on a bed of greens with shaved parmesan and lemon dressing.
Angela Baylis
I'm Angela. I have been teaching cooking classes and equestrian skills professionally for years, as well as opening and selling a successful restaurant. I am an avid cook, animal lover, and instructor. It has been my great blessing to learn from many great teachers over the years. In my experience, cooking and baking is best learned from someone who already knows how to do it, who can show you the ins and the outs without making it overwhelming. Take my hand. We can do it together.