Oven Roasted Bacalhau with Lemon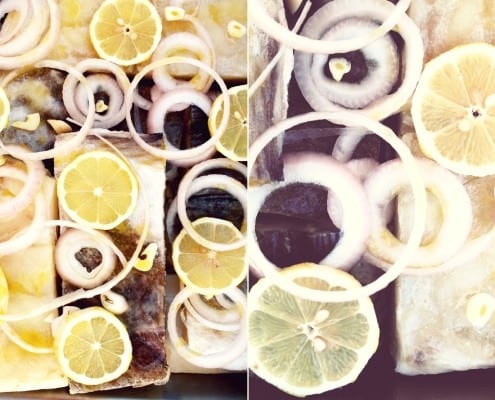 An easy and healthy roasted Portuguese salted cod with a clean lemony flavor.
By Rochelle Ramos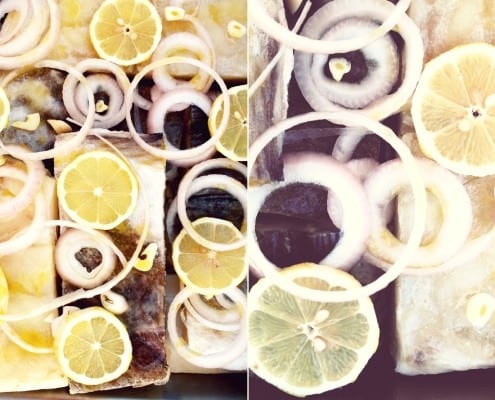 This oven roasted bacalhau (salted cod fish) is a fairly usual occurrence here in Portugal. Bacalhau is one of the most common foods you'll find, but that doesn't mean it's always the same dish over and over. This one in particular is simple and so easy. It also only requires you to have 5 ingredients. You can always add more or take out a couple too. Oh and did I mention it's healthy? That is of course after you've soaked the salted cod for 24-48 hours to remove the excess salt.
Oven Roasted Bacalhau with Lemon
Easy and healthy roasted Portuguese salted cod with a clean lemony flavor.
Ingredients
6 bacalhau filets, presoaked
2 medium onions, sliced
3 cloves garlic, sliced
1 lemon, sliced
olive oil to drizzle
Instructions
Preheat the oven  to 350F (180C).
Lay out a thin layer of onions in a large baking dish and drizzle with just a little olive oil. Place the bacalhau filets on top of the onions, alternating between skin side up and skin side down. Put another layer of onions on top of the fish along with the sliced garlic and lemon. Drizzle a bit more olive oil on top.
Cook in the oven, uncovered, for 30 minutes. If it's frozen, tack on another 15 minutes or so.
Remove from the oven and serve with roasted potatoes.
Notes
If you have salted cod that needs to be soaked, place it in a large bowl and top with water. Change the water every 4-6 hours for at least 24 hours. If you aren't using the fish right away, you can freeze it for later use. Notice the recipe doesn't ask for salt, there will be enough to flavor the dish still left in the fish after soaking but it's not overwhelming unless you don't do this VERY necessary step.
Rochelle Ramos
Rochelle is an Americana cooking, eating, photographing and writing in Portugal. She has a love for real food and learning to make it from scratch. As a new expat, she is slowly learning to speak the language and will soon be able to order more than just a café and pastel de nata from the local pastelaria.