Eric Sohl finds a South African chocolate brand with a name that immediately made it our favorite.
By Eric Sohl
During a recent trip to Cape Town, we found this superb brand of chocolate: Honest. No wonder we love it at Honest Cooking. Of course living in Brussels, I'm more than happy with what we have here at home, but the packaging and the philosophy of Anthony and Michael is inspiring.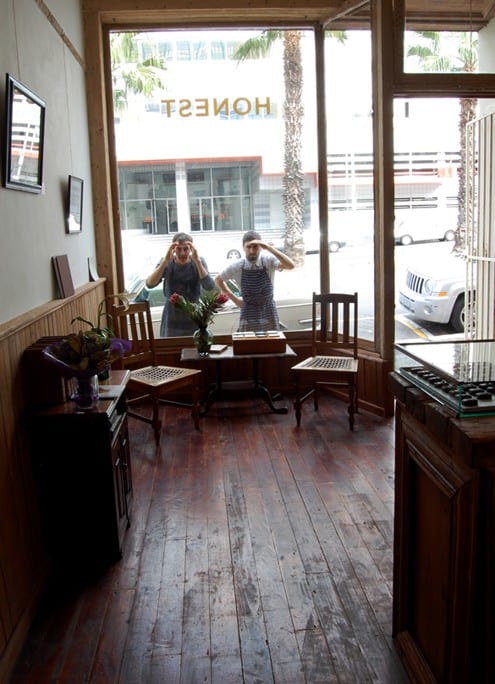 HOW IT STARTED
Honest Chocolate all started from a bit of experimentation with raw cacao. Anthony made a few simple chocolates from raw cacao powder as a healthy treat for himself and friends and when they were polished off in seconds, with demands for more, he knew he was onto something. Over the next few months he taught himself more about the art and science of chocolate making, an endeavour that eventually developed into Honest Chocolate.
Meanwhile Michael was also experimenting with raw chocolate in London, with similar results, and so on his return to Cape Town, when the opportunity came to join Anthony on his chocolate adventure, the decision wasn't all that difficult. The attraction was the diversity of making chocolate and being involved in something that continually changes, something both fun and rewarding.
HOW THEY WORK
Honest Chocolate is a small (just two chocolate-makers) artisanal chocolate company based in Cape Town, South Africa. All their chocolate is hand crafted in small batches using traditional, old school chocolate making methods, including hand tempering the chocolate on a granite slab tabletop and hand dipping each chocolate bonbon. The bonbons are then boxed up and the slabs individually wrapped using eco friendly paper.
Most chocolate is made from roasted cacao, however they use organic, raw cacao, which is higher in antioxidants and therefore even better for you than regular dark chocolate. The cacao is ethically sourced from Ecuador. There are also no preservatives, additives or emulsifiers in our chocolate and it is free of dairy and processed sugar (instead of sugar we use Agave Nectar which has a very low GI).
They believe in keeping things hand-crafted, using quality organically produced ingredients and making a pure chocolate that has a deliciously distinct feel and taste.
Visit them and have an Honest chocolate chat.
Honest Chocolate
Wale street 66, Cape Town
South Africa
Eric Sohl
Eric Sohl is Editor in Chief of Tasting and Living.com He has a strong appetite for international food and travel. Together with a team of bloggers based in Brussels, Belgium, he scouts the world to report back on all things foodie.