An easily prepared fish dish that is both healthy and delicious.
By Jill Mant
Tis the season for loosing any excess weight picked up over the feeding (read: Holiday) season. That shouldn't mean that you can't have your cake and eat it too: you can easily prepare this meal which is both healthy and delicious.
The Brit and I ate and drank our way through England and Wales over the holiday and I am bound and determined to get back into my clothes that currently will not come close to doing up. As delicious as the fish and chips were over the pond, they contained little nutritional value and many of our so called meals were severely lacking in vegetation. I was craving leafy greens and wanted to avoid caloric and fat laden sauces. This was what I came up with. If you are not suffering from the expanded midriffs that we are a rice pilaf or even a simple baked potato would make a lovely accompaniment to the soft flaky fish and the hearty, lemony greens.
Serves 4
Ingredients: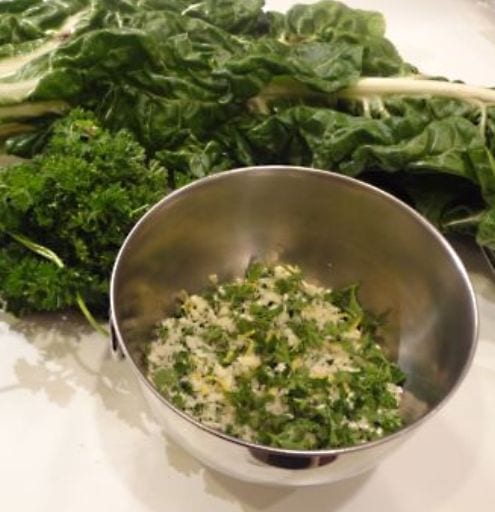 4 Hake Fillets
9 cloves Garlic, chopped and divided
2 Tbsp (29.57 ml)  fresh, chopped Italian Parsley
Zest of 1/2 Lemon
1/4 cup (60 ml) Panko
2 bunches Swiss Chard, stems removed, leaves torn into pieces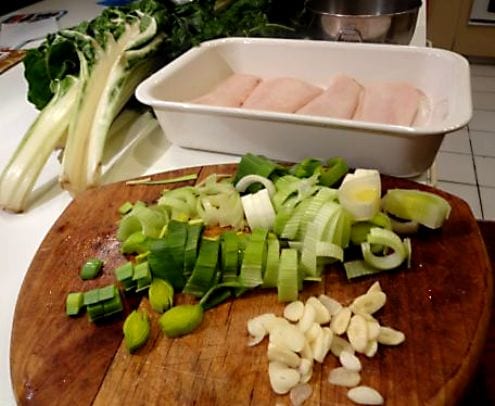 2 Leeks, white part only, cut in half vertically and then sliced horizontally
1/2 cup (120 ml) shredded Parmesan
8 Mushrooms, sliced
Juice of 1/2 Lemon
EVO spray plus 1 Tbsp (15 ml) Evo
About 2 Tbsp (30 ml) Black Truffle Oil for drizzle
Preparation:
Preheat oven to 375 f (190 c).
Make a Gremolata for the fish by combining half of the chopped Garlic, the chopped Parsley, Panko and Lemon Zest.
Place the Hake Fillets in a nonstick ceramic baking dish. Spray them lightly with EVO and then sprinkle the Gremolata over the fish, pressing lightly to cause it to adhere. Turn the fillets over and do the same on the other side. Place them in the oven. Bake for 15 minutes.
Heat a large heavy skillet over medium high heat. Add 1 Tbsp (15 ml) EVO and when it is hot add garlic and leeks. Cook for 3 minutes stirring often to ensure that the garlic does not burn. Add sliced mushrooms and cook an additional 2 minutes, stirring frequently.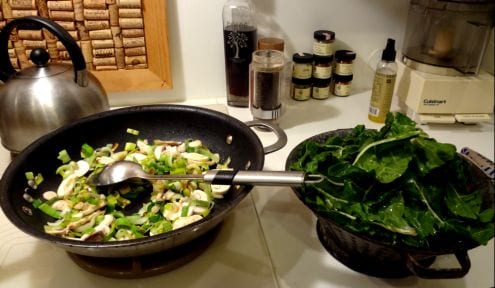 Add the chard to the skillet, season with Salt and Pepper and stir to mix with the other vegetables. After a minute or two squeeze with the Lemon Juice and continue to cook, stirring often, until the Chard is wilted.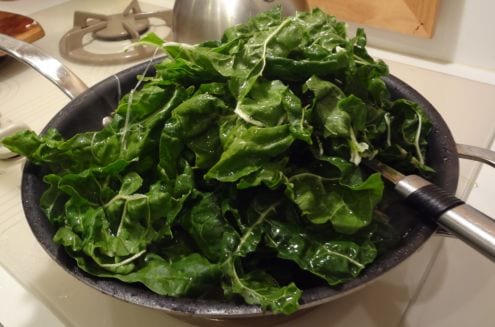 Remove any excess liquid with your cooking spoon and then stir the Parmesan into the Chard mixture.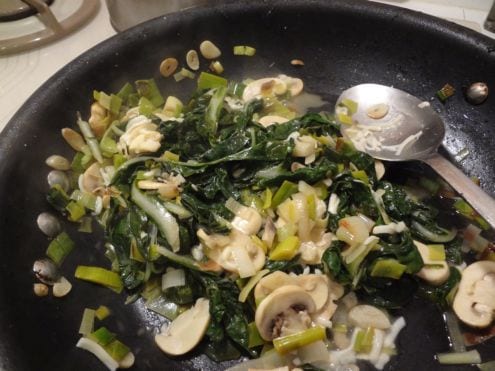 Place mounds of the Chard mixture on each plate and top with the baked Hake Fillet. Drizzle the fish with the Truffle Oil and eat up!
Jill Mant
To Jill Mant, cooking is a meditative experience, an incantation, a love song to those she is cooking for and an expression of her creativity. She is one of the two cooks behind the blog SaucyCooks, where they discover cooking as multi-sensory experience. Jill loves the aroma that emanates from stove and oven, the sounds of food sizzling in pans and the soft, melodic drum of a knife or mallet hitting the cutting board.