Orzo Salad with Greek Vinaigrette and Feta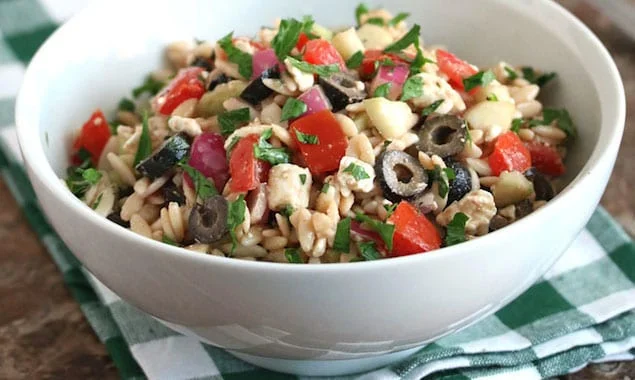 You can never have too many great pasta salad recipes. This version comes with plenty of fresh vegetables and delicious Mediterranean flavors.
By Kimberly Killebrew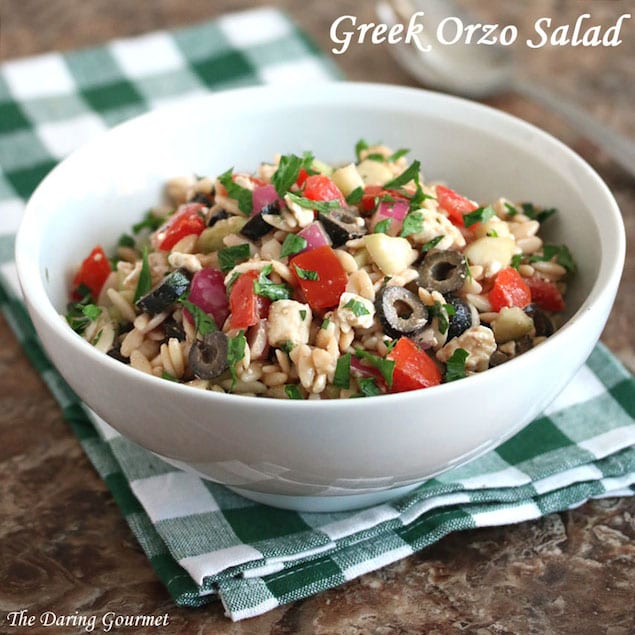 You can never have too many good pasta salad recipes and this one is goooood. Quick and easy to make, packed full of wholesome ingredients, and bursting with flavor!
If you haven't had orzo before, it's time to try it. Orzo is the Italian word for barley and is called such because it's pasta that's shaped like a large grain kernel. It's very versatile and is commonly used in soups, pilafs, casseroles and, like in this recipe, salads. It's a fun pasta to work with and you can find it in virtually every grocery store. Look towards the top shelf, it usually comes in boxes.

Orzo Salad with Greek Vinaigrette and Feta
You can never have too many great pasta salad recipes. This version comes with plenty of fresh vegetables and delicious Mediterranean flavors.
Author:
Kimberly Killebrew
Ingredients
1½ cups uncooked orzo
2 Roma tomatoes, seeded and diced
1 cucumber, seeded and chopped
1 small red onion, chopped
½ cup sliced black olives (drained and thoroughly rinsed to prevent discoloration)
¾ cup diced feta cheese
For the Vinaigrette:
3 tablespoons extra virgin olive oil
2 tablespoons red wine vinegar
1 tablespoon balsamic vinegar
1 teaspoon Dijon mustard
3 tablespoons chopped fresh parsley
2 tablespoons chopped fresh oregano
1 teaspoon sugar
½ teaspoon salt
¼ teaspoon freshly ground black pepper
Instructions
To prepare the orzo, bring a pot of water to a boil, add some salt, a teaspoon of olive oil, and the orzo and cook until al dente, 8-10 minutes. Drain, rinse and drain thoroughly. Let cool completely.
To prepare the vinaigrette, combine all ingredients in a bowl and whisk until emulsified.
Place the cooled orzo in a large mixing bowl and add all remaining ingredients. Gently stir to combine. Pour over the vinaigrette and gently stir to combine. Refrigerate or at least 30 minutes before serving.
Kimberly Killebrew
Raised in Western Europe, widely traveled, and currently residing near Seattle with her husband and children, Kimberly loves preparing and experimenting with a large range of flavors and cuisines. This is reflected in her food blog, The Daring Gourmet, where she invites all to "tour the world through your taste buds." Passionate cook, recipe developer and photo enthusiast, her culinary repertoire includes everything from gourmet to simple comfort food, and, as she puts it, "simply downright good eats."