A light pasta dish is filling and easy to throw together quickly. Use flavorful sausage, mild baby kale, pine nuts, and a high quality cheese.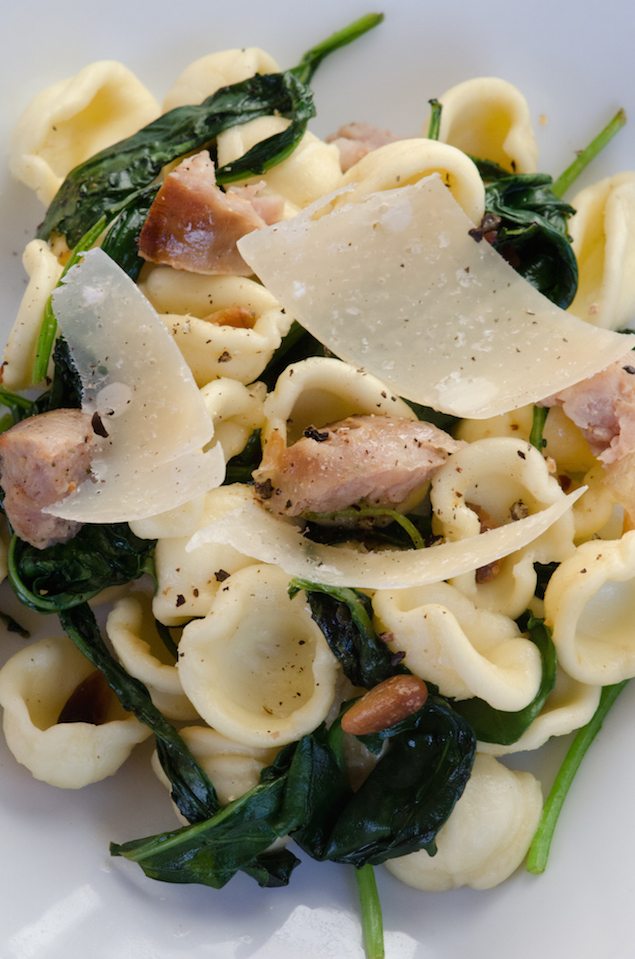 For the following recipe, I used what I had on hand; great garlic lamb sausages from French Hill Farm here in Maine, baby kale, pine nuts, and wonderful authentic parmegiano reggiano cheese. I used orecchiette pasta; orecchiette, or 'little ears', originally comes from Puglia, but are now found all over Italy. The classic Italian cookbook, The Silver Spoon, recommends vegetable sauces to accompany orecchiette, so a perfect combination with kale. But I think any good quality pasta will do.
To make the most of the few ingredients, here are four simple tips for making any pasta dish perfect:
1. Be liberal in salting the pasta water. Add salt until the water tastes like the sea, as I was coached in culinary school. It won't all absorb in the pasta, just enough to flavor it well.
2. Cook just until al dente, and use a good quality dried pasta. We want a nice, somewhat firm texture. Too much cooking, or a low quality dried pasta (or even worse, both) will end up with mushy pasta.
3. Reserve a bit of pasta water to loosen up the sauce. I take a cup full out before draining.
4. Use a high quality cheese, not pre grated ersatz "Parmesan".
See Also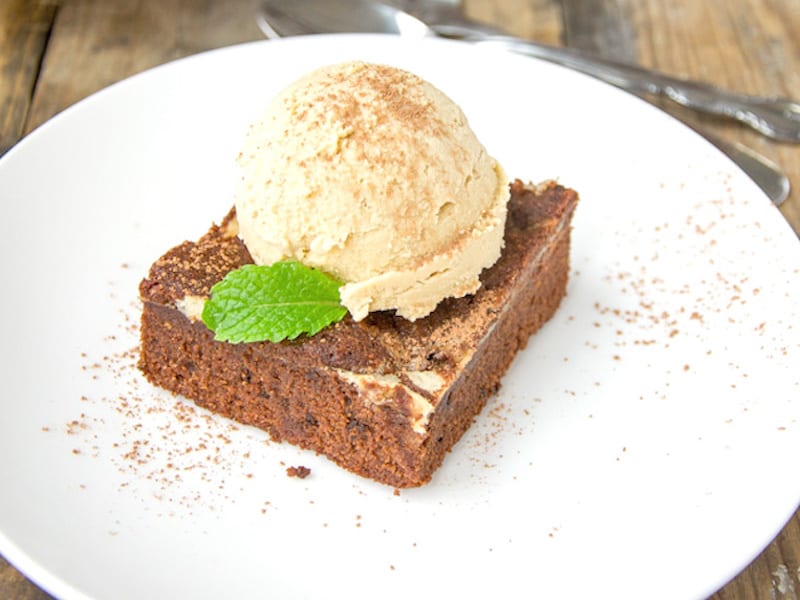 Print

Orecchiette with Sausage, Kale, and Pine Nuts
---
Description
A light pasta dish is filling and easy to throw together quickly. Use flavorful sausage, mild baby kale, pine nuts, and a high quality cheese.
---
8 ounces

sausage

5 ounces

kale

1

–

2

cloves garlic (minced)

1/4 teaspoon

hot red pepper flakes (optional)
kosher salt and freshly ground pepper

1

pound dried orecchiette pasta

2 tablespoons

pine nuts (toasted)

1/2 cup

grated parmigiano reggiano or grana padano cheese
---
Instructions
In a large sauté pan, cook the sausage over medium low heat until just done. Remove from heat and cut into small pieces.
In the same sauté pan, increase the heat to medium and add the kale. Cook until tender, then add the garlic and cook until aromatic, about 1 more minute. Add the cooked sausage and stir to combine. Season with the red pepper flakes, salt and pepper. Turn off heat.
Bring a large pot of water to boil. Add salt until the pasta water is salty like sea water. Cook the pasta until just al dente – you want the pasta to have some firmness, not mushy. Reserve a cup of the pasta water, then drain.
Add the cooked orecchiette to the sautéed kale and sausage. Stir to combine, adding a bit of the reserved pasta water if you prefer it a bit looser in texture. Stir in the pine nuts and grated cheese, and season to taste with ground pepper. Serve immediately.
Category:

Main

Cuisine:

Italian
Kathy Bechtel
Kathy Bechtel's obsession with food and cooking began as a teenager. After years following a traditional career path as a telecommunications engineer, she left to attend culinary school and wine training, and is now combining her passions for food and wine, the outdoors, and travel as owner and Culinary Tour Director of Italiaoutdoors. In this role, Kathy leads small bicycle, skiing and walking tours that explore the authentic regional cuisines, local products and undiscovered wines of Northeastern Italy.