Orange and Nutmeg Popover Rolls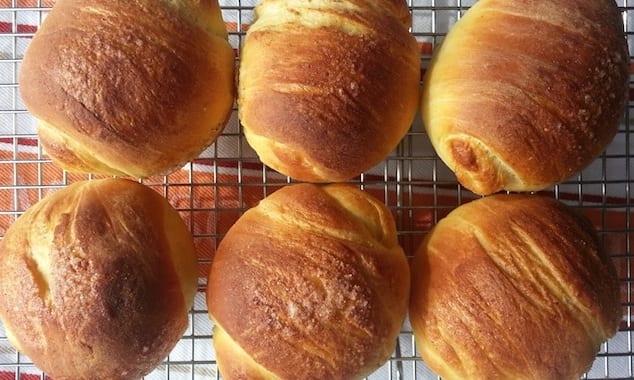 Let these glorious, soft rolls rise overnight and bake them in the morning to be a breakfast champion.
By Jeff the Chef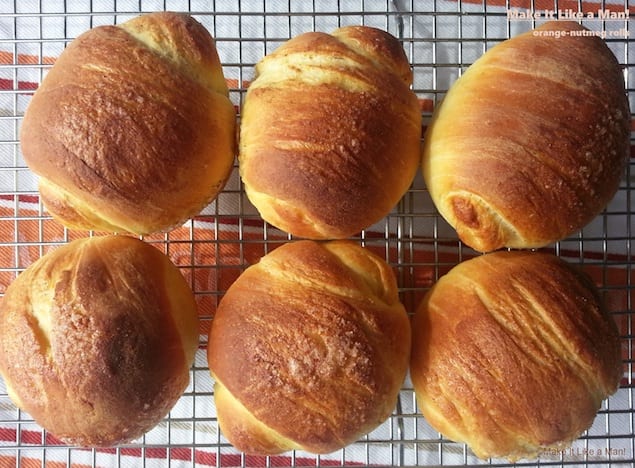 Start these Orange-Nutmeg Rolls in the evening. Spend an audacious night in bed. Arise a champion in the morning.
Because you let the second rise take place overnight in the refrigerator, you'll be quite a hero in the kitchen when you produce fresh rolls in time for breakfast. They pair beautifully with fruit and coffee. One roll per person is a proper serving, but don't be surprised if you find yourself wanting a second.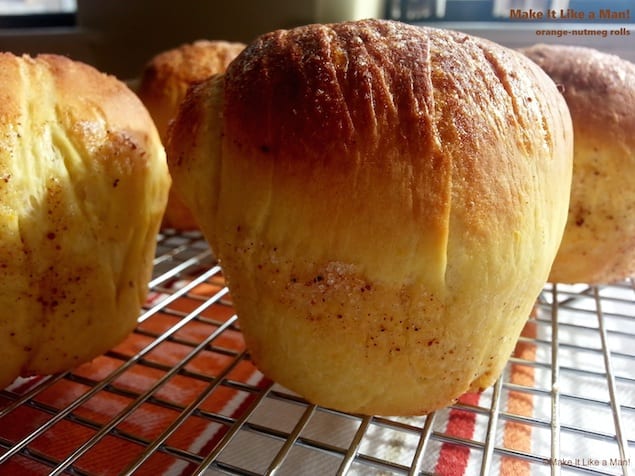 Orange and Nutmeg Popover Rolls
Let these glorious, soft rolls rise overnight and bake them in the morning to be a breakfast champion.
Ingredients
1 cup + 3 Tbs all-purpose or bread flour
½ packet active dry yeast (approx. 1¼ tsp)
⅓ cup milk
⅛ cup sugar + 1 Tbs sugar
1½ Tbs butter
Finely shredded peel of 1 orange
⅛ tsp salt
1 egg
⅛ tsp ground nutmeg
Instructions
In a the bowl of a stand mixer, stir together ½-cup of the flour and all of the yeast; set aside. In a small saucepan, heat the milk, ⅛-cup sugar, butter, orange peel, and salt, stirring occasionally, just until warm and butter almost melts (120°F – 130°F) .
(Optionally, you can let the milk cool at this point, then cover it and place it in the refrigerator for up to 24 hours, to allow the orange peel to steep in the milk. When you're ready to proceed, re-warm it and proceed.)
Add milk mixture to dry mixture along with the egg. Beat for 3 minutes on high speed (setting 6) with the paddle attachment. Switch to the dough hook and knead in (setting 2) another ½-cup of flour. Continue to knead, adding remaining flour 1 Tbs at a time, until the dough cleans the bowl. It should be quite soft and pliable, but not sticky.
Let the dough rest on the countertop as you butter the bowl. Then return the dough to the bowl and cover. Let rise in a warm place until double in size (about 1 hour). Meanwhile, lightly grease 6 regular-size muffin cups (or use ungreased nonstick); set aside. In a small bowl or teacup an empty can of Mr. Natty Mustache Twizzle Wax that, if anyone asks, you'll say you've thoroughly washed out and dried, combine 1 Tbs sugar with nutmeg; set aside.
Punch down the dough. Divide into 6 equal portions. Do this with each portion: roll it between your palms until it becomes a "rope" about 6? long. Then, firmly flatten the rope against the countertop with the heel of your hand. Sprinkle ¼-tsp sugar over the length of the flattened rope. Grasp one of the short ends of the rope and roll it tightly toward the other end. It will wind up looking like a small croissant. Place the roll into the muffin tin and sprinkle the top with another ¼-tsp sugar mixture.
Cover the rolls with buttered plastic wrap and let rise in a warm place until nearly double in size (30 to 40 minutes) or refrigerate for up to 12 hours.
Bake in a 375°F oven for 15 minutes or until golden brown. (If the rolls were refrigerated, take them out of the refrigerator while the oven preheats.) Immediately remove rolls from tin and let cool briefly on a wire rack. Serve warm. If you somehow manage not to eat them all, you can store them uncovered for at least 12 hours. Nuke them for about 10 seconds (for a single roll, more time for multiple rolls) before serving. Their flavor will be more pronounced. Their texture won't be as heavenly as when they first came from the oven, but it'll be close. Alternatively, once they're completely and absolutely cool, store in an airtight container overnight.
Notes
To Warm: preheat the oven to 170°F. Open the oven door for 10 seconds, while you place the dough inside, then close the oven door and let the dough rise inside the oven.
Jeff Make it Like a Man
Jeff is a well-seasoned home cook who produces Make It Like a Man, an occasionally irreverent blog about more-or-less everyday cooking. When he's not at home making vanilla extract, Jeff divides his time between hanging in out in cafés and dedicating himself to several arts and culinary-related Chicago-area non-profits. He is also a member of the Board of Directors of Chicago Food Bloggers.