One Pot Sweet Chili, Lime Chicken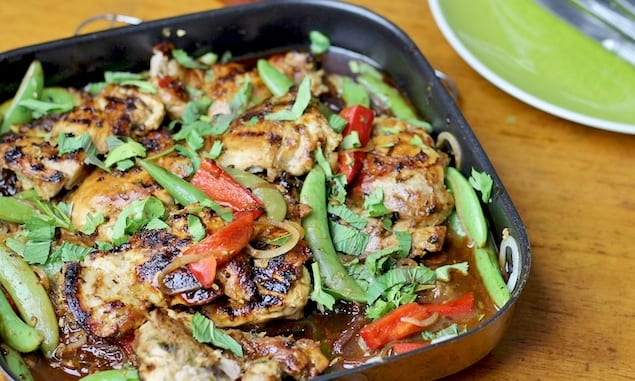 This 15 minute chicken dish is easy. There's only a small amount of cheating involved and that's the use of sweet chilli sauce. Make it in a fry pan and that's that. Serve it with rice, quinoa, or rissoni or just as it is.
By Tania Cusack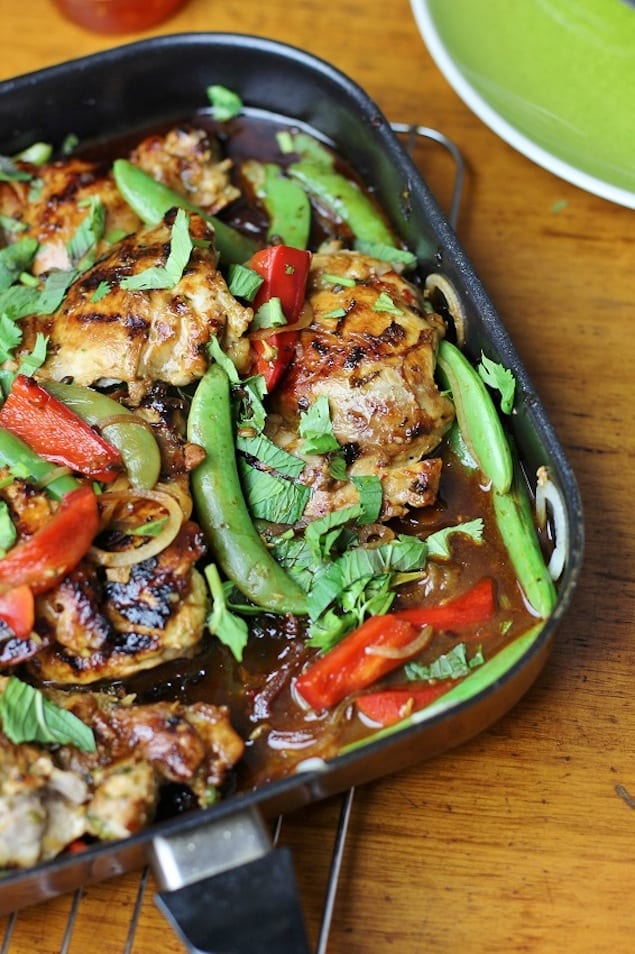 One Pot Sweet Chilli, Lime Chicken
This 15 minute chicken dish is easy. There's only a small amount of cheating involved and that's the use of sweet chilli sauce. Make it in a fry pan and that's that. Serve it with rice, quinoa, or rissoni or just as it is.
Ingredients
1 kg (2lb) chicken thigh fillets
2 limes zested and juiced
¼ cup sweet chilli sauce
¼ cup buttermilk
2 Tablespoons grated ginger
2 cloves garlic
200 gm ( 1 cup) sugar snap peas
½ or 1 small capsicum sliced into fingers
1 onion sliced very thinly
3 tablespoons oil
Salt or fish sauce for seasoning
3 Tablespoons lime or lemon juice ( approx 2 limes or ½ lemon)
½ bunch chopped coriander
4 tablespoons of water or stock
Instructions
Put the trimmed whole chicken thighs into a bowl with the buttermilk, lime zest and juice, 1 clove of garlic and leave for 10 minutes ( or as long as you can ) while you cut the vegetables
Heat a non stick frypan to very hot. Add 2 Tablespoons of oil and add the chicken shaking off any excess liquid and reserving, adding a piece at a time letting the pan come back to temperature. Sear them on both sides till nicely browned.
Put them onto a plate to sit for a minute. Only drain off any chicken fat. Don't wash the pan. Add more oil and the onion, ginger, garlic and stir till softening but not colouring. Add the chicken back to the pan. Add the capsicum and sugar snap peas and the remaining marinade, sweet chilli extra lemon ( or lime) and 2 table spoons of water or stock.
Bring the pan back to a simmer and add the lid, letting it cook for a couple of minutes. Stir well and make sure the sauce is simmering and the chicken is cooked through.Add the chopped coriander and taste for seasoning. If more salt is needed sprinkle with salt or fish sauce
Tania Cusack
After completing Culinary School in Sydney, Tania travelled the world working as a Chef in restaurants, doing catering and cooking on road for a travel company in Europe and the US. Once back at home, the birth of her son meant a change, and during his small years, she enjoyed jobs in wholesale food, buying Artisan food products, testing and recipe writing as sales and educational tools. Tania is now back to what she loves, working as an in house Chef for a large retailer, conducting Cooking Classes and writing recipes for her blog.