This one-pot meal is loaded with ground beef, tomatoes, and plenty of cheesy goodness to make a delicious chili mac and cheese.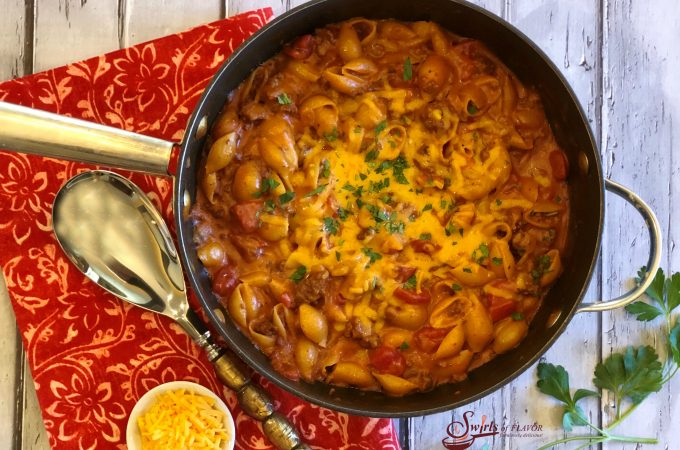 When days are crazy busy and you still have to get dinner on the table, it's time for a One Pot recipe! I just love cooking everything in one pot, including the pasta! One Pot Chili Mac and Cheese is filled with cheesy saucy goodness and, yep, made in just one pot! Brown up the ground beef for chili, add the uncooked pasta along with diced tomatoes and broth to the same skillet and let it cook for just minutes. Don't forget to stir in cheese at the end for the saucy cheesy goodness!
My grandchildren loved this recipe. My sweet granddaughter Brenda was eating a bowlful and told her mom Sydney "mmmmmm this is delicious. GG should be a chef" to which Sydney replied "she already is". Brenda's response? "Well I meant if she wasn't already then she should be!" Five years olds say the cutest things. One pot meals are a blessing for busy families. Check out my favorite deep sided skillet for One Pot recipes and be sure to add these One Pot recipes to your lineup, One Pot Penne Pomodoro, One Pot Mexicali Bowtie Pasta, One Pot Creamy Tomato Basil Pasta, One Pot Springtime Pasta Primavera, One Pot Greek Lemon Dill Pasta and even One Pot Mac N Cheese! Everything cooks up to perfection in just one pot and dinner is on the table before you know it. Add a salad and you're all set!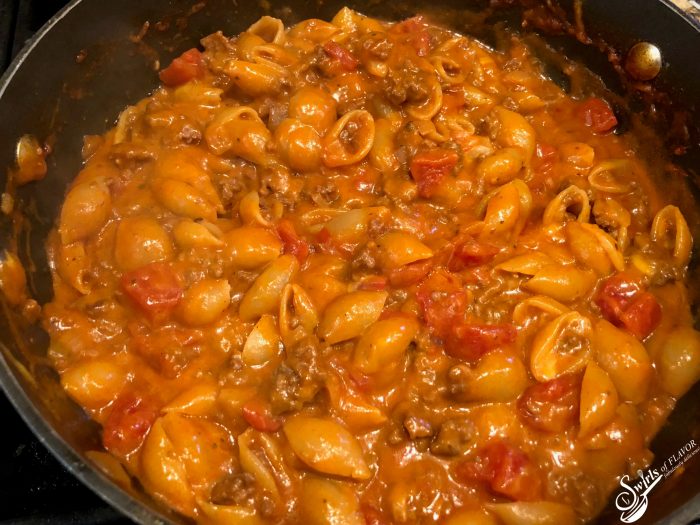 One-Pot Meal: Chili Mac and Cheese
Ingredients
1 lb. ground beef
½ cup chopped onion
1 Tbs. chili powder
1 tsp ground cumin
1 tsp, paprika
½ tsp. kosher salt
2½ cups chicken or beef broth
8 ounces shell pasta
1 can (14.5 ounces) diced tomatoes
1 can (8 ounces) tomato sauce
2 cups shredded cheddar cheese, divided
1 Tbs. chopped parsley
Instructions
Cook ground beef, onion, chili powder, cumin, paprika and salt in large skillet with deep side until beef is browned.
Add broth, pasta, diced tomatoes with their juices and tomato sauce and bring to a boil. Cook 12 minutes or until pasta is al dente.
Reduce heat to medium and add 1½ cups cheese, stirring until cheese is melted and a sauce has formed.
Top with remaining ½ cup cheese and chopped parsley.