All the flavors of a classic Margherita pizza in cheesy pasta form. This One Pot Chicken Margherita Pasta with ricotta is loaded with tender chicken, ripe tomatoes, garlic, and basil in a creamy-dreamy ricotta parmesan sauce. It's easy to make and even easier to devour!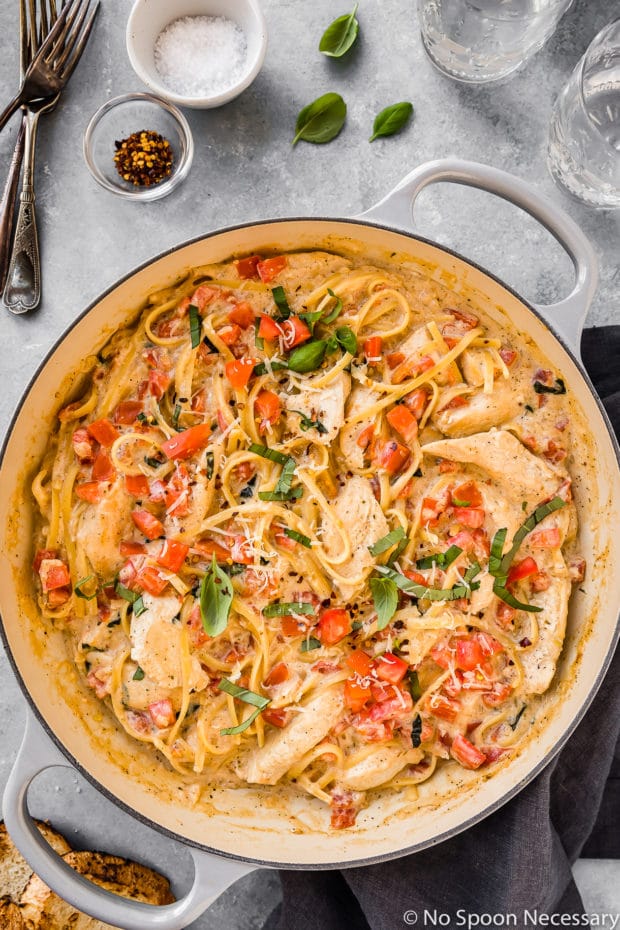 What are your thoughts on recipe mashups – like say, taco pizza or caprese hummus?
Personally, I LIVE for a good mashup. I mean, gimme a delicious two-fer all day, every day. In all seriousness though, why have just one dish when you can have two? Together. At once?! It's nothing short of brilliant and spectacular if you ask me.
However, it was recently brought to my attention on social media that not everyone shares my love of mashups, and some people (or maybe it was just someone) think(s) individual dishes should each stay in their own lane.
So it got me thinking, and I want to know your thoughts! Team mashup or team no ma'am/no fun here?
I'm certainly hoping you love a fabulous food mashup, because it just happens to be what I'm sharing today.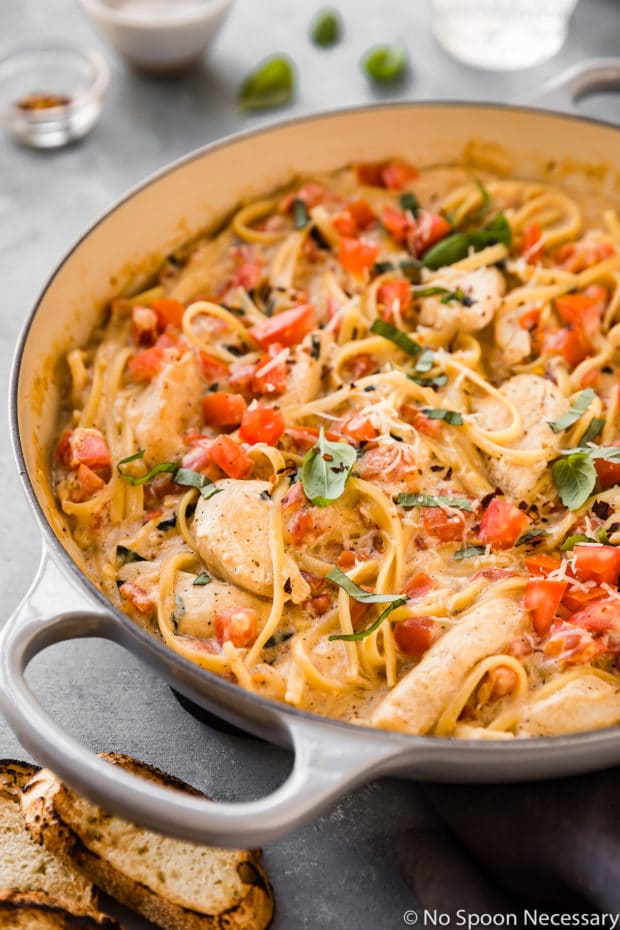 Silky, al dente linguine and tender, bite sized pieces of chicken breast tossed in a creamy, cheesy sauce studded with juicy tomatoes, sweet basil, and pungent onions with notes of fragrant garlic and spicy pepper flakes. Dolloped with rich ricotta, this pasta tastes like a classic margherita pizza minus the crust!
But, the fantastic flavor isn't the only thing that makes this pasta too legit to quit!
This easy, cheesy chicken margherita pasta all comes together in just ONE POT. Plus, it can be prepped, ready and on the table in 40 minutes or less!!
Basically, this one pot creamy chicken pasta wonder is perfect for hectic weeknight dinners, and it's also elegant enough for weekend entertaining! In a nut shell, this margherita pasta is just plain WINNING.
Margherita pasta is a spin on traditional Pizza Margherita, and it simply takes all the topping ingredients and flavors from the classic pizza and turns it into a comforting, flavorful pasta dish!
So then, what is pizza margherita?
There is a widespread belief that Pizza Margherita was invented in honor of the Queen of Italy, Margherita of Savoy. Pizza Margherita is a typical Neapolitan pizza and is adorned in the colors of the Italian flag – red (tomatoes), white (mozzarella) and green (basil).
This One Pot Chicken Margherita Pasta with Ricotta utilizes the same tomatoes and basil, but nixes the mozzarella in favor of creamy, rich ricotta and amps up the flavors with the addition of Italian seasoning, garlic, parmesan and crushed red pepper flakes. Plus, chicken is added to make this a more substantial meal. If you love pizza Margherita, you are going to fall head over heels for this pasta version of the famous pizza!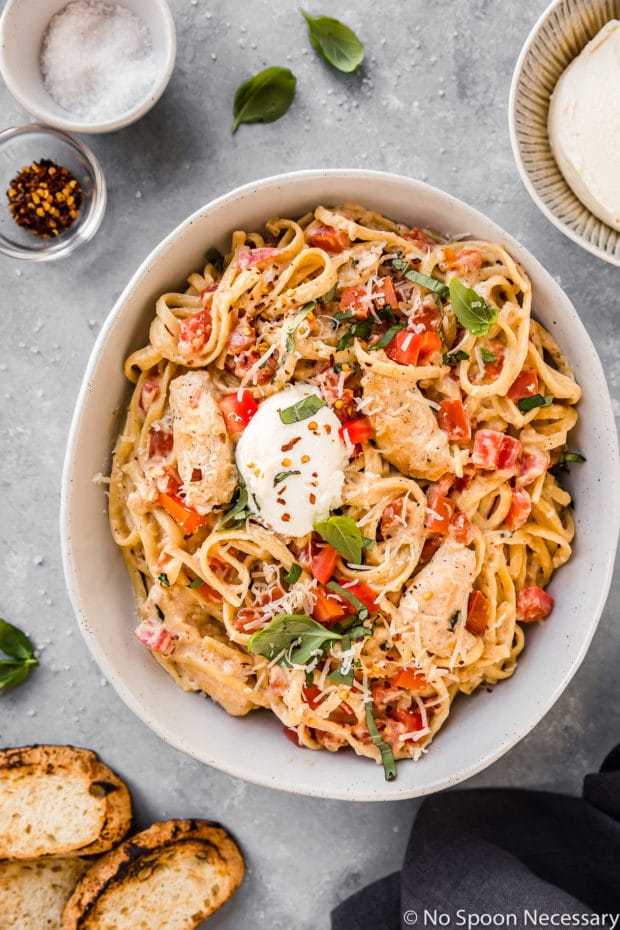 Click here for the recipe.
Cheyanne Holzworth
Hi there! My name is Cheyanne. I am an avid foodie, culinary school graduate, recipe developer and newbie blogger. I find peace and joy being in the kitchen and am obsessed with feeding anyone who has an appetite. I am also a lover of food porn. I picked up a camera one day and fell in love with food photography. Then I got a wack-a-me-me idea to start a food blog and the rest is history. No Spoon Necessary is a place where I share my passion for food and photography with all who care to join me. I also rant, ramble on and share my life a little. In a world filled with so many talented food bloggers, I am simply trying to carve my space in www dot com land, take you all with me on the crazy ride and cook 'n eat some delicious food along the way! So, strap on that apron and work some culinary magic with me. Cheers!