Grab a sheet pan and make a big batch of these easy steak and pepper fajitas tossed with onions and spices.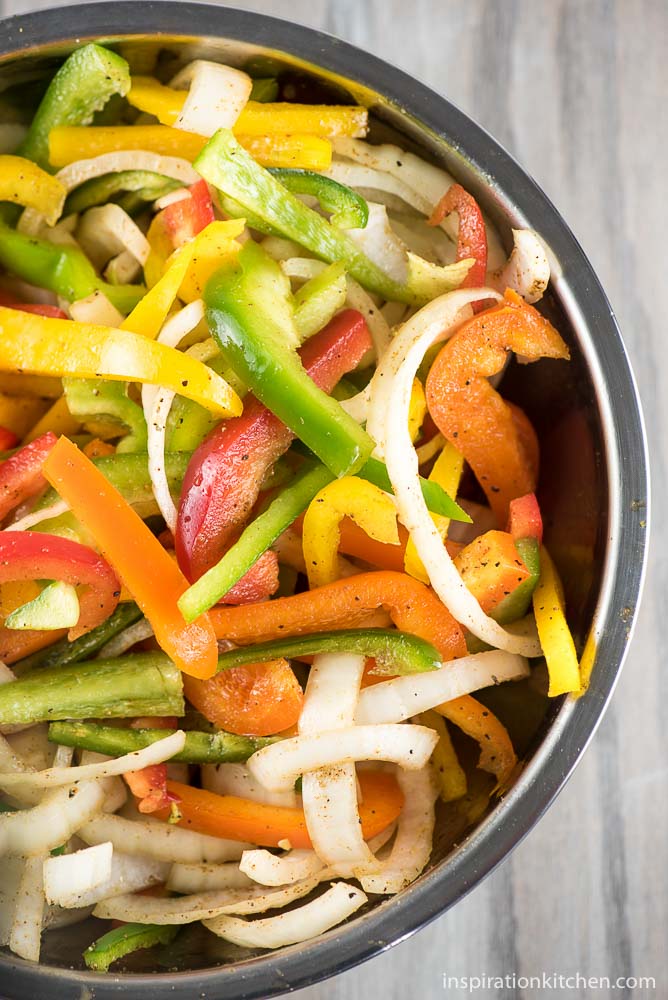 These Sheet Pan Fajitas are healthy, light and flavorful and are topped with a slightly spicy lime and sour cream sauce that brings it all together.
Making dinner for me is a huge stress reliever, something I seem to need more and more of. So the rhythmic chopping of all the vegetables in this recipe were the perfect stress reliever on a Friday after a busy week.
Cooking is my therapy!
In this recipe I used flank steak, and although it's not my favorite cut of meat, it worked. The trick in keeping flank steak tender, is in how you cut it. TheKitchn has a great article on how to slice meat against the grain. Also, tweaking the seasonings to your preference makes a big difference in how spicy or flavorful this dish is. Don't be afraid to experiment!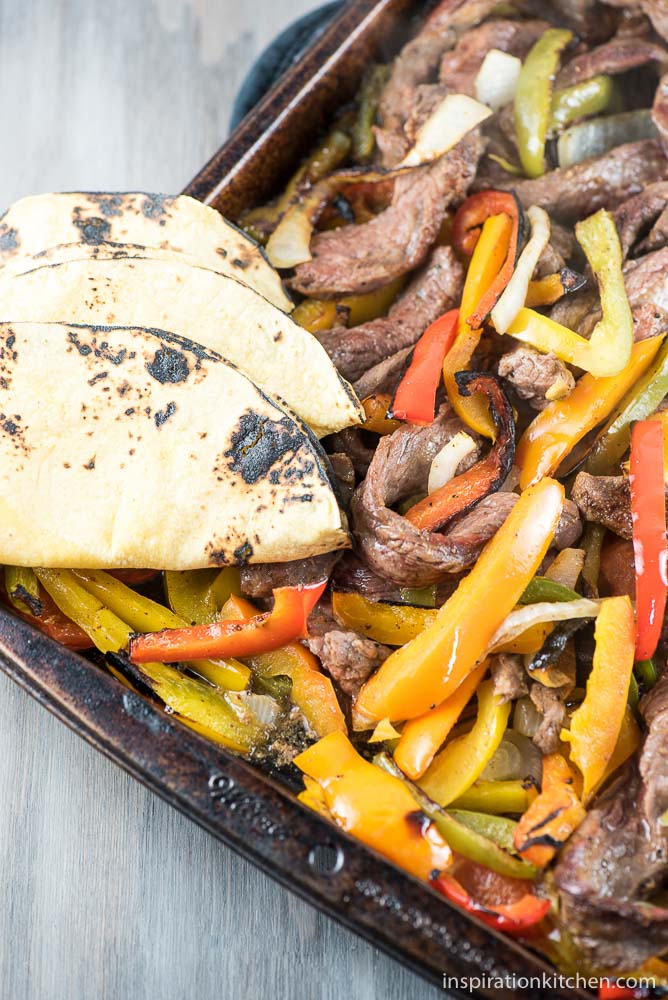 All-up, these Sheet Pan Fajitas will take 35-45 minutes to make. But, IF your grocery store carries peppers that are pre-cut, you will save 15 minutes off prep time. woot!
Click here for the perfect sauce recipe to serve with your fajitas.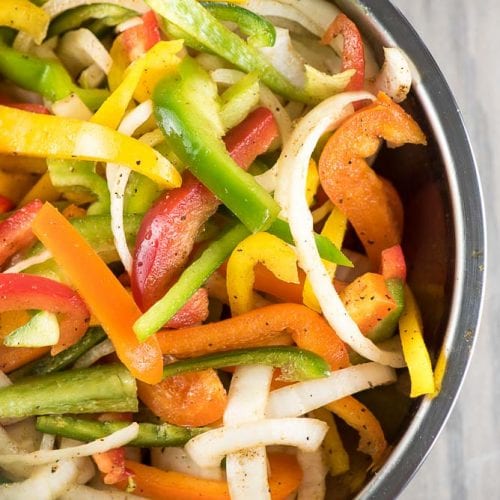 One-Pan Fajitas
Kristi Kaiser
Grab a sheet pan and make a big batch of these easy steak and pepper fajitas tossed with onions and spices.
Ingredients
Seasonings
2

tablespoons

olive oil

1

teaspoon

cumin

1

teaspoon

salt

½

teaspoon

chipotle powder

½

teaspoon

black pepper
Vegetables
1

orange bell pepper

1

red bell pepper

1

yellow bell pepper

1

green bell pepper

2

jalapenos

optional

1

onion
Sauce
Click the link above for the serving sauce recipe
Meat
2

pounds

flank steak

trimmed and sliced on bias

Sides

6-8 to

rtillas
Instructions
Add seasonings to a small bowl, mix well and set aside.

Rinse and pat dry peppers. Slice all bell peppers and jalapenos into thin strips, discarding seeds. Place in large bowl. Slice onion in half, then in thin strips and add to bowl with the peppers. Pour one half of the seasoning mixture over vegetables until coated.

Preheat oven to broil. Place sheet pan in oven while oven is preheating. Remove sheet pan, spray with cooking oil. Put peppers and onions on sheet pan and broil 8 minutes.

While vegetables are cooking, add sauce ingredients to a small bowl and mix well, then set aside.

Slice flank steak into thin strips, cutting across the grain. Pour remaining seasoning mix over steak, coating all sides.

Remove sheet pan from oven, push vegetables to the side, add meat to the center and place back under broiler for 4 minutes. Turn meat and cook 2-4 additional minutes until desired doneness. Remove from oven.

Crisp tortillas on each side over gas grill on high heat until edges are slightly browned. Remove from heat. Serve while hot.
Kristi Kaiser
Hi, I'm Kristi. The cook, author and photographer at Inspiration Kitchen. I am so passionate about food and I want to share that love! It is my goal to entertain.inspire.encourage home cooks everywhere that anyone can cook!