Check out this fluffy, rich chocolate frosting made special with marshmallows. Make the chocolate cupcakes to match, a delicious chocolate bite baked with extra richness, thanks to strongly brewed coffee.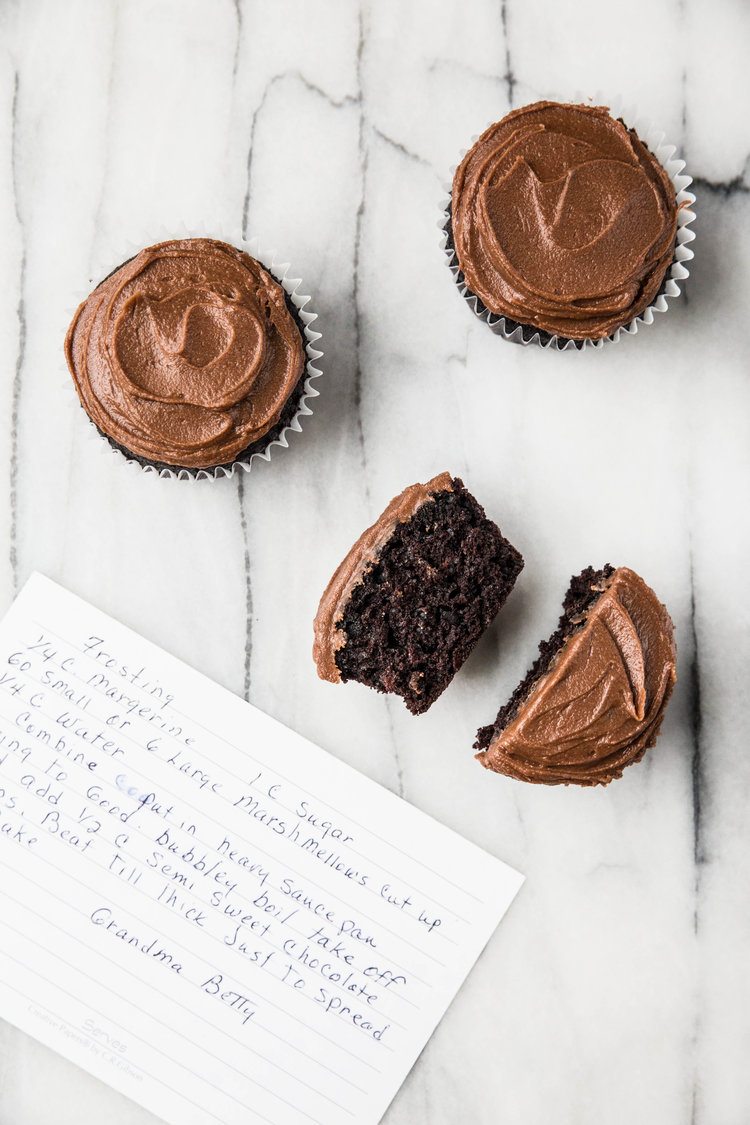 My grandmother recently passed away. After a two and a half year long battle with cancer, it was expected, but it was still difficult for my family to say goodbye. Can you truly prepare yourself for losing someone you love? My grandmother was such a strong figure in our family, both humble and hardworking. She will be greatly missed.
Most significantly, my grandmother passed down her love of baking to me. Since I was very young, I watched her create complex German meals from scratch: kneading bread dough to make buns, rolling out dough for strudels, whipping the filling for her chocolate pudding pies. As I grew, she taught what she knew about food. As a dedicated home cook, she opened her kitchen to me, letting me work alongside her. She was a no-fuss kind of woman, never minding when I accidentally ripped holes in the strudel dough or flip the frying "shoop" noodles too soon. Instead, she would guide me to do better on the next batch. In many ways, she laid down a foundation of knowledge on food, helping me discover my love and passion for baking.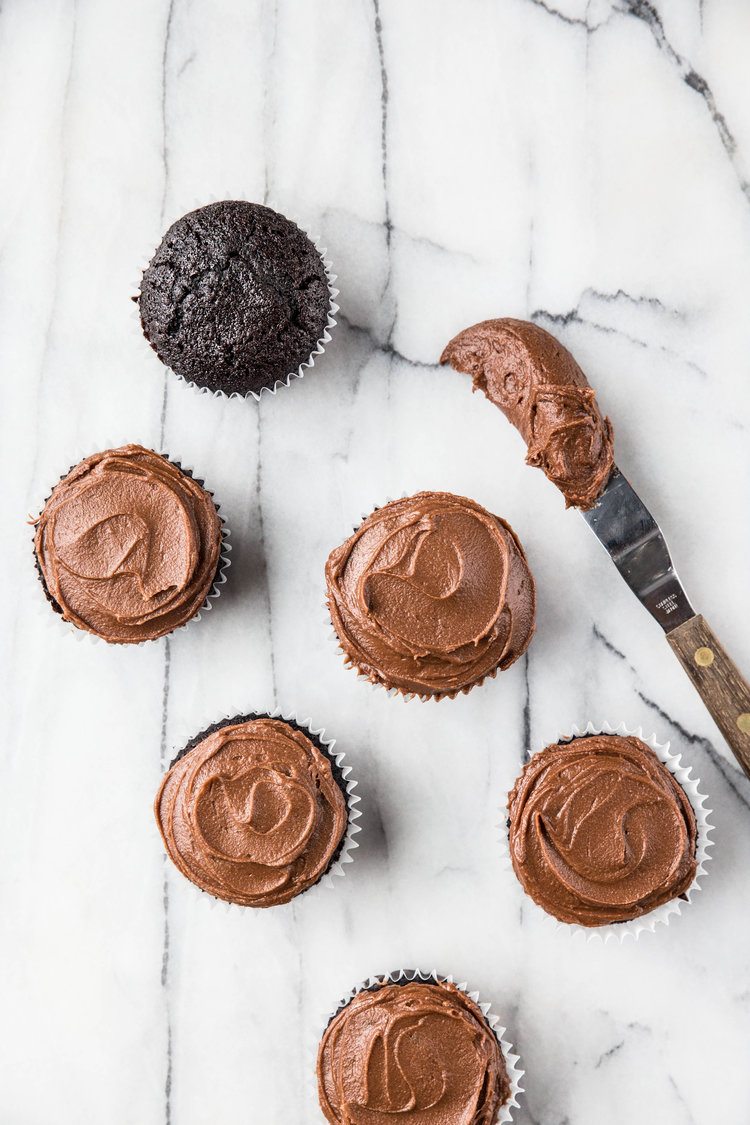 When I learned of my grandmother's passing, I pulled my personal cookbook off the shelf, filled with her handwritten recipes. I paged through the book, pausing on each recipe, remembering the moments we shared making and eating those dishes together. The last recipe in the book was her recipe for chocolate cupcakes, the memories of which made me laugh.
My grandmother was known in our family for her chocolate cupcakes, which appeared at every holiday and family gathering. It was general knowledge that her cupcakes had a secret ingredient. My sister and I would constantly beg and plead her to tell us the secret, but her response was always the same: when you grow older. Finally, when I reached my fourteenth birthday, I was deemed old enough. She took me aside and whispered the name of the mystery ingredient—a good cup of strong coffee—and told me I wasn't to tell a soul. I happily lorded this secret over my younger sister for years.
I made her chocolate cupcakes on that sad morning, hoping to keep the memories of my grandmother close, baking them to share with my grieving family. I'm sharing her recipe—and secret ingredient—with you today. Above all, my grandmother believed food creates community; food is what brings us and binds us together. Food is love. Our recipes tell the stories of our love.
When you find a moment, bake and share these cupcakes with your loved ones. Create moments to remember and hold dear long after the cupcakes have disappeared.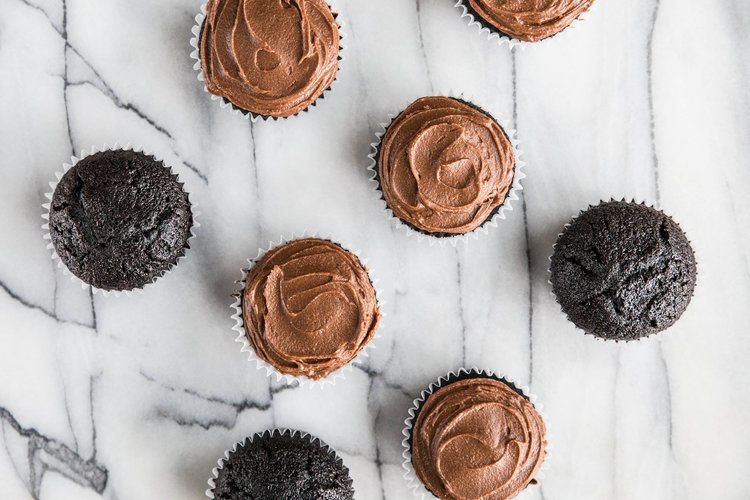 My grandmother's chocolate cupcakes have a chocolate base reminiscent of a moist, stick-to-the-roof-of-your-mouth devil's food cake. The frosting is cooked down on the stove, made with butter, sugar, marshmallows, and chocolate chips. After the frosting cools down and is whisked for a lighter texture, it's spread onto the cupcakes. My family prefers to eat the cupcakes straight from the refrigerator, where the frosting is firm and chilled, but feel free to serve them at room temperature based on your own preference (though my father will disagree with your decision on this).
Click here for the cupcake recipe. Read on for the frosting recipe!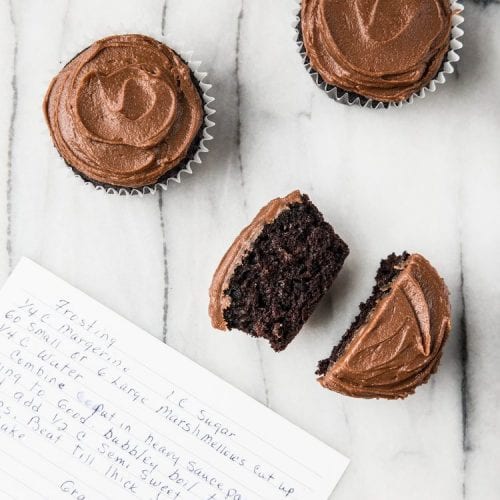 Ultimate Chocolate Frosting and Cupcakes
Kristin Rosenau
Check out this fluffy, rich chocolate frosting made special with marshmallows. Make the chocolate cupcakes to match, a delicious chocolate bite baked with extra richness, thanks to strongly brewed coffee.
Ingredients
Chocolate Cupcakes
Click the link above for the recipe
Chocolate Frosting
1/4

cup

56 grams butter

1

cup

200 grams granulated sugar

6

standard or 60 mini

42 grams marshmallows

1/4

cup

60 mL water

1/2

cup

85 grams semi-sweet chocolate chips
Instructions
In a large saucepan over medium heat, whisk together butter, sugar, marshmallows, and water. Bring to a boil, stirring constantly, and remove from heat. Whisk in chocolate chips until melted. Cool the frosting in the refrigerator, whisking energetically every few minutes until it reaches a spreadable texture (approximately 15-20 minutes).

Frost cooled cupcakes and serve. Store in an airtight container at room temperature or in the refrigerator, depending on preference.
Kristin Rosenau
Kristin Rosenau is a baker and science teacher with a serious sweet tooth. She began an affair with butter and sugar fresh out of college and her love for baking has only matured since. The voice behind the blog Pastry Affair, Kristin develops recipes for the home cook, combining classic recipes and homespun flavors with a dash of honesty.