Old-Fashioned Sugar Cookies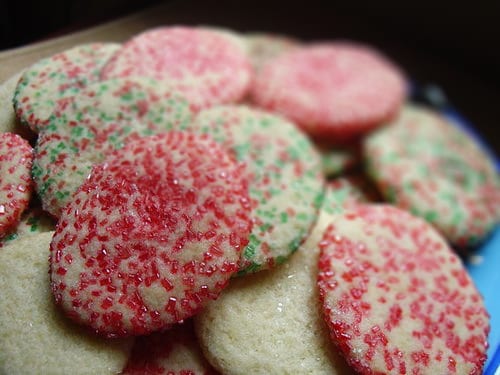 These cookies look best (and cutest) when rolled in coarse-grained colored sugar, which you can find these days in most supermarkets or hobby stores.
By Jennifer Abbott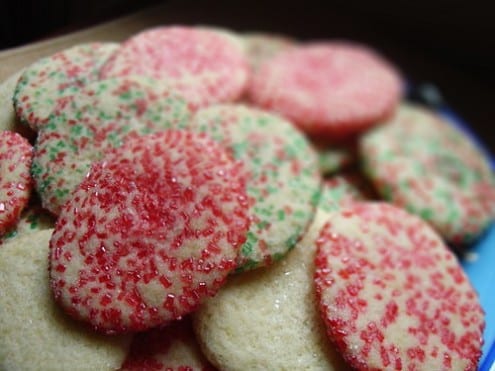 They turn out lightly crisped at the edges, but still tender and crumbly in the center, and they have an extra crackly-crunchy factor due to the colored-sugar crust.
Old-Fashioned Sugar Cookies
These cookies look best (and cutest) when rolled in coarse-grained colored sugar, which you can find these days in most supermarkets or hobby stores.
Author:
Jennifer Abbott, adapted slightly from Mary Engelbreit's Cookies Cookbook
Ingredients
1 cup (2 sticks) unsalted butter, at room temperature
½ cup confectioners' sugar
½ granulated sugar
1 large egg
1½ teaspoons vanilla extract
1 teaspoon baking powder
½ teaspoon salt
2½ cups all-purpose flour
1 cup coarse white or colored sugar, or a combination
Instructions
Preheat the oven to 375. Line baking sheets with parchment paper.
In a large bowl, beat the butter, confectioners' sugar, and sugar with an electric mixer until light and fluffy. Beat in the egg, vanilla, baking powder, and salt, mixing well. Beat in the flour at low speed until well combined.
Roll pieces of the dough into 1-inch balls. Roll to coat well in the coarse sugar, then place 2 inches apart on baking sheet. Use the bottom of a drinking glass dipped in regular sugar to flatten each cookie into a 2-inch round (keep dipping the glass into sugar before every cookie, or they'll stick). Bake for about 10 minutes, or until lightly golden.
Transfer cookies to wire racks to cool completely.
Jennifer Abbott
Jennifer Abbott is a writer, music teacher, Southern food enthusiast, and soup aficionado. She lives in New Orleans and blogs about cooking and dining at Food Orleans.