Go green this St Paddy's day with this delightfully simple and yummy alternative to French Fries.
By Shuchi Mittal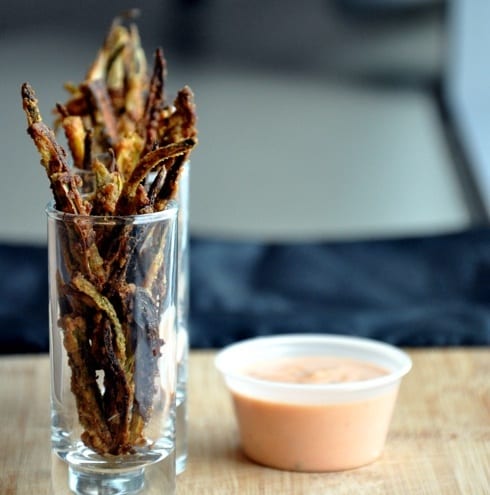 Don't get me wrong. French Fries are great- I absolutely adore them. But I am also always on a quest to find other crunchy treats that feed that relentless craving for tasty finger-picked-snacks – and well, are not quite that deep fried. This, I must admit, turned out absolutely delicious! The okra has a distinct flavor that I am very fond of- that combined with subtle Indian spices, and a cold spicy & sour Sriracha dip worked ever so well together. It was my first time using Sriracha in a recipe- and I did my happy dance.
This goes on my something-different-for-my-party list for sure.

Okra Chips with Yogurt Sriracha Dip
Baked okra chips with subtle Indian flavors.
Ingredients
For the Dip
1 teaspoon Sriracha sauce
2 tablespoon thick greek yogurt
½ teaspoon fresh mint leaves, finely chopped
Salt & pepper
For the Chips
2 pounds Okra, washed and cut into strips
1 heaped tablespoon gram flour (besan)
2 tablespoon olive oil
½ teaspoon paprika
1 tablespoon coriander powder
1 teaspoon amchoor (dry mango) powder
Salt & pepper
Instructions
Make the Dip
Mix all the ingredients for the dip and refrigerate for an hour.
Make the Chips
Mix all the ingredients for the chips till all the okra is evenly coated with the spices.
Bake at 375 F for 35-40 minutes, till the okra is crisp and the edges begin to brown.
Cool (it will become more crisp) and serve with the Sriracha dip.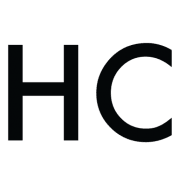 Shuchi Mittal
Shuchi cooks with the heart of a poet. Banker turned chef, she runs the 29. Private Kitchen in NYC focusing on social tasting events, dining experiences and small-scale private events. Using simple & wholesome ingredients, she likes to re-invent homemade Indian flavors into modern tapas & small plates. Her dream? To cook, feed, write, and eventually open her own communal dining cafe - with a published recipe book on the stands.