A simple way to preserve dried little fiery piri piri peppers using oil and whiskey.
By Rochelle Ramos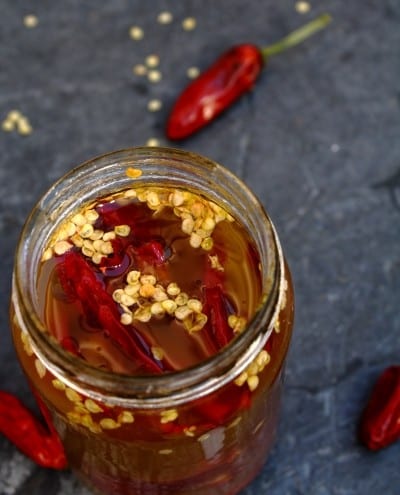 Tasty little fiery piri piri peppers. They dot Portuguese gardens, vibrant red amongst the dense green leaves. You can find bottles of piri piri pepper sauce and oil on the tables of restaurants throughout Portugal. But I've found that the people who cook with it here are holding back when it comes to these little malagueta peppers.
Odd looks follow me when I take a bite of "picante" piri piri chicken, then proceed to go grab the little bottle of piri piri oil to give it some heat. It's not because the piri piri pepper isn't hot (it's considered to be up there with the less spicy habanero peppers), it's just that I like spice and I have a strange feeling spicy food here is much more tame than what I'm used to. I blame my mom for giving me a wide variety of different foods when I was growing up (thanks for getting me hooked on spicy food, Mom, now the Portuguese think I'm weird… that or it's 'cause I am weird…).
My family here has figured out that I like spicy, so when any of them harvest their little red jewels of edible heat, we usually get a few handfuls (probably close to a pound or more each time). I never know what to do with them all, because for some silly reason not everyone around here is as in love with spicy food as I am. Go figure.
There is a way to keep them from going bad though. Preserve them in olive oil and whiskey! Then you will have some piri piris at your disposal for when you want to make piri piri sauce, heat up a dish with some peppers, or to help in making a marinade for chicken, beef, pork or shrimp (I'm sure there are others that it would be great with too!)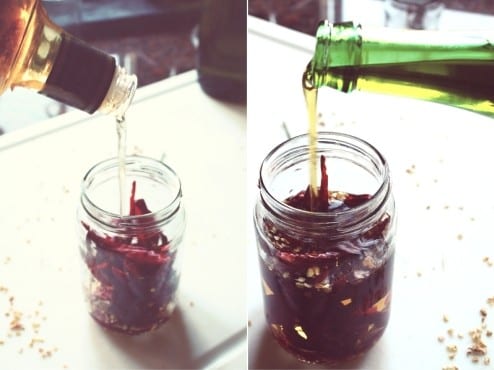 First things first. You need to dry your peppers. There are two ways to do this fairly easy. First (the easiest way and I didn't do it cause for some silly reason it just didn't occur to me) is to take a some cooking string and thread a needle, poke through each pepper until you have them all on there. Tie off the ends and hang in a good spot to dry for a month or so.
The other way, is to… Oh I'll just show you.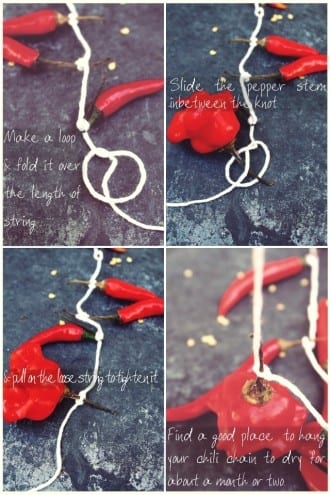 When your peppers have dried out they will be wrinkled and have become darker in color. Don't just assume they are good, as you never know for certain until you open them up and check the inside. Make sure to do this with each pepper before you add them to a very clean (dishwasher clean is best as it sterilizes as it washes) jar.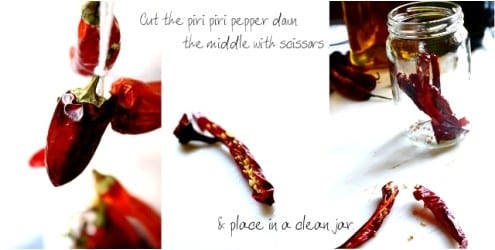 Oil and Whiskey Preserved Piri Piri Peppers
A simple way to preserve dried chili peppers using oil and whiskey.
Recipe Type:
Marinade and Condiment
Ingredients
Dried Piri Piri Peppers (or cayenne peppers if piri piri aren't available)
Olive oil
Whiskey (or vinegar if you must)
1 clean jar and lid
Instructions
Prep the peppers by cutting down the middle of the pepper length wise, being careful to not touch the inside seeds too much (I'm not positive how bad of a burn you can get from dried peppers if at all, but it's better to be safe than sorry). Place the peppers in the clean jar.
Pour in half whiskey and half olive oil into the jar until it reaches the top. Stir with a wooden skewer or put the lid on and just shake for a few minutes.
Store at room temperature. Wait a couple of days and you'll have a very strong and spicy mix that
is good for at least a month (
I was informed that it was good for a year at which time the oil is no longer good, but I'm paranoid
).
I don't know about you, but mine won't last that long to find out!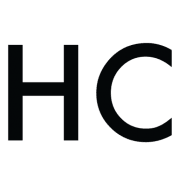 Rochelle Ramos
Rochelle is an Americana cooking, eating, photographing and writing in Portugal. She has a love for real food and learning to make it from scratch. As a new expat, she is slowly learning to speak the language and will soon be able to order more than just a café and pastel de nata from the local pastelaria.