These Oatmeal Chocolate Chip Molasses Cookies are soft, chewy and packed full of walnuts and chocolate chips.
If you are an oatmeal cookie lover, then you probably have a very specific way you like your cookies. Some like them crisp and sort of lacy and then there are those who won't eat them unless they are over the top soft & chewy. I happen to love them both ways, but the others in this house really swoon for the super soft version. Years ago I found that adding molasses was the key to keeping the cookies perfectly chewy. Check out these Oatmeal Chocolate Chip Molasses Cookies that will make any oatmeal cookie lover swoon!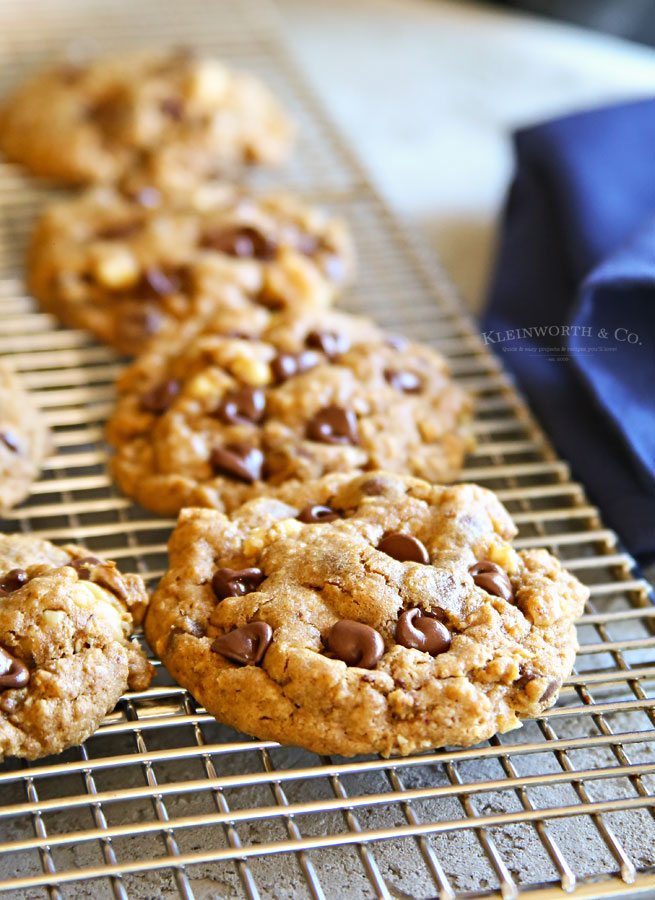 Back in our early years together the hubs would pick up those individually-wrapped oatmeal cookies at the check-stand when we would shop. I had always made him his favorite oatmeal raisin cookies, but he would comment every time that he wished I could replicate the softness and chewiness of the check-stand cookies. So it became my mission to master it. Enter molasses!
These particular cookies have already been made several times in the last week. The family can't decide which they like more. Some love oatmeal raisin and others love chocolate chip. So we often compromise with this combo.
I add the chocolate chips and sometimes some walnuts to this perfect oatmeal cookie recipe. But I have to tell you, the molasses is where it's at! Adding all that depth with molasses gives these cookies something that is irresistible. That thick liquid sugar syrup is an ingredient that I add to so many recipes and this particular one demands it. It really is key to keeping the cookies soft and chewy.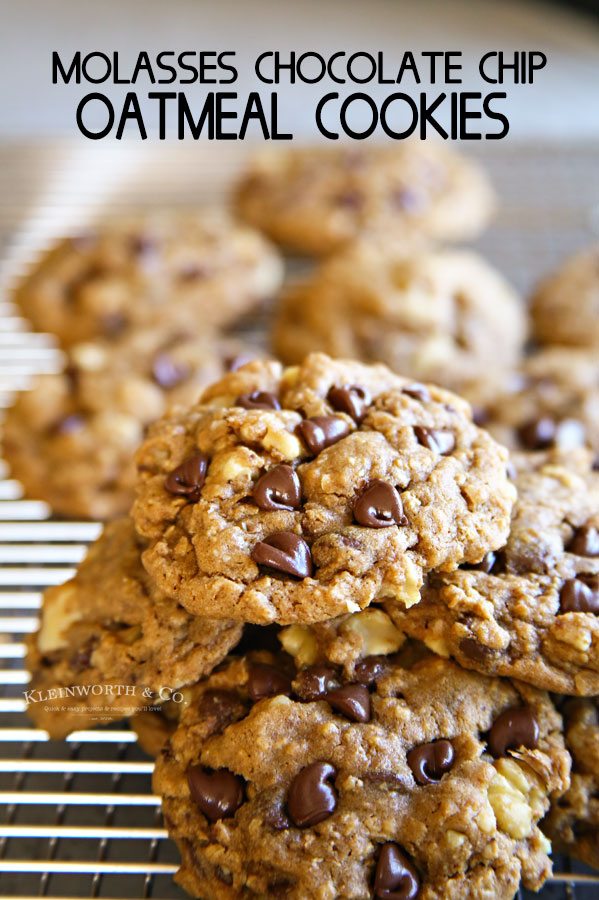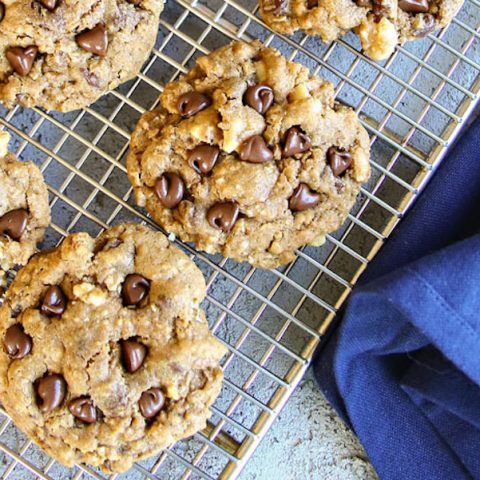 Oatmeal Chocolate Chip Molasses Cookies
Gina Kleinworth
Ingredients
½

cup

butter room temp

½

cup

brown sugar packed

1/3

cup

granulated sugar

2

tbsp

unsulphured molasses

1

egg room temp

1

tsp

vanilla extract

½

tsp

baking soda

½

tsp

baking powder

½

tsp

table salt

1

tsp

cinnamon

3/4

cup

quick oats

1

cup

all-purpose flour

¼

cup

whole wheat flour

1

cup

chopped walnuts optional

1

cup

chocolate chips
Instructions
Preheat oven to 350 degrees. Line baking sheets with parchment & set aside

Beat together butter & both sugars in a large bowl until light & fluffy.

Add in molasses, egg & vanilla.

Mix in baking powder, baking soda, salt & cinnamon.

Slowly stir in oats, both flours, nuts & chocolate chips.

Scoop tablespoon-size portions of dough onto prepared cookie sheets. Flatten slightly.

Bake 10-12 minutes or until golden brown around the edges.

Let cool on the pan 5 minutes before transferring to a wire rack to cool completely.

Store in an airtight container for up to 3 days.
Gina Kleinworth
Gina is the author & photographer behind Kleinworth & Co. She is a homeschooling mom to 3 and devoted wife with a passion for all things creative. Gina lives in Northern Idaho but is a So Cal native & spent 12 years living in various parts of the Nevada desert. Kleinworth & Co is a creative blog where Gina shares recipes, gift ideas, crafts, simple & cost effective ways to decorate your home, creative & fun projects for the kids & photography tips. Come visit to learn, share & get inspired on a budget.