These oat and black bean veggie burgers with corn salsa make a filling meal option that can be prepped ahead and serve with fresh vegetables.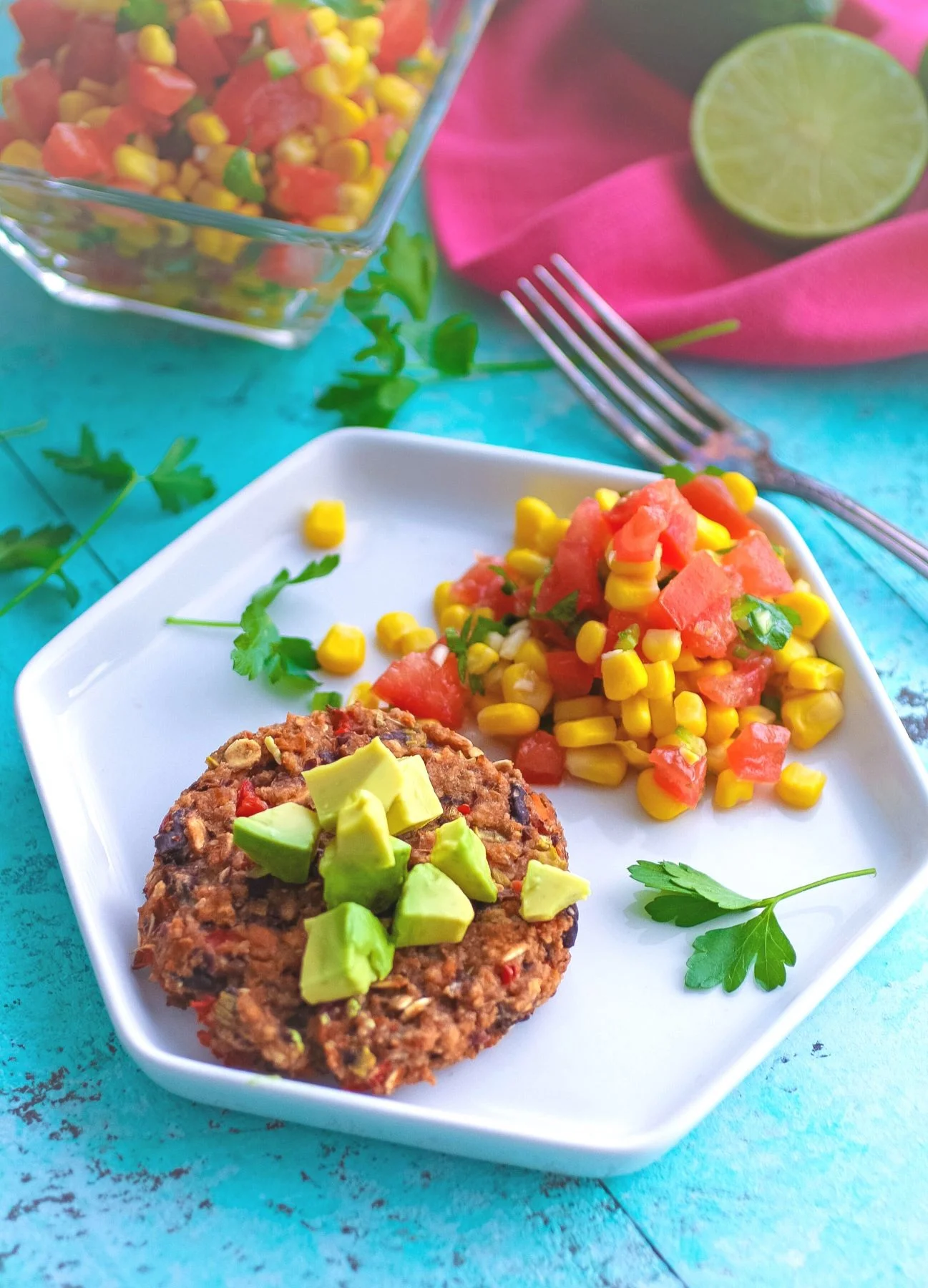 If you buy the frozen veggie burgers at the grocery store, cross them off your list. If you're hesitant about veggie burgers, try these right away. If you think veggie burgers taste like cardboard, whip these up. Seriously. They're really good!
My sister sent me the recipe for these burgers that she put together. She told me they were so good that she doesn't even buy her regular brand from the grocery store anymore! I love veggie burgers and couldn't wait to give these a try.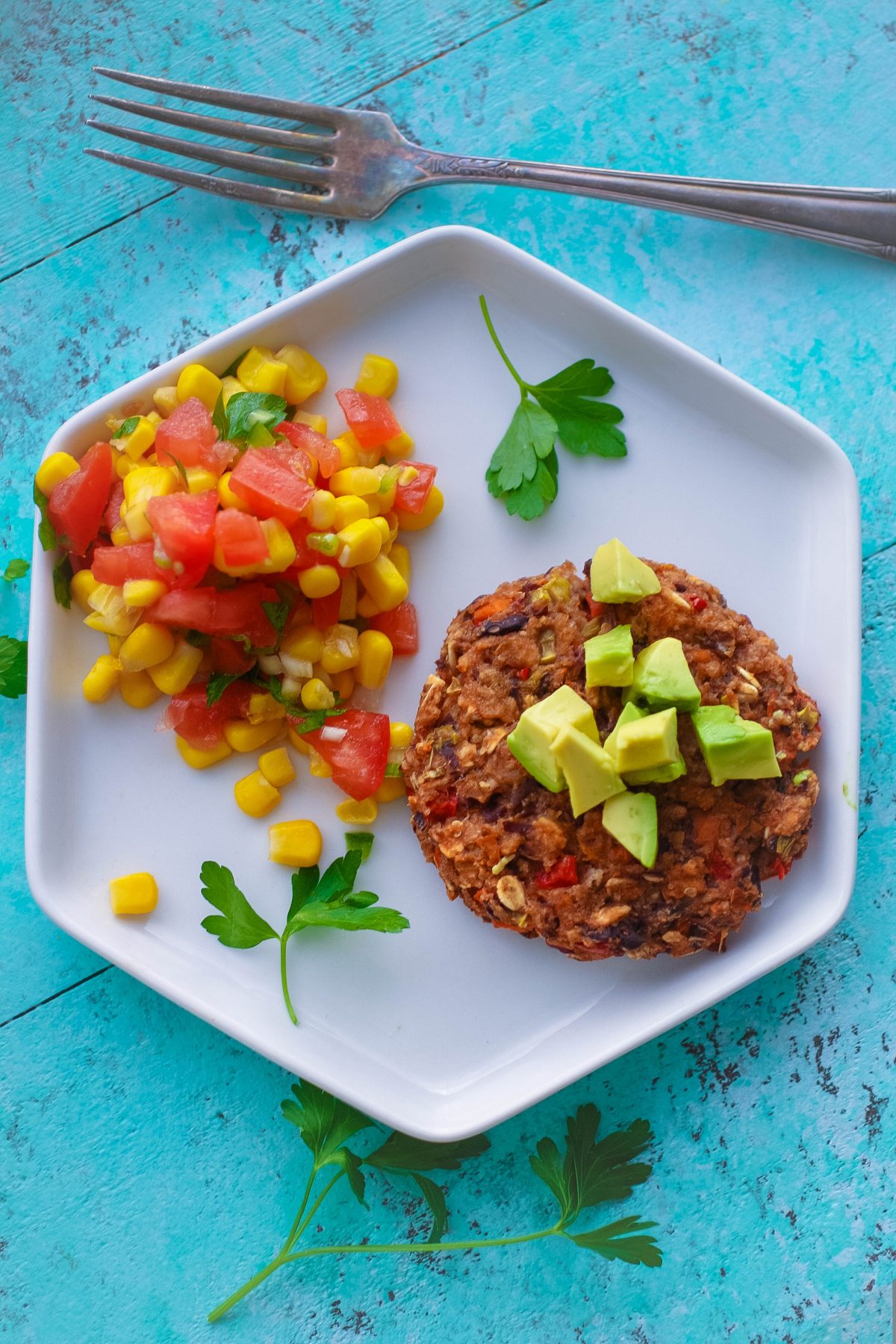 When you prep this meatless burger, your kitchen will look and smell like springtime (something a lot of us need right now with all the bad weather across the country). There are a bunch of different veggies in these burgers that provide great flavor and texture.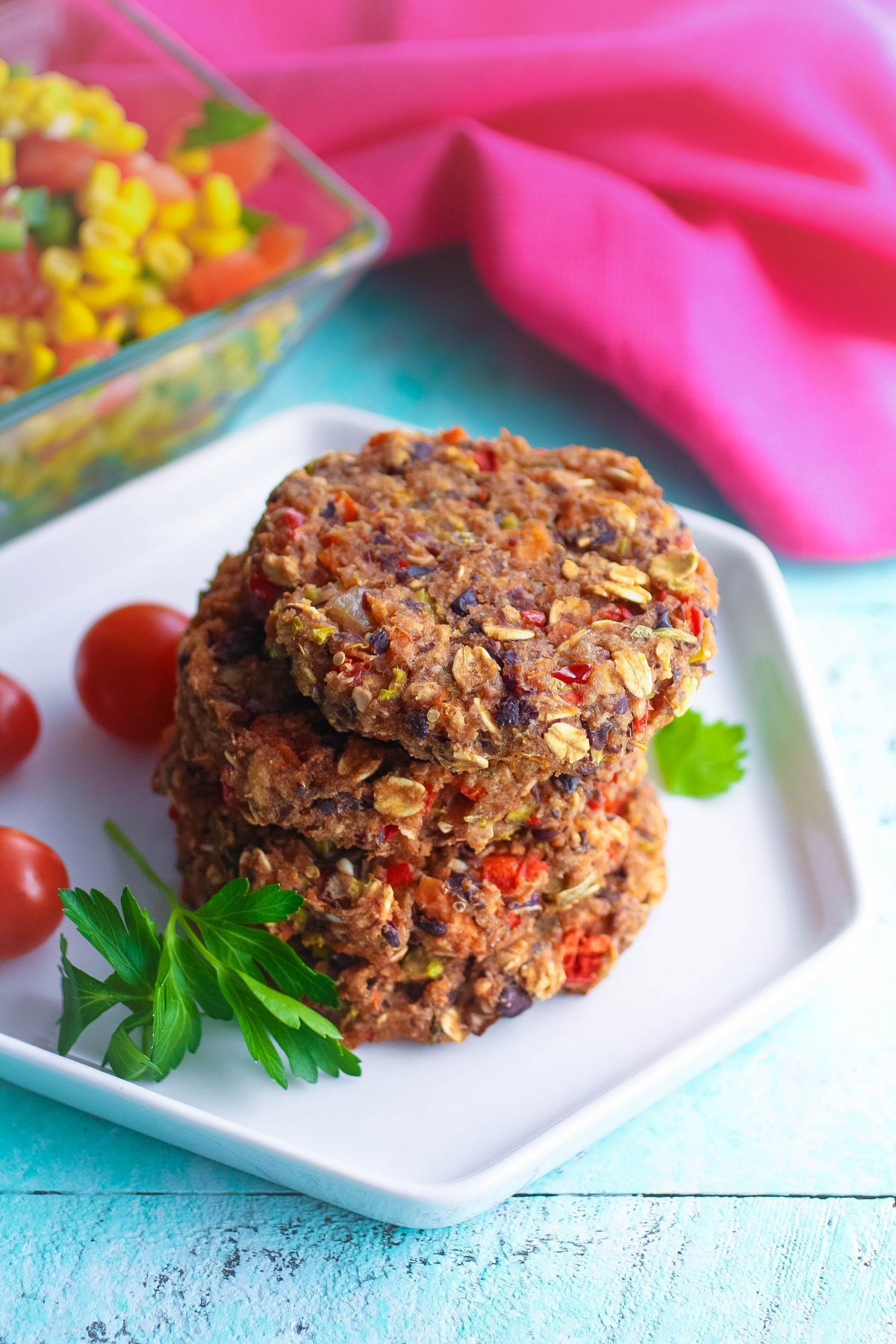 As always, the nice thing about this recipe is that you can substitute your favorite vegetables, beans, and even seasonings.
You might also like to try my Chickpea-Quinoa Burgers with Sun Dried Tomatoes recipe. This is another oldie-but-goodie recipe that I need to update the photos for, but they're delicious.
One of my all-time favorite recipes on the site is another fab meatless dish with wonderful salsa: Grilled Tofu Tostadas with Tomato-Mango Salsa. I swear I could eat that salsa with a spoon!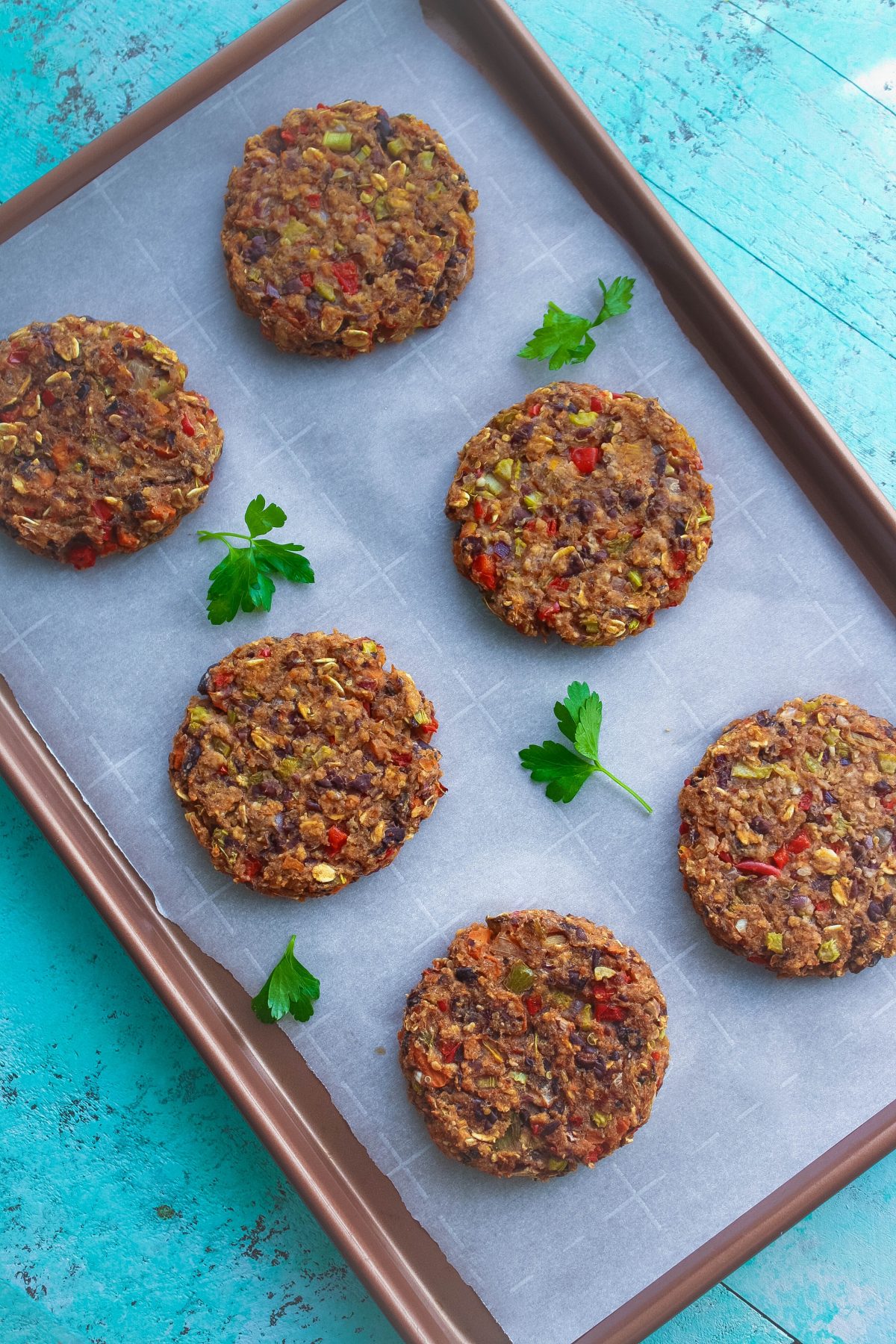 This black bean burger recipe includes panko breadcrumbs, which are larger in texture than regular breadcrumbs — they have a flaky texture. Some say they're better for frying and baking because they don't absorb oil as easily as regular breadcrumbs and, therefore, stay crispier.
I made Corn Salsa as a topping for the burgers (don't forget the tortilla chips!), but you can top them with whatever floats your boat — cheese, avocado, sour cream, lettuce, mustard… again, that's the beauty of these burgers!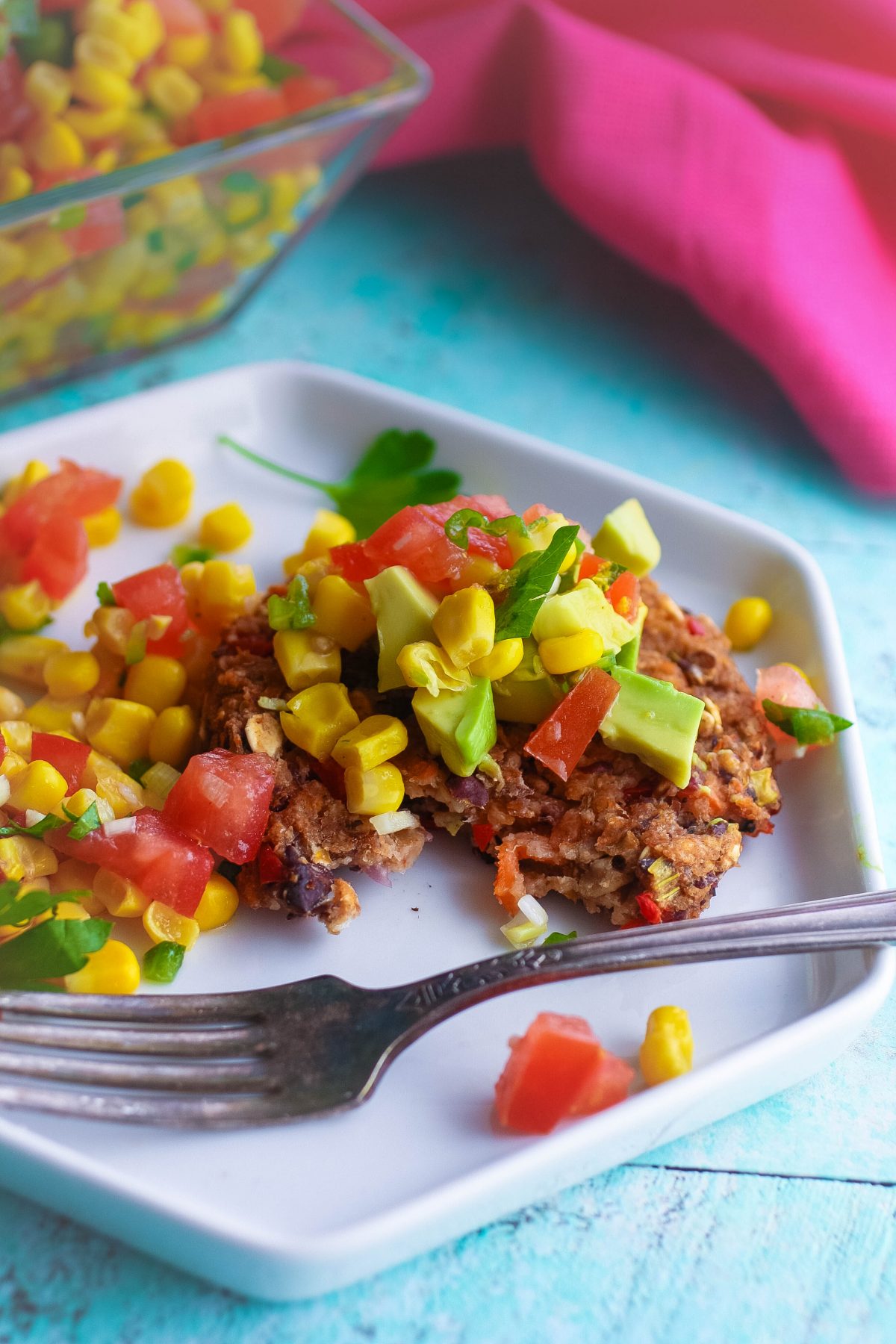 Once cooked, you can pop these burgers in the freezer to enjoy another time. They're perfect when you need a quick lunch.
Enjoy these Black Bean Veggie Burgers with Corn Salsa soon. I'm willing to bet you won't go back to the store-bought variety once you taste these!
Click here for the corn salsa recipe.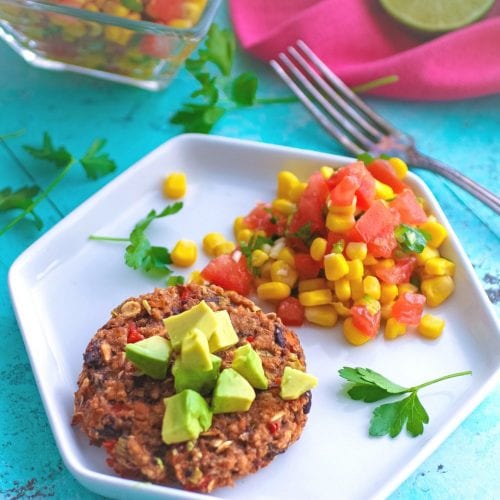 Oat and Black Bean Veggie Burgers with Corn Salsa
Patricia Conte
Ingredients
For the Burgers:
1

can black beans

rinsed, drained and mashed

1

carrot

peeled and diced

1/2

cup

celery

diced small

1/2

cup

red pepper

seeded and diced small

1/2

cup

onion

diced small

2

garlic cloves

minced

1

cup

salsa

1

cup

panko breadcrumbs

1/4

cup

oatmeal

1/4

cup

flour

1

teaspoon

Creole seasoning

more or less to taste

1/2

teaspoon

ground black pepper

1/2

teaspoon

salt

more or less to taste

Nonstick cooking spray
For the Corn Salsa:
Click the link above for the recipe.
Instructions
For the Corn Salsa:
Click the link above for the recipe.
For the Burgers:
Preheat the oven to 425 degrees F. Spray two baking sheets lightly with the nonstick spray and set aside.

Add the carrot to a bowl with a little water, cover and microwave for about two minutes. Once cooled, combine with the black beans in a food processor. Blend until smooth, with some chunks remaining.

Transfer to a large bowl. Add the celery, red pepper, onion, garlic, salsa, breadcrumbs, oatmeal, flour, Creole seasoning, black pepper, and salt. Mix to combine.

Form the mixture into medium-sized patties and place them on the baking sheets. Bake for about 20 minutes, flipping them halfway through cooking.

Serve with the Corn Salsa or your favorite topping.
Patricia Conte
Patricia Conte is the writer, recipe developer, and photographer behind Grab a Plate. She credits her love of cooking, baking, and entertaining to her Italian immigrant family who is also passionate about all things food! Visit her at Grab a Plate where she shares her love of food, recipes, and bites in between. Follow Patricia on Twitter, Facebook, and Instagram.