These Nutella S'mores Bars with Raspberries are an easy baked dessert for summer parties or as a fun project on a rainy day, no campfire required.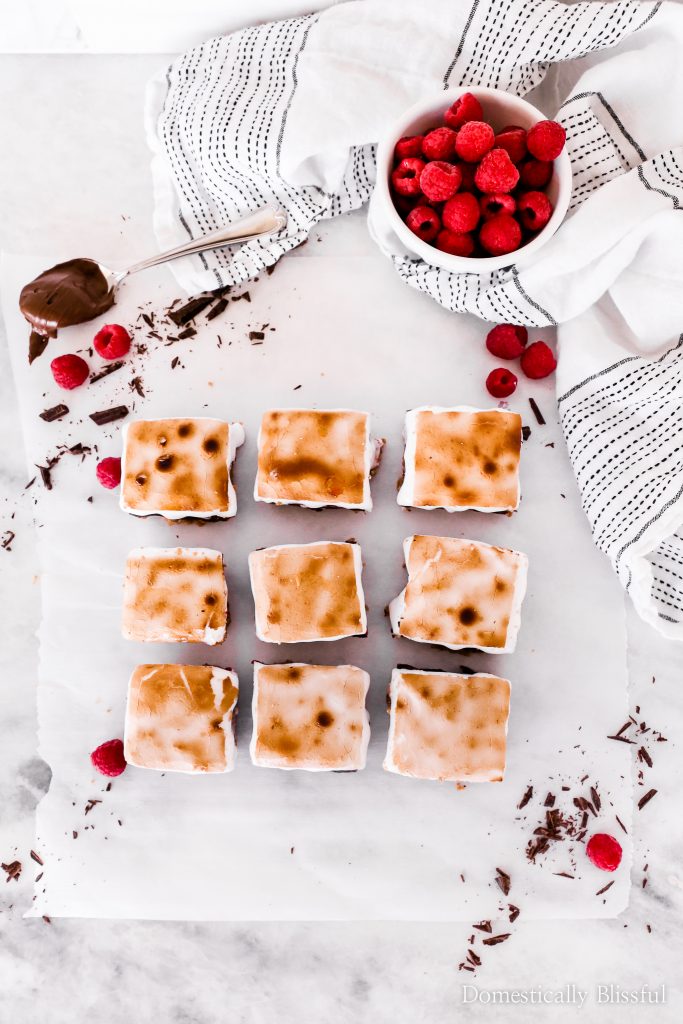 I've been craving s'mores recently and since I haven't shared a new twist on s'mores in a couple of years I thought it was about time that I created a new unique s'mores recipe.
Previously my top favorite s'mores recipes were these S'mores Scones and these S'mores Pumpkin Spice Cookies.
I've now decided that these Raspberry Nutella S'mores Bars need to be added to the list as they are so decadently delicious.
This grown-up version of s'mores is easy to bake up and I had a lot of fun swirling in the Nutella and then creating rows of halved raspberries.
And I personally think that the toasted marshmallow creme on top is extra fun!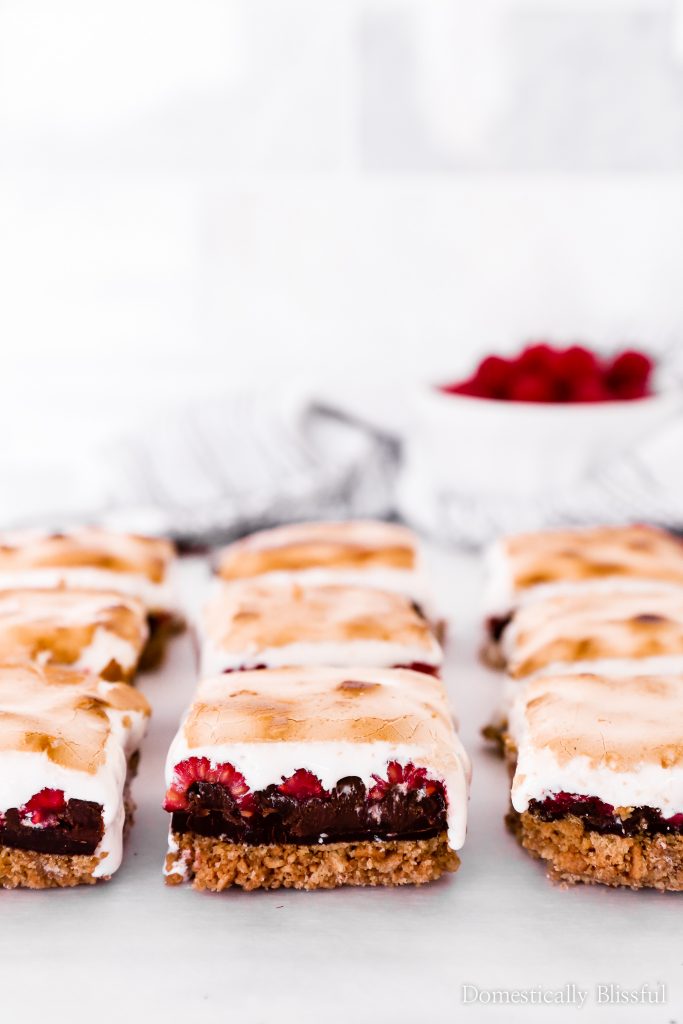 Now I did cut these Raspberry Nutella S'mores Bars into squares for the pictures, but I would like to suggest that you keep your dessert bars in the pan, cut and ready to serve, in order to help them keep their shape.
Since marshmallow creme isn't the most unmoveable ingredient it has a tendency to slowly slide and melt off in the sun or when left in a warm environment.
But what s'mores treat isn't a little sticky and messy?
And this summer dessert recipe is totally worth it!
With a graham cracker crust, a swirl of dark chocolate & Nutella, a layer of raspberries, and a topping of marshmallow creme, what isn't there to love?
You can be fancy and eat this dessert with a fork, but I found it much more enjoyable to use my fingers!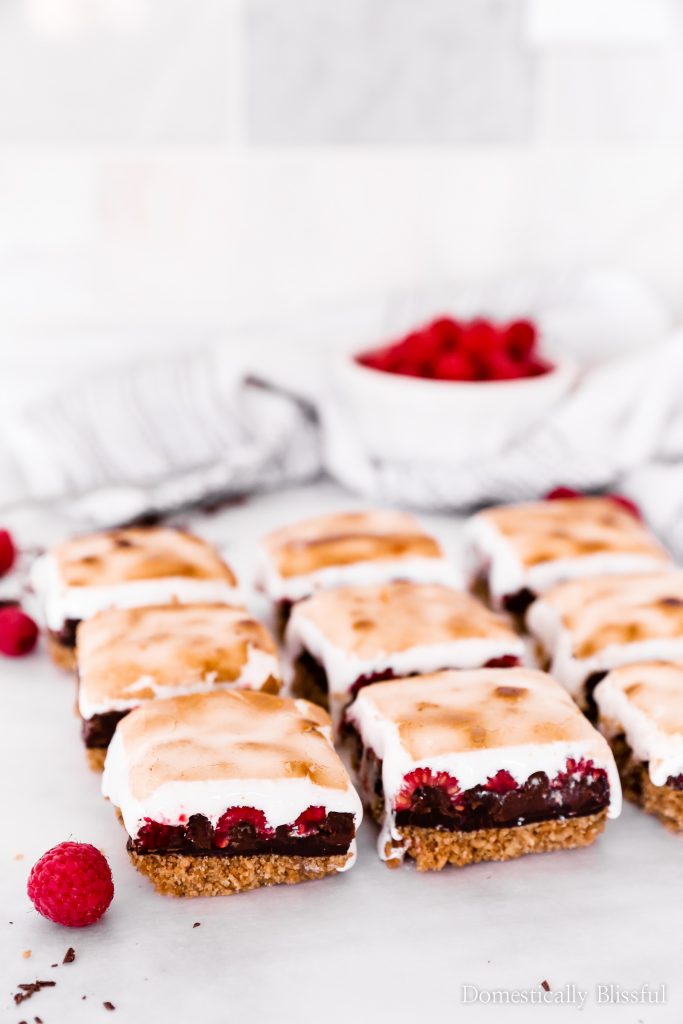 Print

Nutella S'mores Bars with Raspberries
---
Author:

Giustina Blissful
1/4 Cup

Brown Sugar

2 Tablespoons

White Sugar

5 Tablespoons

Butter (melted)

1/2 Teaspoon

Vanilla Extract

1

& 1/2 Cups Graham Crackers (crushed)

2

Dark Chocolate Bars

1/2 Cup

Nutella

6 Ounces

Fresh Raspberries (halved)

13 Ounces

Marshmallow Creme
---
Instructions
First, preheat your oven to 350 degrees Fahrenheit & line your 11X7? baking dish with parchment paper.
Next, blend the 1/4 cup brown sugar, 2 tablespoons white sugar, & 5 tablespoons melted butter.
Then blend in 1/2 teaspoon vanilla extract.
Stir 1 & 1/2 cups crushed graham crackers.
Pour your graham cracker dough into the baking dish & pat it down to create a base.
Next, lay down the two chocolate bars on top of the graham cracker dough in the baking dish.
Bake for 10 minutes.
Use a spatula to spread out the melted chocolate & drizzle 1/2 cup Nutella over the top using a toothpick to swirl it into the chocolate.
Next, top the Nutella chocolate with the halved raspberries.
Freeze until the chocolate is set, about 20 minutes.
Finally, top with the marshmallow creme & broil for 2-3 minutes (keep an eye on it so that it doesn't burn), or until the top is golden.
Let cool & enjoy! *(1)
Notes
1. For easy cutting place your Raspberry Nutella S'mores Bars in the freezer for 2-3 hours or in the fridge overnight. Then cut the bars a few hours before you are ready to serve them (leaving them in the baking dish). They will be gooey again in about 2 hours & ready to serve.
Giustina Blissful
Hello! My name is Giustina and I'm a 20 something who is married to my best friend and love of my life. I think everything tastes better when made with love and a splash of lemon. Although love, life, and marriage is never easy I believe that it is always an adventure worth traveling!