Rich chocolate cupcakes filled with fluffy Nutella whipped cream and topped with Nutella Swiss Meringue buttercream.
By Erin Mahoney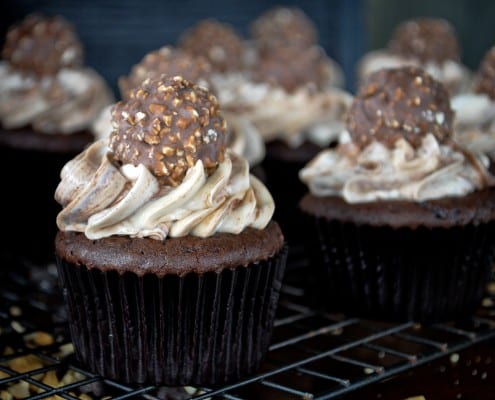 Nutella is one of those pantry items that never spends much time actually in my pantry.  I buy it, and I use it immediately.  And, if I don't have a recipe rolling around in my head, I usually just eat it with a spoon.  Or on pound cake – or on graham crackers.  OK, if we're being honest, (Honest Cooking, and all), I'm not above just using my finger.  I'm not proud.
I'm fairly certain that I've never had a jar of Nutella in my pantry for more than 24 hours.
The recipe for these cupcakes was born on a trip home from the grocery store one evening.  Before I even put my groceries away, I had these cupcakes baking away in the oven. This chocolate cake is rich, moist and just firm enough to stand up to the Nutella whipped cream filling. The silky-smooth Swiss meringue buttercream is swirled with ribbons of Nutella, and the combination of the cake, filling and frosting will have you swooning. You will actually fall in love with a cupcake.
See Also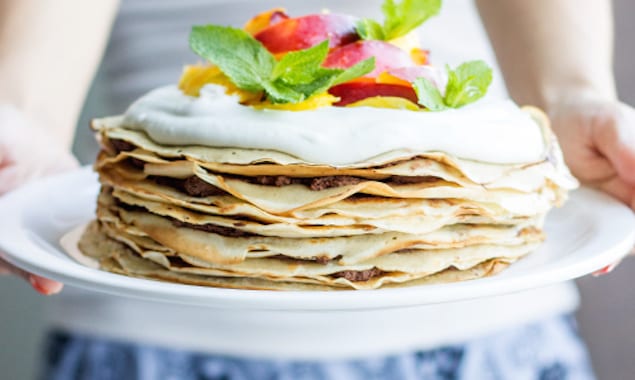 Now, I have to make a trip to the grocery store.  I'm out of Nutella.  Enjoy!

Rich, dark chocolate cake filled with a fluffy Nutella whipped cream, and topped with Nutella Swiss Meringue buttercream.
Ingredients
Cake Ingredients:
½ cup (100 g) natural unsweetened cocoa powder (Dutch Process)
2 ounces (57 g) high-quality milk chocolate, chopped
½ cup (118 ml) boiling water
½ cup (118 ml)buttermilk
1 and ⅓ (132 g) cups cake flour
1 teaspoon (4.3 g) baking soda
½ teaspoon (2.1 g) salt
⅔ cup (packed) (133 g) dark brown sugar
½ cup (100 g) sugar
½ cup (118 ml) canola oil
2 large eggs
1 teaspoon (5 ml) vanilla extract
Nutella Cream Ingredients: (Filling)
½ cup (90 g) Nutella (or other chocolate/hazelnut spread)
1 cup (240 ml) heavy whipping cream
Nutella Swiss Meringue Butter Cream Ingredients:
5 egg whites
1 and ½ cups (290 g) sugar
1 and ½ cups (345 g) unsalted butter, softened but still cool
2 teaspoons (10 ml) vanilla extract
¼ (1 g) teaspoon salt
⅔ cup (120 g) Nutella (or other chocolate/hazelnut spread)
Instructions
Cupcake Directions:
Position rack in center of oven; preheat to 350°F.
Prepare cupcake tins with paper liners.
Combine cocoa powder and milk chocolate in medium bowl.
Pour boiling water over; whisk until mixture is smooth.
Whisk in buttermilk.
Whisk flour, baking soda, and salt in another medium bowl.
Using electric mixer, beat both sugars, oil, egg, and vanilla in large bowl until well blended.
Add flour and cocoa mixtures; beat until blended (batter will be thin). Divide batter between pans.
Bake cakes until tester inserted into center comes out with some crumbs attached, 15-20 minutes.
Cool in pans on racks for 5 minutes.
Let cool completely before filling with Nutella cream.
Filling Directions:
With a hand mixer, beat cold whipping cream until stiff peaks form.
Put Nutella in a small bowl, and fold/stir ¼ cup of whipping cream into Nutella to lighten it.
Then, carefully fold the Nutella mixture into the remaining whipped cream mixture, so it remains light and fluffy.
Spoon the Nutella cream into a piping bag fitted with a filling tip (or a small star tip) and inject each cupcake with a small amount of filling.
Frosting Directions:
Bring a small amount of water to a rolling boil on the stove top in a large saucepan that allows the bowl of your stand mixer to sit atop the saucepan without touching the boiling water.
Whisk together egg whites and sugar in the bowl of your stand mixer. Place over rolling water (similar to a double boiler) and whisk constantly until the sugar is dissolved and no longer grainy (rub the mixture between your fingers to test).
Once the sugar has dissolved, immediately transfer bowl to stand mixer and whisk on medium high speed until the eggs form stiff peaks AND the bowl is cooled to room temperature.
Switch to the paddle attachment and add butter 2 pieces at a time until incorporated.
Continue to beat the mixture until it forms a smooth, silky frosting. If the mixture is runny or begins to curdle, do not fear - just keep beating until it comes together. This can take up to 10-15 minutes.
Once the mixture comes together, add the salt and vanilla extract and beat to combine.
Remove the bowl, and use a large spatula to carefully fold the Nutella into the frosting. Do NOT over mix - carefully fold the mixture just a few times to swirl the Nutella into the butter cream. You want to see streaks. I probably only stirred mine 4 or 5 times to reach the desired effect.
Carefully spoon the frosting into a large piping bag fitted with desired tip. Frost as desired, and garnish with a Ferrero Rocher candy.
Erin Mahoney
Erin Mahoney is a food blogger from the Kansas City area. With a day job in the TV business and two little girls at home, this busy Mom spends her very limited free-time experimenting in the kitchen. While her culinary efforts tend to fall on sweet treats and comfort foods, her focus is on real, from-scratch food for her family and friends. Her blog, Lemon Sugar, is full of whimsical recipes and anecdotal stories that will warm your heart and make you hungry.