This delicious, semi-homemade dessert requires just four ingredients — and one of them is Nutella. What's not to love?
By Dawn Myers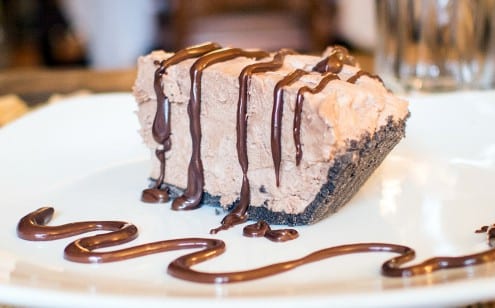 Nutella Cream Pie
This delicious, semi-homemade dessert requires just four ingredients -- and one of them is Nutella. What's not to love?
Ingredients
8 ounces cream cheese, room temperature (Philadelphia brand tastes best)
1 cup Nutella
2 cups heavy cream, whipped to stiff peaks
1 chocolate wafer pie crust
Instructions
Combine cream cheese and nutella in a mixing bowl and whip until well combined and fluffy.
Fold in whipped cream one third at a time, until thoroughly combined.
Pour mixture into pie crust. Cover in plastic wrap and freeze until solid.
Remove from freezer about 10 minutes prior to serving. Melt a small amount of nutella to drizzle on top for "flair".