Calvados, an apple brandy, adds another dimension of apple flavor to the cake and makes for for extra-special whipped cream.
By Debra Smith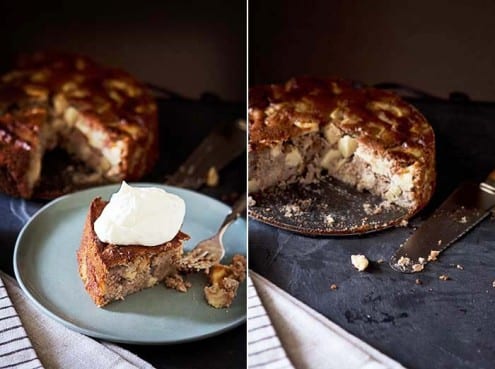 Gluten-Free Apple Cake
Calvados, an apple brandy, adds another dimension of apple flavor to the cake and makes for for extra-special whipped cream.
Ingredients
¾ cup chestnut flour
¾ cup almond flour
1½ teaspoon baking powder
¼ teaspoon kosher salt
4 cups apples, peeled, cored and cut into ½-1 inch pieces
3 large eggs
½ cup sugar
3 tablespoons Calvados
1 teaspoon vanilla paste
8 tablespoons (1 stick) unsalted butter, melted and cooled
Whipped Cream
2 cups heavy whipping cream
½ cup powdered sugar
2 teaspoon Calvados
pinch of salt
Instructions
Preheat oven to 350 degrees with a rack in the center
Generously butter an 8-inch springform pan; line a baking sheet with foil, parchment or a silicone baking mat and place springform pan on it.
Whist the chestnut and almond flours, baking powder and salt together in a small bowl; set aside.
Melt butter and set aside to cool.
Peel apples, core and cut into roughly 1 inch chunks
In a medium bowl, whisk eggs, sugar, vanilla paste and Calvados until well blended and foamy.
Whisk in half the flour until incorporated; add half of the melted butter and mix well. Follow with the remainder of the flour and butter, mixing gently after each addition.
The batter should be smooth and a little thicker (not stiff) than normal cake batter.
With a rubber spatula, fold in the apple chunks, making sure all the pieces are coated.
Scream the mixture into the prepared springform pan, smoothing the top.
Bake for 50 minutes or until the top is golden brown and a tester inserted into the center comes out clean -- the cake may pull away from the pan.
Transfer to a cooling rack and allow to cool for 5 minutes; carefully a run a knife around the edges and open the springform slowly before the cake is completely cooked.
Allow to cool to room temperature before serving with a dollop of whipped cream.
Debra Smith
Debra and 'The Professor', Midwest-based husband and wife freelance videographers, photographers, writers, storytellers, and publishers of the Smith Bites. Using images, words, music and video, they connect the stories about food, friends and family to the world around them.