A sustainable slipper-shaped shellfish is finally being showcased in restaurants around the world. With its long journey to the plate and umami flavors, it won't be long before the Atlantic Limpet is found in supermarkets, too.
By Annelise McAuliffe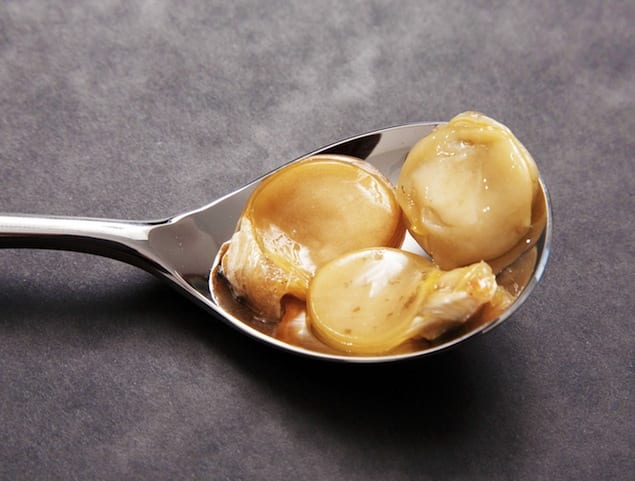 Originally calling the North American East Coast home, the Atlantic Limpet latched onto US military vessels and traveled all the way to France's coastline for D-Day in 1944. With a desired ecosystem and no predators along the Brittany and Normandy water, the shellfish continued to successfully establish themselves and multiply. In just a short time the Limpet has managed to increase its numbers to millions of tons, even present in oyster habitats.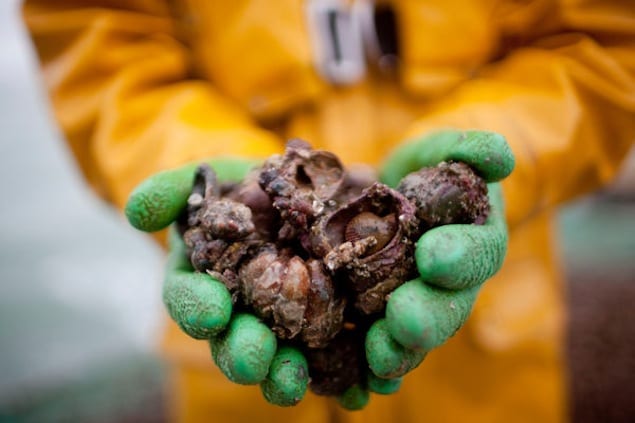 Photo credit: Catalina Martin-Chico for The New York Times
With a call from consumers for sustainable seafood and cuisine practices, it only made sense to pursue the harvest of these abundant creatures. One of France's seafood distributors set out to learn the best way to open the shellfish and distribute them effectively to the plate. Because of their unique, curved shell the French had to come up with a way to accomplish cold-shelling of the Limpet.
Today, the Atlantic Limpet has made its way around the world, but this time on the inside of boats and into kitchens. With harvesting regulations in place, this newly consumed shellfish will be protected, controlled, and be allowed to thrive and keep their numbers up as a species. Over-fishing and over-crowding from the Limpet has threatened the desired populations of oysters. However, with recent fishing of the Limpet in the last five years, the oysters will have more space to restock.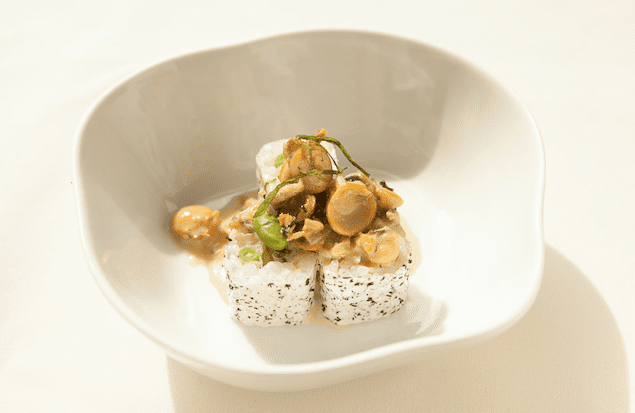 So how does the Atlantic Limpet taste? At the end of the day, no matter how sustainable a food may be, if it doesn't taste good it won't be eaten. However, this shellfish has an abundance of delicious flavor. Japanese chefs have begun to see the fish as a beautiful vessel of full-tasting umami, one of the five basic flavors. Chef Tanaka of the Philadelphia restaurant Zama even serves the Limpet with a sushi roll. Chef Emmett McDonough, who uses the Limpet in his chowder soup, describes the flavor as being a combination of a clam, conch, and a mushroom.
We can't help but imagine the mussel-like shellfish on pizza, deep-fried in tempura, stirred into risotto, enjoyed raw, or sautéed and added to a cream pasta sauce. Enjoy the shellfish with a glass of still or sparkling white wine.
Try Chef Emmett McDonough's recipe for New England Clam Chowder.

From North America to France: The Tale of the Atlantic Limpet
A different take on New England clam chowder with Atlantic Limpet.
Author:
Chef Emmett McDonough
Ingredients
2 strips of bacon, diced
2 Tablespoons sliced garlic
5 sprigs of thyme
¼ C butter
1 C onion, diced
1 C celery, diced
½ C flour
2 C clam or limpet broth
1 C whole milk
2 C heavy cream
1 pound Limpets
Salt & white pepper to taste
2 C diced, cooked potatoes
Zest of 1 lemon
Garnish (optional)
Micro-greens
Chili oil
Shrimp
Potato puree
Instructions
Over medium heat cook the bacon in a medium size pot. After about 10 min remove bacon and add your garlic to bacon grease. 3 minutes later add your butter, thyme, onion, celery, and leeks.
Sweat them down for 15 minutes till tender and translucent. Add flour and stir lightly cooking for 2-3 minutes to cook of the raw flour taste. Add your clam/limpet broth and stir till all combined. Add your milk and cream stirring at a simmer. Season with salt and white pepper adding your lemon zest.
When your soup is seasoned and has a creamy slightly thick consistency add your limpets and potatoes. Add bacon if you'd like to otherwise serve and enjoy.
To make limpet clam broth put 2 dz little neck clams & 1 lb limpets in a buttered pot with some garlic and a ¼C white wine and 1.5 qts of water. Place cover on pot and lightly steam the clams.
Strain and reserve broth for above recipe.
Garnish with micro-greens, chili oil, shrimp, and potato puree.