Nordic Pearl Barley Risotto with Pumpkin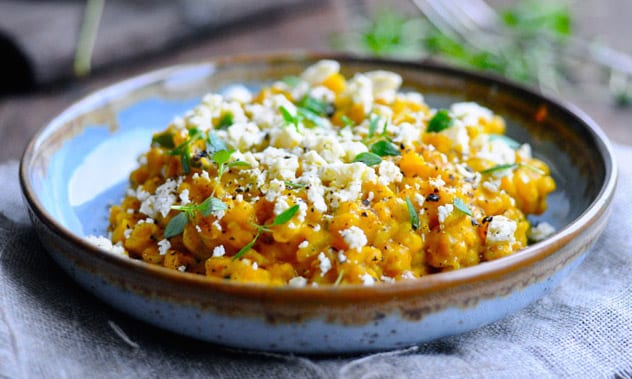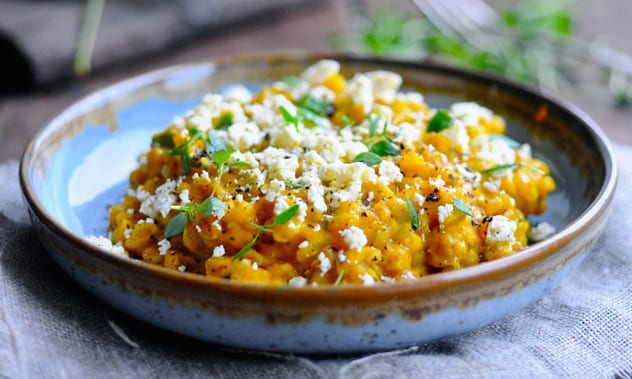 A Nordic pearl barley risotto with pumpkin, feta cheese and thyme, perfect for this time of year with seasonal hokkaido pumpkins.
By Julie Karla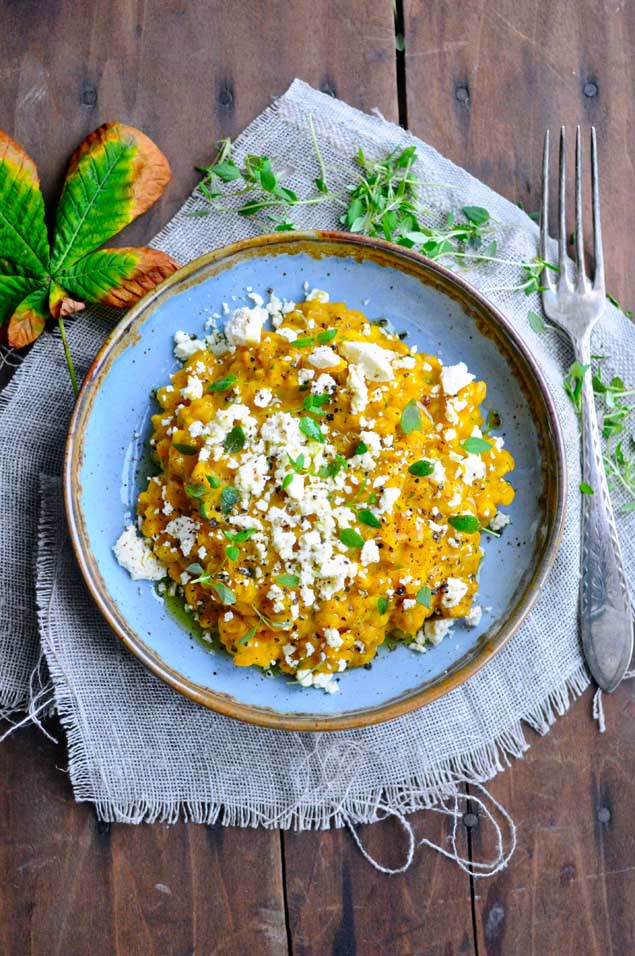 This Nordic pearl barley risotto with pumpkin, feta cheese and thyme is perfect for this time of year when you can get the most beautiful hokkaido pumpkins. I love this orange vegetable that is useful for so many things. My favorite being this creamy and perfectly sweet pearl barley risotto but a pumpkin soup with a dash of cream and toasted pumpkin seeds isn't bad either or what about roasted pumpkin bites in a wonderful spinach salad? Yum!
Pearl barley is a cherished whole grain here in Denmark and we eat it as a more healthy substitute for rice. It has especially become very popular to replace the refined white rice in the classic risotto with pearl barley or even spelt berries and in my personal opinion it tastes so much better.
This pearl barley risotto is also much easier to make than the normal risotto with rice, where you'll have to gradually add liquid to the dish until the rice are cooked through and keep stirring for up to half an hour. In this recipe, you can just cook the pearl barley and leave it aside while you make the creamy pumpkin sauce. At the end you just mix it all together, add a few extra ingredients and then you have a perfect and well-rounded dish.
I have also made the same type of dish with cauliflower instead of pumpkin and it was so good! Instead of the feta cheese I added lots freshly grated mozzarella and I got the most creamy spelt risotto.
By the way. This is my first article here on Honest Cooking and I am so happy to be on board and be a part of this wonderful site full of so much inspiration. My posts here will be about the Nordic cuisine and I will share with you some of my best Nordic dishes. I hope you'll like it!
Best,
Julie Karla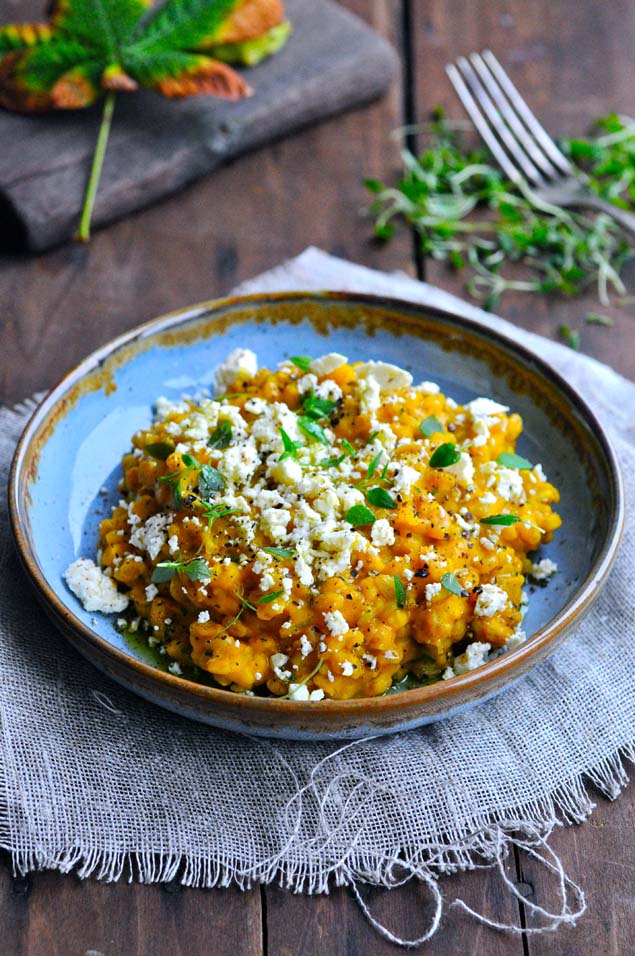 Nordic Pearl Barley Risotto with Pumpkin
A great Nordic pearl barley risotto with pumpkin, feta cheese and thyme that is perfect for this time of year when you can get the most beautiful hokkaido pumpkins.
Ingredients
10.6 oz. (300 gr.) Hokkaido pumpkin
⅘ (2 dl.) pearl barley
3/5 cups water (1½ dl.) (used for cooking the pumpkin)
⅕ (1/2 dl.) cups whipping cream
½ onion
1 clove of garlic
Butter
2 tbsp. fresh finely chopped thyme
1 pinch of nutmeg
Lots of freshly ground pepper
Salt
Apple Cider Vinegar
2.6 oz. (75 gr.) Feta
Instructions
Chop onion and garlic and fry in butter in a pan until the onion is soft. Set aside.
Cook pearl barley in plenty of water until tender. Drain and set aside.
Peel the pumpkin, remove the seeds and cut into small pieces.
Cook the pumpkin pieces in boiling water until they are tender and then drain, BUT save ca. 3/5 cups (or if necessary, a little more) of water for the sauce.
Put pumpkin pieces into food processor or blender along with pumpkin water, cream, finely chopped thyme, a pinch of grated nutmeg and salt and pepper.
Pour pumpkin sauce back into your saucepan and mix with pearl barley and butter-fried chopped onion and garlic.
Season with a little bit of apple cider vinegar, as it gives a flavor kick to the dish.
Garnish with crumbled feta cheese, a drizzle of good olive oil and plenty of freshly ground pepper.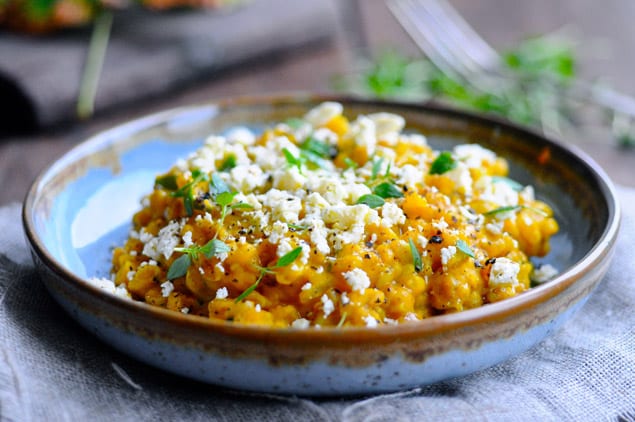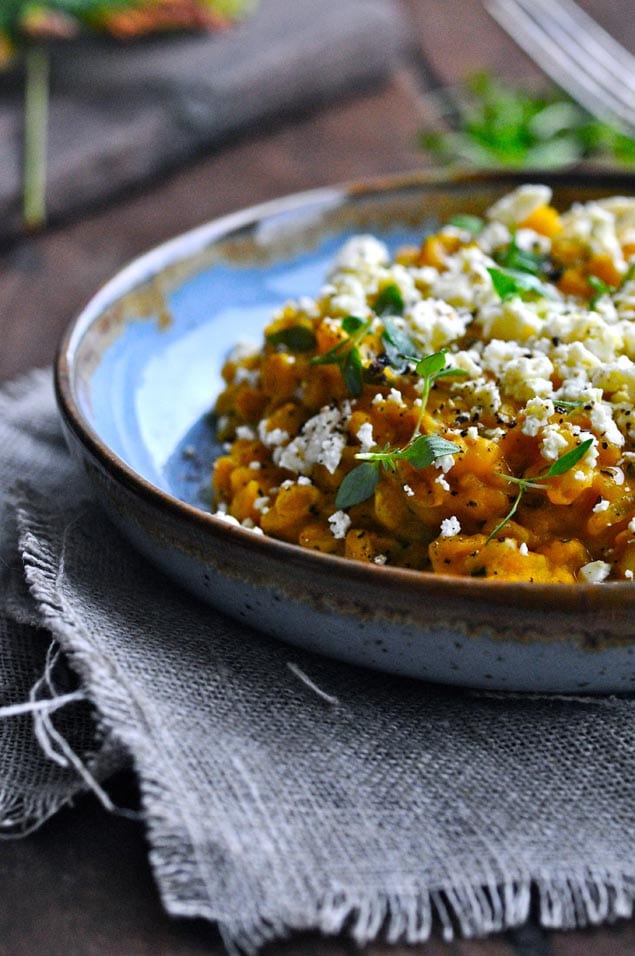 Julie Karla
Julie Karla has got a thing for the Nordic cuisine. The ancient whole grains, beautiful mushrooms and wild berries are just some of the Nordic ingredients that you will find in her recipes - all with a Scandinavian twist. In 2012, she won the Danish National Championship of home cooking and ever since then she's been busy developing new recipes, cooking and taking pictures in her city apartment in Copenhagen for the food blog www.karlasnordickitchen.com.