Spring lamb is one of the most amazing meats, when being properly cooked – keeping its juiciness and enhancing the natural delicate flavor.
By Mia Irene Kristensen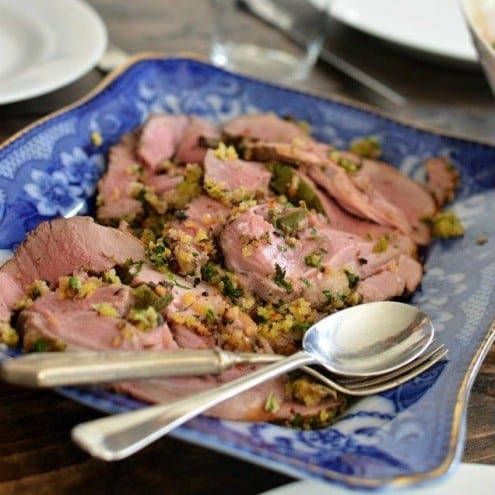 Spring lamb is one of the most amazing meats, when being properly cooked – keeping its juiciness and enhancing the natural delicate flavor. This time I cooked the leg of lamb using low temperature roasting in the oven in combination with buttermilk marinade and a crispy herb crust.
Nordic Cuisine for the Home Cook – summertime
Last week I once again took the "short" way across Denmark and the North Sea to do cooking classes "Nordic Cuisine for the Home Cook – summertime" in London (at the Culinary Anthropologist). We made a variety of dishes all with a New Nordic touch in technique or ingredients. Rye bread, "klatkager", rhubarb cordial with lemon verbena and hay-smoked brie was just a couple of the dishes, that was cooked and enjoyed by the guests – BUT nothing really beats a really beautiful piece of meat. Same here, everybody loved the spring lamb!
Spring lamb is born, not served in the spring
The dilemma with lamb is, that we often find it to be an Easter treat. Many people don't consider the origin of a piece of Easter lamb. The thing is, that to become big enough to have a decent "leg of lamb", then the lambs has to be at least six months old. Easter lamb is therefore born and raised during winter without any fresh green fodder and indoor housing (not as much exercise!). This affects the quality of the meat and doesn't give the benefit and potential meat quality of the lamb. That's really a loss of potential! – Leaving the sheep to give birth, when the temperatures are higher and the green feed is plentiful, is more natural and I think it gives more delicate and tasty meat. To retain the high quality of the meat it's important not to drown the flavor with strong spices but only use small amounts or herbs instead. We bought our spring lamb at Godfreys in Arsenal, but ask your local butcher if he can get hold of some for you.
Low-temperature roasting – the effect
It wasn't difficult for the guest to see the obvious difference between the normal roast they put on the Sunday lunch table and the low-temperature roasted leg of lamb. The low temperature cooks the meat more evenly, leaving no grey "zone" and an equally pink piece of meat. The meat also shrinks less during cooking and therefore it retains moisture, giving a very juicy roast.

Low-temperature roasting – Choice of temperature
The method of low temperature roasting is very simple, turn down the temperature of your oven and wait a little longer. Low temperatures, when talking meat roasting, are between 80-120C degrees. You can of course go below 80 as well, but most home-kitchen ovens aren't very precise and typically hold +/- 15C degrees of the desired temperature. So to be sure about food safety and to ensure a good texture in the meat choose temperatures above 80C degrees.

Browning before roasting
Working with oven temperatures around 80-120C degrees doesn't create a good browning, so it is important to brown the meat in a hot pan before finishing it in the oven. The browning is one of the most important step, when preparing all types of meat, since it's the only thing creating and transforming the flavors of the meat, leaving nutty, meaty and caramel-like aromas on the surface. So, no browning – no flavor!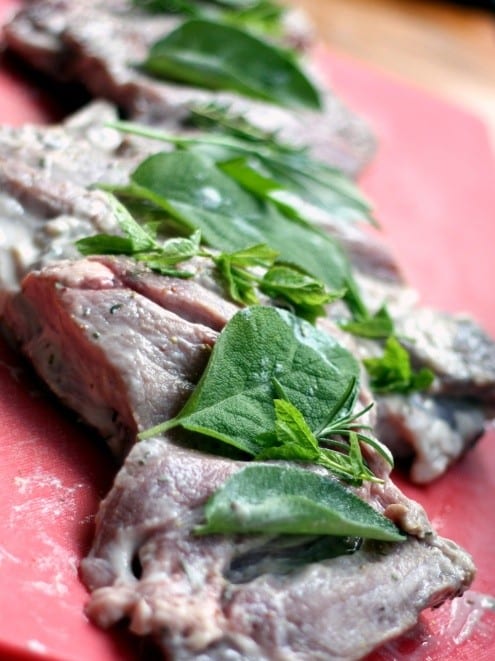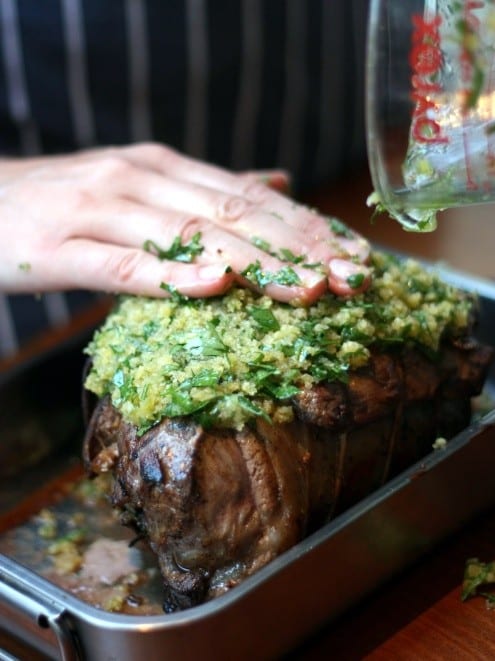 Amazing butterflied leg of lamb, evenly roasted at a low temperature to ensure a tender and juicy serving.
Author:
Mia I. Kristensen
Ingredients
1 leg of lamb, butterflied and skinned (ca.1.5kg of meat)
salt & pepper
a good handful of fresh whole herbs (eg soft-stemmed thyme, sage leaves or mint leaves)
a generous knob of butter for browning the meat
For the herb crust:
150ml chopped herbs, mostly parsley with some rosemary, thyme or mint
150ml breadcrumbs
4 fat cloves of garlic, very finely chopped or crushed
100g butter, melted
salt & pepper
Instructions
Heat oven to 120C (110C fan).
Season the meat all over with salt and pepper. Lay the handful of herbs inside and roll up the meat, securing it with several pieces of string.
Heat some butter in a heavy-based pot or frying pan and brown the meat all over.
Place meat in a roasting tin and bake at 120C for about an hour or until an instant read thermometer inserted into the thickest part reads 50C.
Take the meat out and increase the oven temperature to 240C.
Make the herb crust by combining all the ingredients, and then spread it over the top of the lamb.
Roast the lamb at 240C for 5-10 minutes or until the crust has browned nicely.
Remove the lamb from the oven and let rest for 10-20 minutes before removing the string and slicing.
Notes
This method can also be used with beef sirloin, pork loin, chicken breast and rack of lamb.
Photos by:
WenLin Soh
, Mia Irene Kristensen and
Anna Colquhoun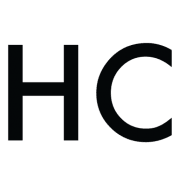 Mia Irene Kristensen
Mia Irene Kristensen is a passionate food blogger, creative recipe developer and Master Student in Food Science and Technology. When not braising and baking, she runs the companies CPH Good Food and TASTE CPH. This keeps her in touch with her creative side and passion for cooking, as she is constantly working on new projects, developing recipes, hosting cooking classes and food walks, and lastly trying to teach the public a tiny bit of the science that goes on in their pot and pans.