Raw shrimp, moss foam, pine oil, and unfamiliar herbs. These are the hallmarks of a bigger trend currently sweeping Nordic-inspired restaurants all around the world. Are these really the only things people should associate with the New Nordic Cuisine?
By Mia Irene Kristensen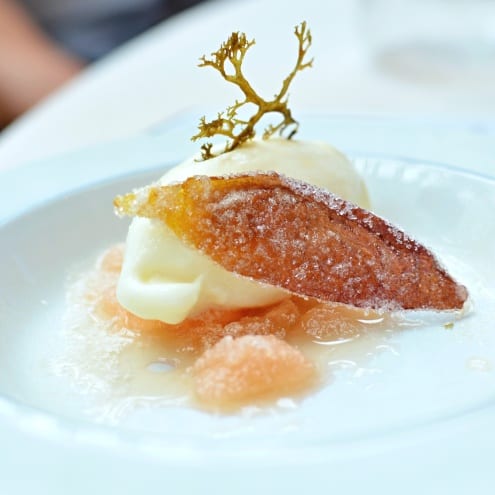 Raw shrimp, moss foam, pine oil, and unfamiliar herbs. These are the hallmarks of a bigger trend currently sweeping Nordic-inspired restaurants all around the world. As a Dane I tend to ask myself: are these really the only things people should associate with the New Nordic Cuisine?
I say, emphatically, no. In fact, I am on a small mission to show the world what New Nordic Cuisine can mean to a home cook. I've been teaching cooking classes on the topic for several years, and I'm surrounded daily by the research and development of the New Nordic diet and cuisine at my home university in Copenhagen, where I'm a graduate student in Food Science and Technology. The research underway is mainly focused on the potential nutritional benefits of the New Nordic diet.
In stark contrast to the complex food you find in restaurants, home cooked Nordic food has to fit the modern family, just as in every other urbanized population in the world. Just like everyone else, we prize meals that are easy to prepare and not overly expensive. It is the gathering of the family around the table that matters most, not hours of cooking.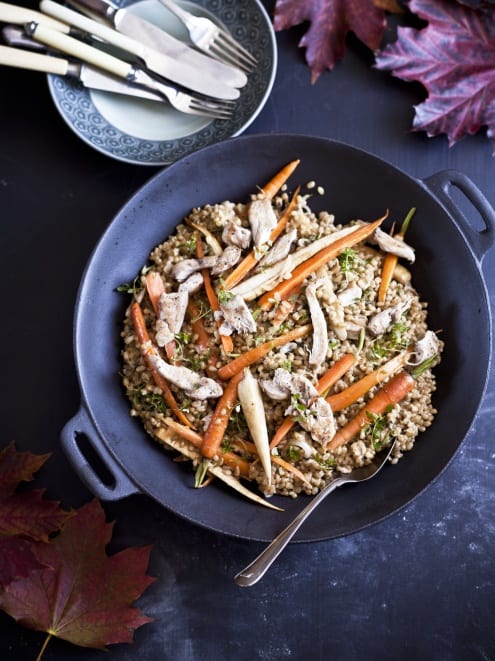 About a decade ago, a group of high-profile chefs, all working in the Nordic region, created a manifesto that outlined their values and goals for creating a more self-sufficient food culture here. In a nutshell, the document declared that these chefs would create a new cuisine that expresses the regional flavors and seasonality, respects our food traditions, uses modern technology, and focuses on origin, animal welfare, and local producers.
I believe it makes perfect sense to spread this way of thinking about food to other parts of the world. Nordic Cuisine is popular for its pure flavors, seasonality, and simplicity—qualities valued by home cooks everywhere. However, most people associate New Nordic Cuisine (if they are aware of it at all) with the elaborate, experimental, and expensive foods served at Noma, including many ingredients and techniques that aren't accessible to most home cooks. I think we need to turn that idea around so that New Nordic Cuisine can become public property.
Here, I will introduce you to the basic ideas behind New Nordic Cuisine as its prepared in homes like mine. Hopefully, you'll be inspired to use your local produce in combination with the techniques and flavors I describe to bring a bit of this international trend to your own dinner table.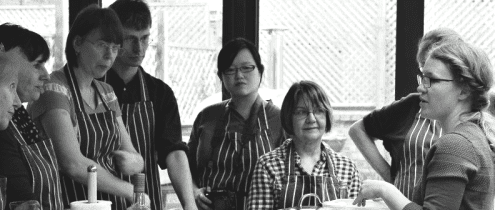 The New Meaning of Local
The New Nordic Cuisine is based on local ingredients, but not just from the neighbor's garden. Today, "local" has more to do with climate and terroir and less to do with distance. Scandinavia is not the only playground for New Nordic cooks–we are now looking into the hidden treasures of Greenland, Iceland, Finland, and beyond. Through this kind of exploration, we've discovered new ingredients and flavors. This expansion has been going for a couple of years as a restaurant trend, but it's now also spreading to food markets and the general public. So this kind of eating locally is less about food miles and more about optimal flavor, traditions, and production conditions.
That said, it is still a rewarding experience to pick delicious berries and green, fresh herbs right from your own backyard. In fact, it's highly appreciated in the Nordic Cuisine. But it's still in the spirit of this culinary movement to use ingredients from other locales with climate and terrain that is similar to your own.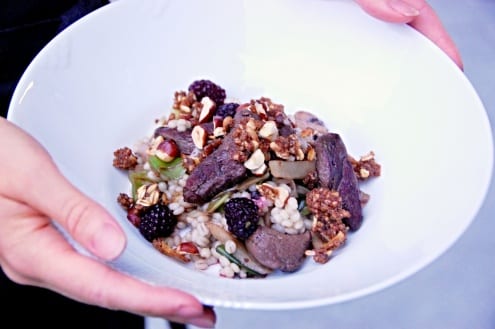 The Bright Stuff
Nordic flavors are dominated by a distinctive purity and simplicity that's not found in any other cuisine. The flavors of meat and vegetables of the season are kept pure, often raw, and not dominated by strong spices. Instead, we enhance these ingredients with herbs that have a complementary aroma.
The use of vinegar is a much more daring way to balance the flavors of a Nordic dish. Mild flavors need some punch to really excite your taste buds, and vinegar can really elevate a dish to make it something memorable.
Of course, vinegar is not the only seasoning used in New Nordic Cuisine. Some of my other favorite additions include mustard oils, as found in mustard, watercress, and horseradish. Like vinegar, these add punch and take a dish to another level. Smoked meat, like bacon, can easily manage a pairing with heavy dose of horseradish. The same goes for a hearty stew based on ingredients like beer and pork cheeks.
Preserving the Seasons
Everything is blossoming in spring and summer. Early autumn is the season with the biggest variety of fresh flavors. Preserving and pickling the bounty, using vinegar, salty brine, or sugar is one way we preserve the summer berries. The summer season is extremely short, so preserving has traditionally been the only way to keep important produce from deteriorating through a long and cold winter. Salting ingredients is a valued technique, too. For example, I like to brine unripe nasturtium seeds. After a short maturation period, they are used like capers.
Drying is another important New Nordic preservation method. Mushrooms, herbs, and even seaweed are kept across seasons and used to boost flavor and bring a variety of flavors and textures to winter dishes, primarily based on root vegetables and cabbage.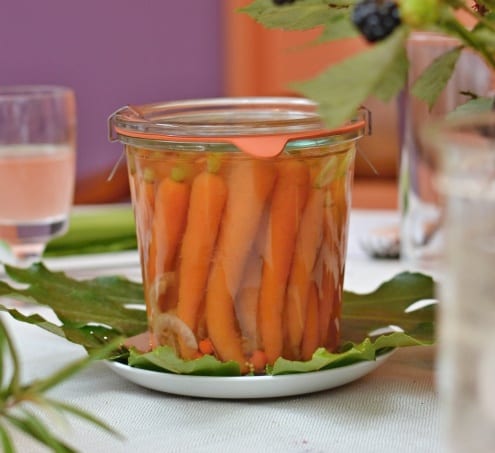 Old Grains, New Combinations
Grains like barley, oat and rye were a big part of the daily diet before the potato was introduced. Today the grains have been revived in the daily cuisine with a focus on wholegrain and flavor. These days, grains are the main ingredient in salads, stews, and even desserts. How about a barley pudding or rye cake with black currant parfait?
Old varieties like spelt, einkorn, emmer, and Ølandshvede have been adapted to the northern climates and are becoming increasingly popular. These old varieties have better flavors and different textures than the new varieties. These make rustic and flavorful breads and cakes.
Salting 
Beyond simple preservation, salting meat, fish and poultry improves their flavor and changes the texture. Through history, a big part of the diet was based on fish that was stored salted in big barrels over winter. This technique is still used, but the maturation time has been cut down a lot. There is no need of a strong salting for prolongation of shelf life, though the heavily salted herring and "klipfisk"(similar to stockfish) are still sold. Instead fish is "gravad" (cured for 24 to 72 hours in salt-sugar-spice rub), "rimmet" (light salt-sugar curing for 2 to 24 hours) or "pickled" (salted and soaked in vinegary brine for a couple of days up to several months).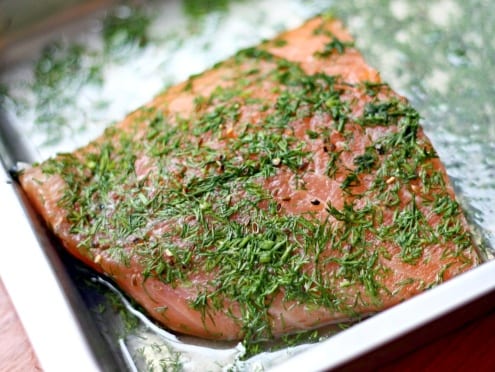 Smoking
Smoking is neither a new method of either preserving or cooking, but it nevertheless plays an important role in the New Nordic Cuisine. Smoking has been used all over the Nordic countries to make meat and fish last through the hot summer and icy winter with frozen waters and no opportunities of fishing. The smoking tradition is especially strong on the islands, where there has been an overload of fish.
No doubt smoking is not something you do in 15 minutes with a couple of hungry kids by the hips. But with a little preparation, it will be something you can serve for a Friday dinner or Sunday brunch.
The tradition is mainly the smoking of fish, meat and poultry – but another strong, rather Danish tradition is also the smoking of cheese, especially soft, fresh cheese. We'll sprinkle the cream cheese with either caraway seeds or chives before smoking it shortly, just to create a tasty rind.
I use this method for smoking other kinds of soft cheeses such as brie or goat cheese. The trick is to freeze the cheese for a couple of hours before hot-smoking. The flavor is a perfect match for the traditional dark and rich rye breads with plenty of grain flavor.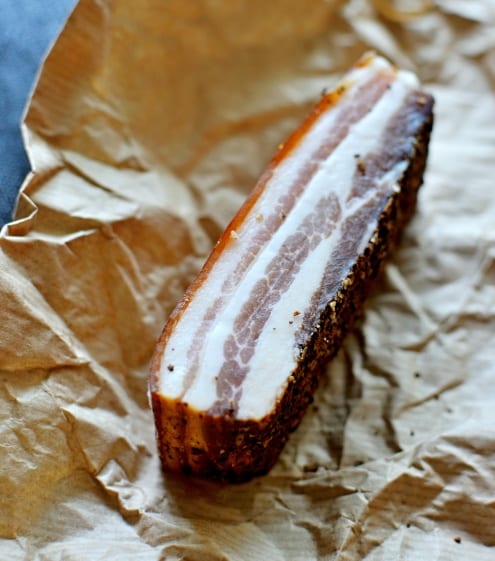 This piece was first published in Table Matters.
Photos by Torben Morsø, WenLin Soh and Mia Kristensen.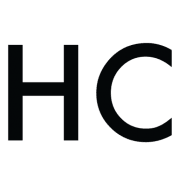 Mia Irene Kristensen
Mia Irene Kristensen is a passionate food blogger, creative recipe developer and Master Student in Food Science and Technology. When not braising and baking, she runs the companies CPH Good Food and TASTE CPH. This keeps her in touch with her creative side and passion for cooking, as she is constantly working on new projects, developing recipes, hosting cooking classes and food walks, and lastly trying to teach the public a tiny bit of the science that goes on in their pot and pans.