Get your hands on this recipe for a quick Italian bread with fresh rosemary and a creamy-crunchy pair of toppings.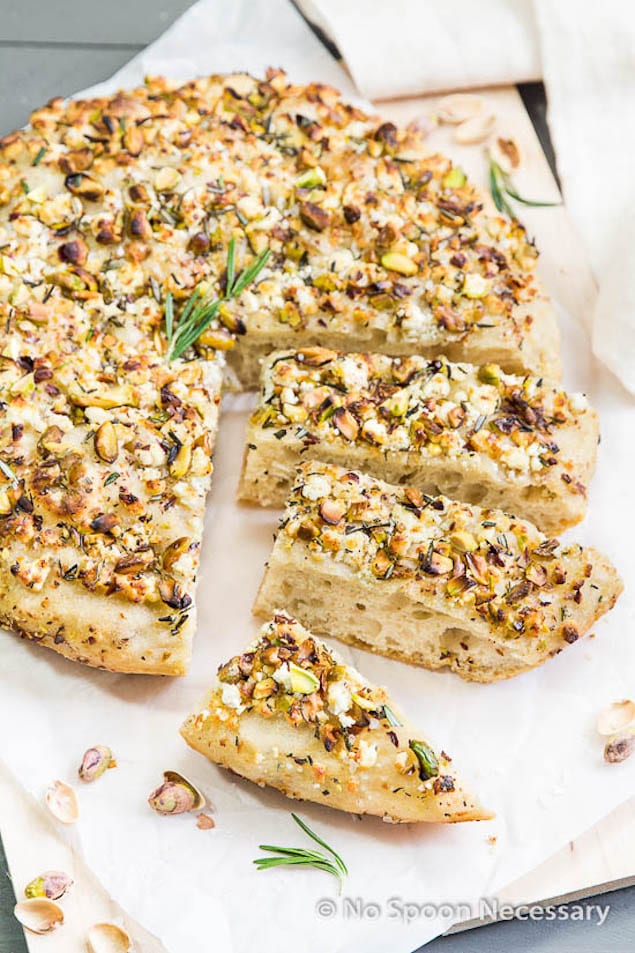 This focaccia is seriously delicious. The texture is exactly how I like my focaccia to be: dense and chewy, yet soft and tender. However, the toppings are what really make this bread special. The focaccia is creamy, tangy and decadent from the goat cheese, salty and crunchy from the pistachios, and earthy and well balanced from the rosemary. Overall, this bread is hearty and spectacularly scrumptious.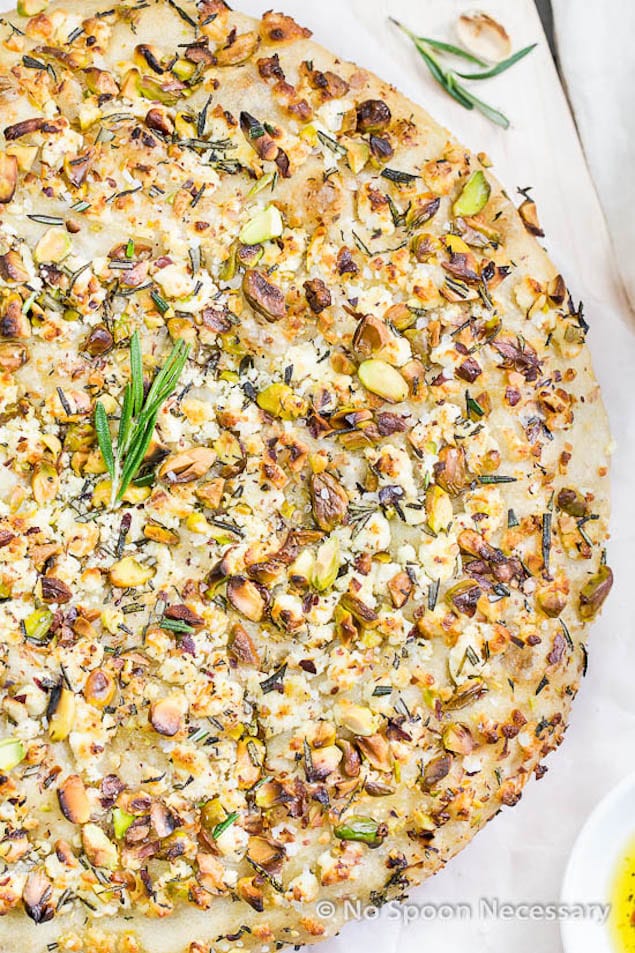 As if all that wasn't enough jazz, the bread is made even better because it is a no knead bread. Yes, you heard me right. No kneading necessary. Simply stir the focaccia ingredients together in a large bowl, walk away and let it do its yeasty thing.
See Also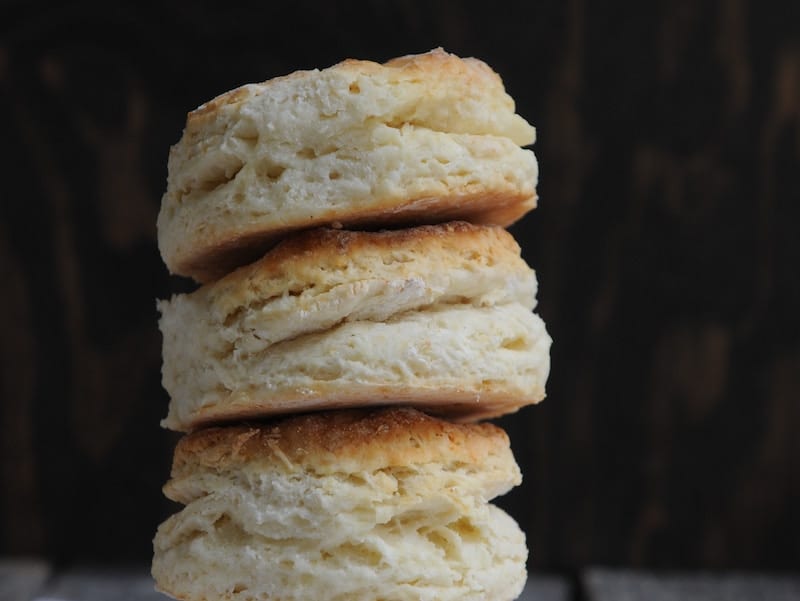 Also, this focaccia is customizable. Don't fancy goat cheese (because you must be nuts)? Swap it out for parmesan or Asiago. Pistachios not really your thing? Try cashews or walnuts. Don't care for Rosemary? Switch it out for thyme or dill. Or, you could get really crazy and nix those ingredients all together. Instead, opt for sun-dried tomatoes, black olives, red onions, roasted red pepper… or you could keep it seriously simple with just sea salt and some balsamic. The world is your oyster and this focaccia is your blank canvas.
Print
Author:

Cheyanne Holzworth

Yield:

6

servings

1

x
Category:

Baking, Bread, Pane

Cuisine:

Italian
17.5 ounces

Bread Flour (about

3 ¼ cup

+ 2 TBS)

3/4 tsp

Active Dry Yeast

3/4 tsp

Granulated Sugar

½ ounce

Kosher Salt (about 1 TBS +

1 tsp

)

11.5 ounces

Water – divided (about

1 ½ cups

– 1 TBS)

¼ Cup

+

1

TBS Extra Virgin Olive Oil – divided

4 ounces

Goat Cheese – crumbled
Heaping ? cup Roasted Pistachios – shelled and roughly chopped

1

TBS Fresh Rosemary Leaves – finely chopped

½ tsp

Coarse Sea Salt (plus more to taste)
Instructions
Preparing Dough:
Heat ¼ a cup of water to between 105-110 degrees F, either in the microwave or on the stove. Sprinkle in yeast and granulated sugar. Stir to combine. Set aside and allow the yeast to bloom for 5-10 minutes, or until mixture is foamy and yeast is activated and alive.
In a large bowl* combine flour, salt, and remaining water (1 ¼ cup minus 1 tablespoon). Stir with a wooden spoon to combine. Add in the yeast water and stir again to combine until all ingredients are moistened. *Bowl should be at least 5 times larger than the volume of the dough to account for rising.
Rising:
Cover the bowl tightly with plastic wrap, set aside, and allow to rest at room temperature for 8-24 hours, or until dough has drastically risen. (mine took about 12 hours)
Remove the plastic wrap and discard. Sprinkle the top of the dough with a small amount of flour and transfer to a lightly floured work surface.
Flour hands liberally and form the dough into a tight ball by tucking the dough up and underneath itself and rotating dough. Drizzle 1 tablespoon of oil on top of the dough and rub to smooth over.
Pour 2 tablespoons of oil into the bottom of a 12'' cast iron skillet or large cake pan. Transfer the dough, seam side down, to the skillet and turn gently to coat in oil.
Using your palm, gently press dough down to flatten it slightly. Cover the skillet tightly with plastic wrap and let the dough stand, at room temperature, for 2 hours or until dough mostly fills the skillet. When 30 minutes is left of standing time, adjust oven rack to the middle position and preheat oven to 525 degrees F.
Topping & Baking:
Using your fingertips gently press the top of the dough to make indentations and to help the dough completely fill up the skillet. Lift up the edges of the dough to let any air bubbles underneath escape. Use your finger tips to pop all the air bubbles that rise to the surface of the dough.
Sprinkle the goat cheese and pistachios evenly over the dough, using your fingertips to press cheese and nuts into the dough. Drizzle the dough evenly with the remaining 2 tablespoons of oil and sprinkle with rosemary and sea salt.
Transfer the skillet to the oven and bake until the top is golden brown, the bottom is well browned (lift it with a thin spatula to check) and the internal temperature of bread is 190 degrees F, about 16-24 minutes. If the bread is getting too brown too quickly, tent the skillet with aluminum foil. If the top of the bread is fully cooked and golden brown, but the bottom is not as crispy as desired, transfer the skillet to a burner over medium heat and cook until crisped, about 1-3 minutes.
Let bread rest in pan for 5 minutes before transferring to a cutting board and allow to cool for 5 minutes before cutting and serving.
Notes
*Recipe adapted from Serious Eats
*Bread can be kept, covered, in the refrigerator for up to 2 days. Reheat in an oven preheated to 300 degrees for 8-12 minutes.
Cheyanne Holzworth
Hi there! My name is Cheyanne. I am an avid foodie, culinary school graduate, recipe developer and newbie blogger. I find peace and joy being in the kitchen and am obsessed with feeding anyone who has an appetite. I am also a lover of food porn. I picked up a camera one day and fell in love with food photography. Then I got a wack-a-me-me idea to start a food blog and the rest is history. No Spoon Necessary is a place where I share my passion for food and photography with all who care to join me. I also rant, ramble on and share my life a little. In a world filled with so many talented food bloggers, I am simply trying to carve my space in www dot com land, take you all with me on the crazy ride and cook 'n eat some delicious food along the way! So, strap on that apron and work some culinary magic with me. Cheers!