PARTNER POST: We're celebrating the twelve weeks of summer with delicious, refreshing recipes using Hills Bros. Cappuccino. Be sure to enter below for a chance to win a one year supply of coffee! #CappontheRocks
This easy no-churn salted caramel ice cream is the ultimate summer sweet. It's super creamy and cool and has a jolt of cappuccino hidden in its ingredeints.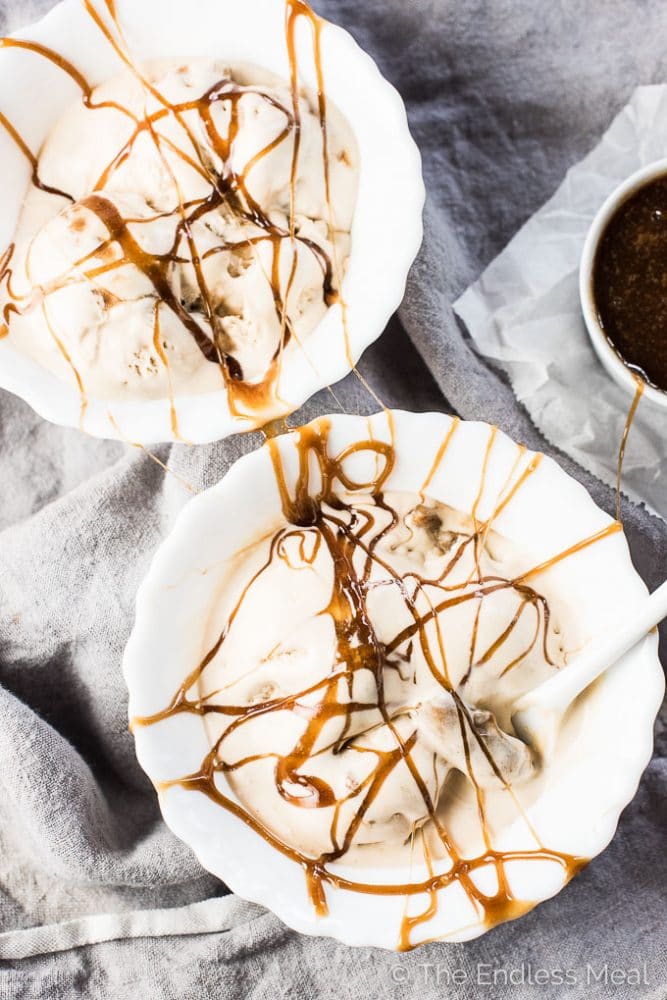 This ice cream is a little different than the other five bazillion ice cream recipes I have made. (Only the tiniest bit of number exaggeration.) This one is extra special because it is SO FREAKING EASY TO MAKE.
Sorry for yelling at you. It's just that I'm so excited about this recipe.
This is truly the easiest No Churn Ice Cream Recipe there is. I mean sure, most recipes can be made without an ice cream maker. But those no churn ice cream recipes involve a tedious process of scrapping the ice cream every hour until it freezes. When it's summertime and there are oceans to swim in, parties to plan, margaritas to drink, and burgers to flip, who has time to scrape ice cream every hour? Not me!
This is completely different. I've used a little trick (otherwise known as whipping the cream) which makes the creamiest ice cream ever with absolutely no effort.
Summertime magic happening right here.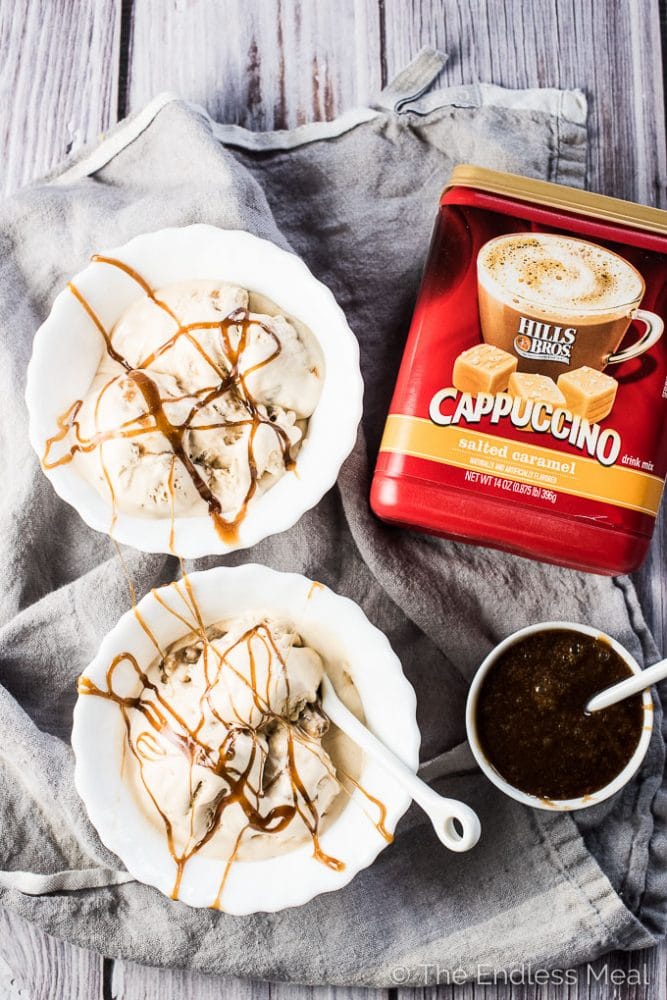 I've used Hills Bros Salted Caramel Cappuccino to make this ice cream. Yep, I sure did. It's actually doing double duty in both the ice cream and the salted caramel syrup.
Honestly, it's the best hack ever for easy salted caramel. No standing over the stove with a candy thermometer in hand. No fretting over burning the caramel. Just sugar + cappuccino + a little water. Boil and done. Fist bump.
Truth: I like the Hills Bros salted caramel hack better than regular caramel in this recipe. Normally, caramel goes hard and overly chewy when it's cold. You know, like stuck in your teeth chewy. No one wants that! THIS caramel sauce stays soft and melts in your mouth with the ice cream. It's the way caramel + ice cream should always be.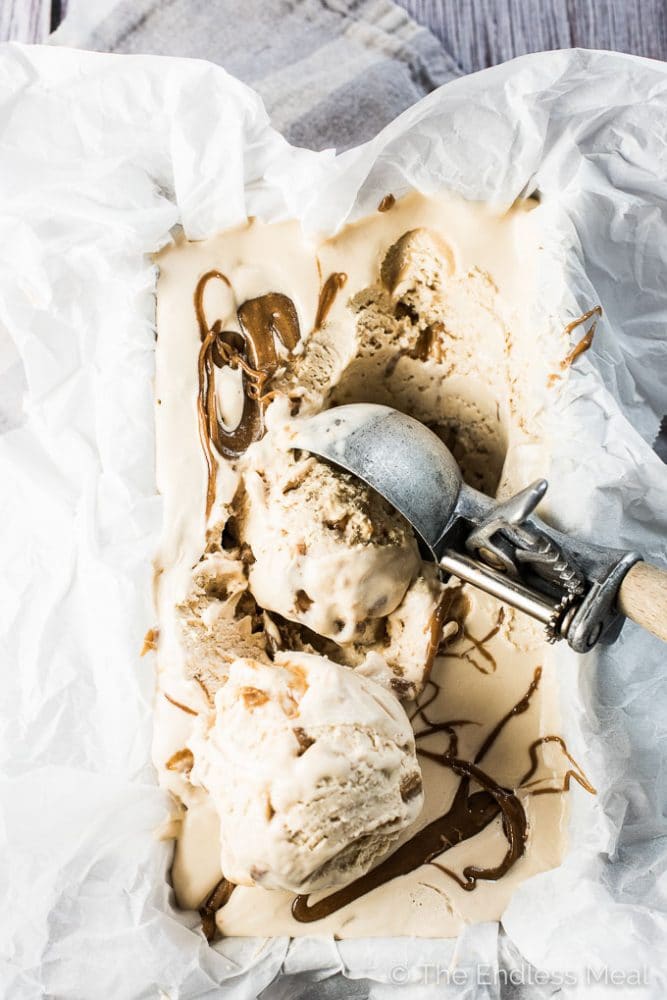 Celebrate summer by making this recipe and then enter to win a supply of cappuccino below!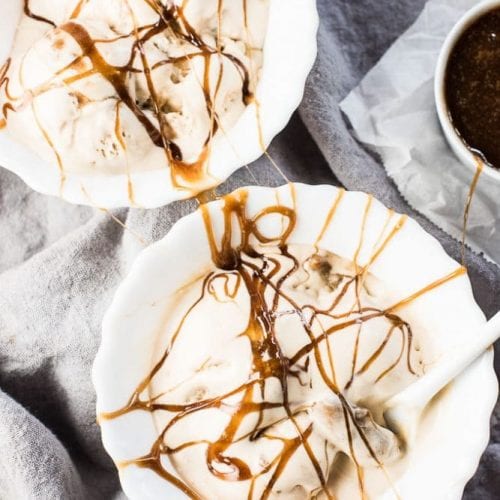 No-Churn Salted Caramel Ice Cream
Kristen Stevens
This easy no-churn salted caramel ice cream is the ultimate summer sweet. It's super creamy and cool and has a jolt of cappuccino hidden in its ingredeints.
Course
Dessert, Ice Cream
Ingredients
Salted Caramel Syrup:
1/3

cup

granulated sugar

1/3

cup

Hills Bros. Salted Caramel Cappuccino

3

tablespoons

water
No Churn Ice Cream:
2

cups

whipping cream

½

cup

Hills Bros. Salted Caramel Cappuccino

½

can condensed milk

see notes
Instructions
Line a dish (I like to use a loaf pan) with parchment paper and let the ends drape over the sides.

In a small pot over medium heat, bring the sugar, ? cup of Hills Bros. Salted Caramel Cappuccino, and the water to a boil. Let it continue to boil for 5 more minutes. Remove the pot from the heat and set it aside to cool.

Pour the whipping cream into a large bowl. Using electric beaters, beat the cream until soft peaks form. Sprinkle the ½ cup of Hills Bros Salted Caramel Cappuccino over top and beat on low until it is incorporated. Fold the condensed milk into the whipped cream.

Using one heaping tablespoon at a time, drizzle the cream with the salted caramel syrup. Fold the cream, then drizzle another spoonful. Save a little for the top.

Pour the cream into the prepared dish and drizzle with a little extra syrup. Freeze until firm, about 3-4 hours.

Let the ice cream sit at room temperature for 5-10 minutes before serving.
Notes
If you have a major sweet tooth, you can use the whole can of condensed milk, but we found it too sweet for us that way.
Kristen Stevens
Kristen is a Vancouver based chef, recipe developer and founder of The Endless Meal. She's passionate about creating and sharing healthy, whole-food recipes made from local and in-season ingredients. She's also the owner of a small underground restaurant where she gets to cook and share her food with local foodies every weekend. Her favourite things are her camera, bourbon sours, sailing the waters of BC's beautiful coast and anything super spicy.