While the North is cold and snowy, it's asparagus season in the south. Giulio Sturla sets out to preserve these green babies for winter.
By Giulio Sturla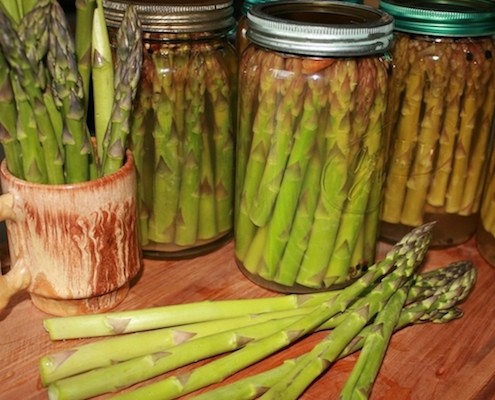 They were first planted 8 years ago, however the first 3 to 4 years were just to get them well established in the ground, that's a lot of patience for the farmer that is now starting to enjoy a full crop and with a few more projects for the future with a canning  and preserving facility.
There are 8 hectares of sandy land, purple and green asparagus growing, they don't want to try with white asparagus yet, first they need to create a market for them because kiwis are difficult at the moment for trying them. The farm is 40 min away from my house and the idea of the visit is to see for my first time an asparagus field and get a good deal for 10 kilos because I want to preserve them to have for winter time and to be part of my preserved corner pantry.
To get this recipe going I have some home made apple cider vinegar from the last summer and coriander seeds that my partner saved before the first snow.
The fresher the asparagus the better will it taste, they deteriorate very quickly. These ones were picked hours before I got them, if you don't have the time on your side, put the asparagus in a bucket with a little bit of water, just to refresh the end of the stalk.
Ingredients
4½ pounds of asparagus trimmed to the size of the jar
4 cups of apple vinegar
4 cups of water
3½ table spoon raw sugar
3½ table spoon sea salt
2 tea spoons coriander seeds
2 tea spoons pepper corns
8 dried chillies
Instructions
take the trimmed asparagus and place them inside of 4 sterilized jars, tightly
put the water and apple cider vinegar in a pot and bring to boil, then put aside and add sugar and salt until dissolved
add 2 chilies to every jar, and divide the coriander seeds and pepper corns for all four
close the jars with a sterilized lid and put in a boiling water bath for 10 min
wait for at least 2 months to try them