Come for the rooftop, stay for the sausages. This new cocktail joint in DC prides themselves on homemade pretzel buns and sausages, but that's not all they have going. Check out their seasonal changing menu and the new brunch offerings.
By Lauren Clason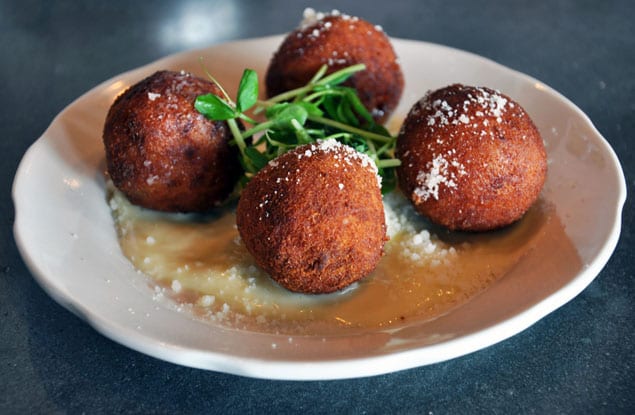 Trotter arancini with garlic aioli
If you had been to Roofer's Union before it was Roofer's Union, you would have a hard time recognizing the space now, which opened in February under the direction of executive chef Marjorie Meek-Bradley. The three-level restaurant and bar was previously a jungle-and-aquarium themed operation that closed under unfortunate circumstances.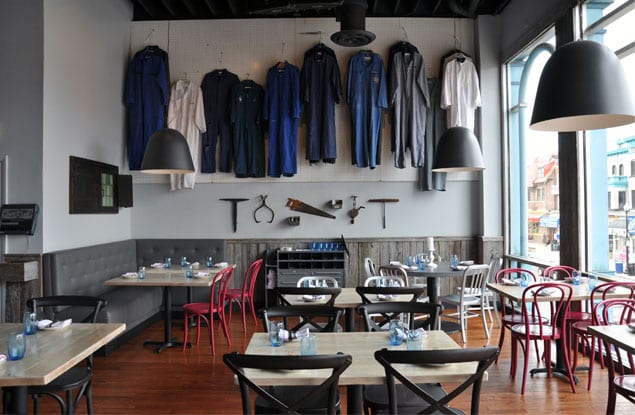 Now the fish and the vines have been replaced with exposed brick and hand-painted tiles, and the menu features refined takes on down-home cooking like crunchy-creamy trotter (read: pigs feet) arancini and crispy pig ear salad with bacon vinaigrette and a soft egg. The first floor features a cocktail-centric menu, with offerings like the Helter Skelter, a Hayman's Old Tom Gin, Bigallet China China and sweet vermouth mash-up that delivers a lemony punch to the tongue.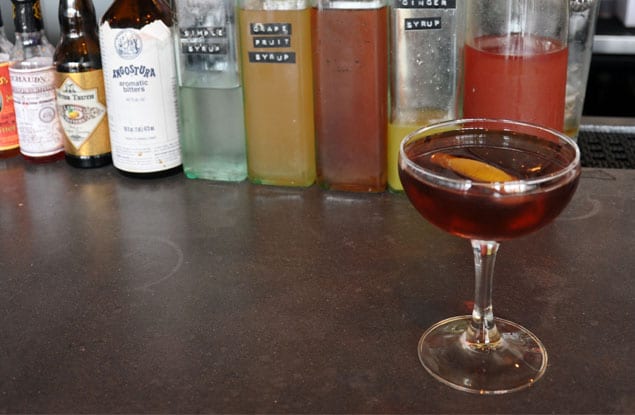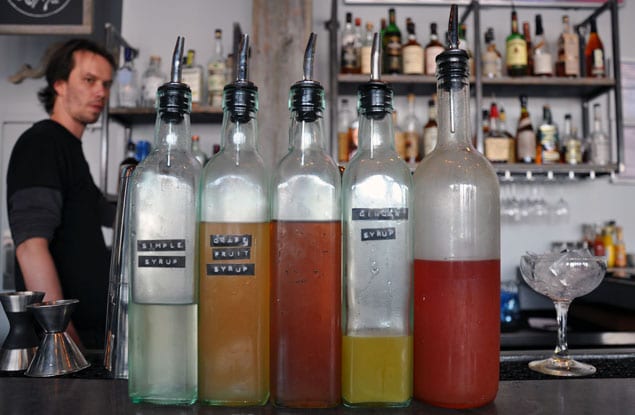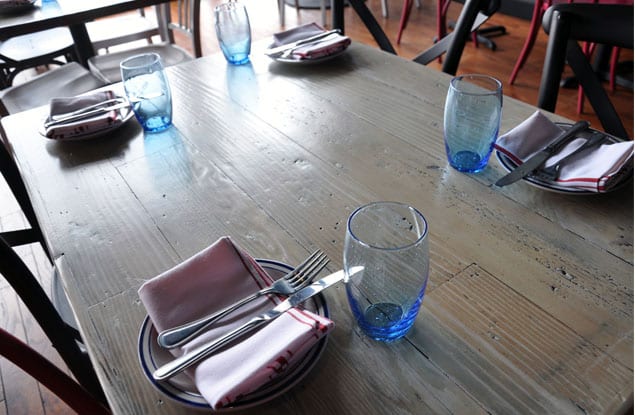 The second floor is the restaurant, where stunning floor-to-ceiling windows extend from wall to wall. Chef Meek-Bradley, who also runs the kitchen at the upscale affair, Ripple, in Cleveland Park, has worked for some of the top names in the industry, including Thomas Keller, Mike Isabella and Jose Andres, and the evidence is in her cooking. Be sure to try one of the homemade sausages, which come on a homemade pretzel roll and do a much better job standing up against the grease than a traditional bun.
Snap peas with tahini and blood orange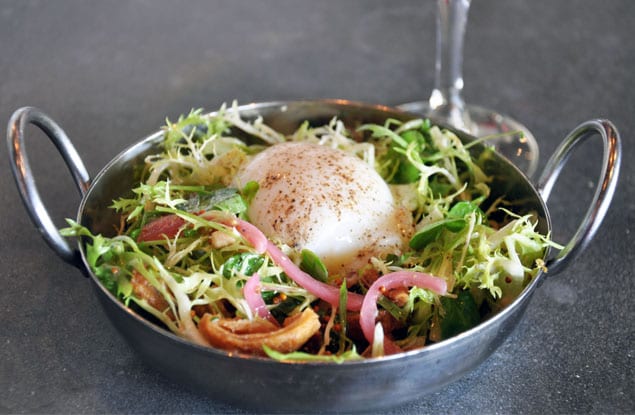 Crispy pig ear salad with bacon vinaigrette and soft egg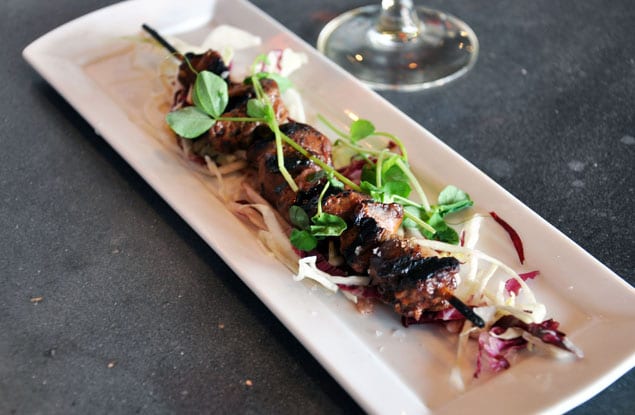 Chicken liver skewer with ginger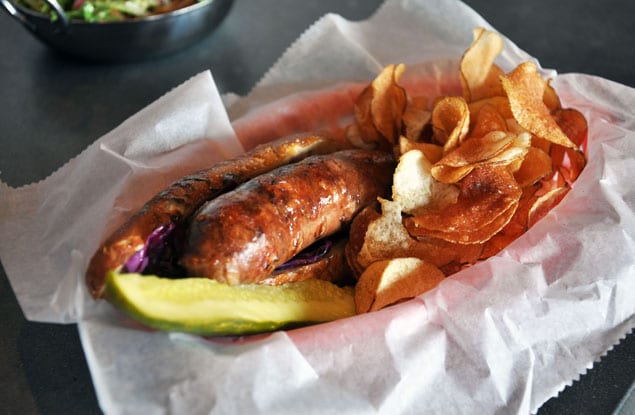 Veal heart sausage on a pretzel roll with homemade chips
Chef Meek-Bradley said the food menu will change every two months or so to showcase the local seasonal produce. The beer menu, run by manager Dave Delaplaine, is also constantly rotating to reflect the seasons, as well as his own personal taste.
The rooftop upstairs, of course, fills up before the rest of the restaurant as the happy hour crowds come to enjoy a drink and a view of the colorful, quirky neighborhood. The theme of the restaurant was derived from the rooftop, and "union" came from the idea of being a local gathering place. From there, the team ran with the concept, incorporating roofer's union uniforms and tools into the industrial decor.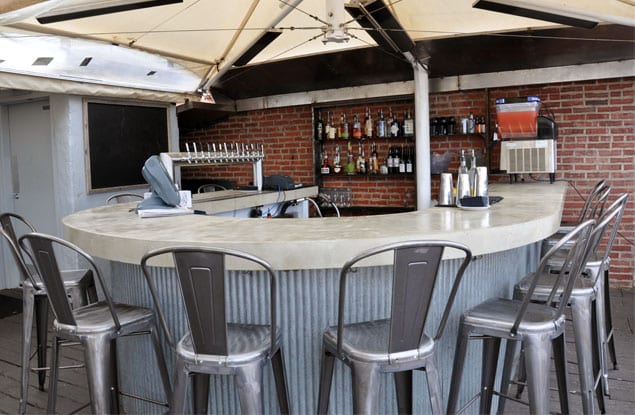 Next up: brunch. The week after Easter the chef and the team will start serving build-your-own omelettes, tofu vegan scrambles and hangover bowls – hash browns, onions, peppers, bacon, sausage and sunny-side up egg. Instead of heading home after the bars, you might just want to save yourself the trip and camp out on their doorstep.