PARTNER POST: May 26 is National Pinot Grigio Day. We're celebrating with Cavit Wines by sharing refreshing spring and summer recipes that pair perfectly with Pinot Grigio.
Salty bacon, bright peas and creamy garlic sauce make for a delicious summer pasta dish with a glass of Pinot Grigio wine.
National Pinot Grigio Day is right around the corner, coming up THIS Friday May 26th and it's a great way to kick-off Memorial Day Weekend. To celebrate, I am cooking up this delicious Roasted Garlic Farfalle Pasta with Bacon and Peas.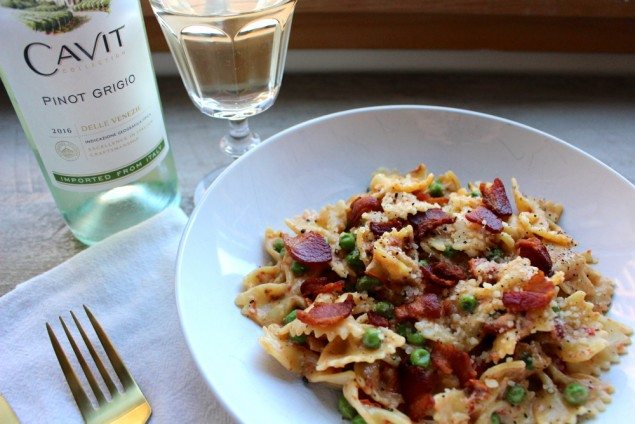 It's a nice light pasta dish with a hit of salt from the bacon, paired with the brightness of the peas in a creamy garlic sauce. I used frozen peas, but if you can find fresh peas – that's even better!
This farfalle dish is a super simple recipe and pairs well with Cavit Wines' Pinot Grigio. It's also super easy to whip up on a Friday night for a fancy meal at home.
Pinot Grigio is a very easy wine to drink and pairs easily with most dishes. However I love it with a nice creamy pasta dish with perfectly al dente noodles. I would drain your pasta maybe 3-4 minutes before it's fully done as the pasta will continue cooking when you toss it with the sauce.
National Pinot Grigio Day: Roasted Garlic, Peas and Bacon Farfalle
Salty bacon, bright peas and creamy garlic sauce make for a delicious summer pasta dish with a glass of Pinot Grigio wine.
Ingredients
1 head of garlic
Olive oil
1 lb Farfalle Pasta
1 package bacon, roughly chopped
½ cup sun dried tomatoes, sliced
1 medium onion, chopped
¾ cup low-sodium chicken broth
1 cup heavy cream
½ cup Parmesan cheese, grated
1 cup frozen peas, thawed
Instructions
Preheat oven to 400F
Cut the top off your head of garlic, place in an oven safe dish. Drizzle with olive oil and roast in the oven for 20-25 minutes until the cloves feel soft. Remove from oven, let cool and then finely chop the garlic.
Bring a large pot of salted water to a boil. Cook pasta following package directions and set aside.
In a large dutch oven, heat 1 tablespoon of olive oil over medium-high heat. Cook until crispy and remove with a slotted spoon to a plate, leave the bacon fat in the pan.
In the same pan saute the onions until soft and brown. Add sun dried tomatoes and cook for 2-3 minutes more.
Deglaze the pan with chicken broth, bring to a simmer and scrape up any brown bits in the bottom of the pan. Let liquid reduce to about half.
Add heavy cream to your sauce, bring to simmer and add garlic. Cook for 5 minutes until thickened. Add Parmesan cheese to sauce and season with salt and pepper. Mix well and then add your peas.
Pour your sauce over your pasta and gently toss. Garnish with your crispy bacon and enjoy!