PARTNER POST: May 26 is National Pinot Grigio Day. We're celebrating with Cavit Wines by sharing refreshing spring and summer recipes that pair perfectly with Pinot Grigio.
In just 15 minutes, you could be enjoying this bright lemon basil shrimp with asparagus and a glass of wine.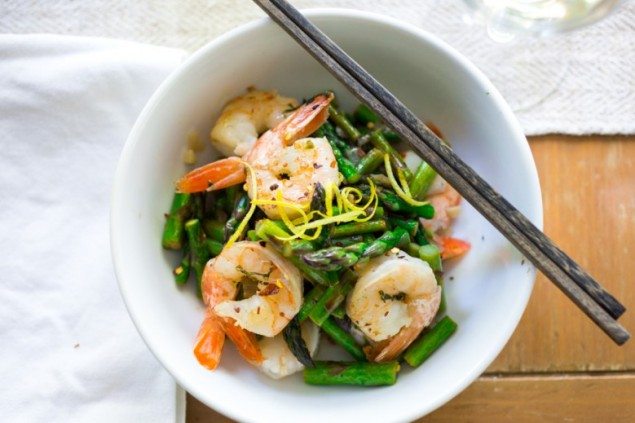 This 15 minute Lemon Basil Shrimp and Asparagus is very simple to make, yet surprisingly tasty! Vegan adaptable, this can be made with tofu and is gluten-free It's a quick skillet meal that is low in carbs with a huge proportion of veggies- in this case, delicious spring asparagus, which just so happens to pair perfectly with light and fruity, Cavit Pinot Grigio. We partnered with Cavit this week to come up with the perfect food and wine pairing, because Friday is national Pinot Grigio Day! This lovely wine is so refreshing and springy I've been truly enjoying it, especially now that the weather is finally warming up.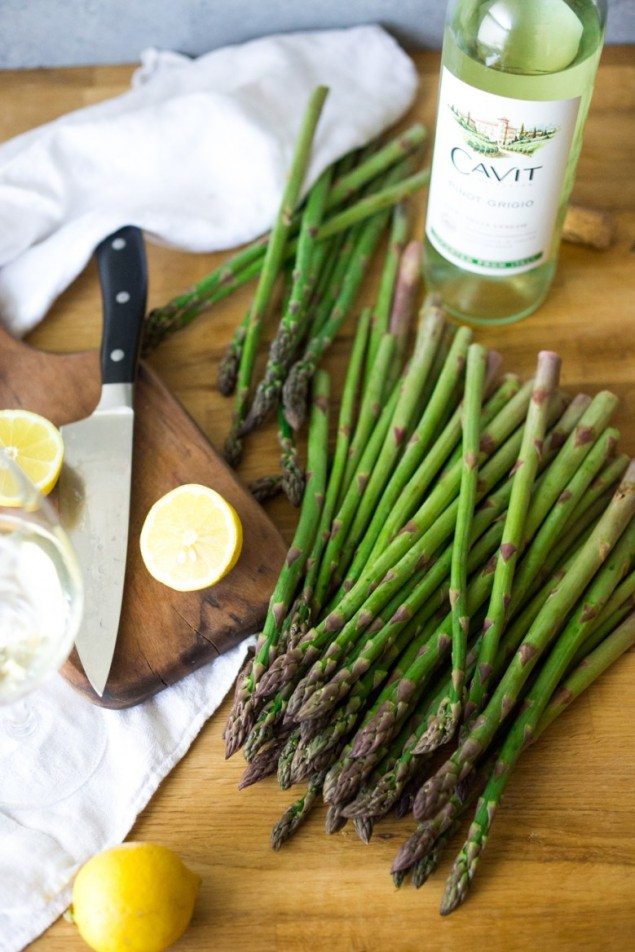 Meals at home, become more and more simple. I try to pick one seasonal fresh thing and build a meal around it using what's in my pantry or freezer.
In this recipe you can use raw or cooked shrimp, tofu or even chicken. The main focus here is the fresh spring asparagus.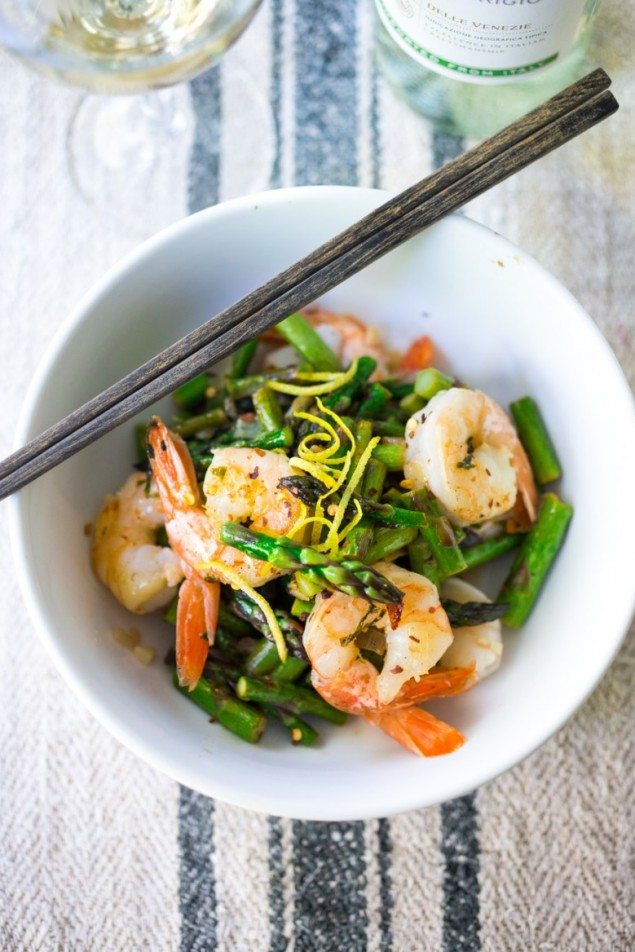 This is the time of year to plant fresh potted herbs. Not only will this save you money, it will save you time. Having a nice variety of potted herbs on hand, will save many trips to the store….so convenient!
For example, Thai basil also tastes great here too, but it's hard to find it. But if you were to buy a plant at a local nursery or farmers market and plant it in a pot, you would always have it on hand.
Set a simple table. Pour yourself a nice glass of wine.
Every meal can be a way to celebrate the day.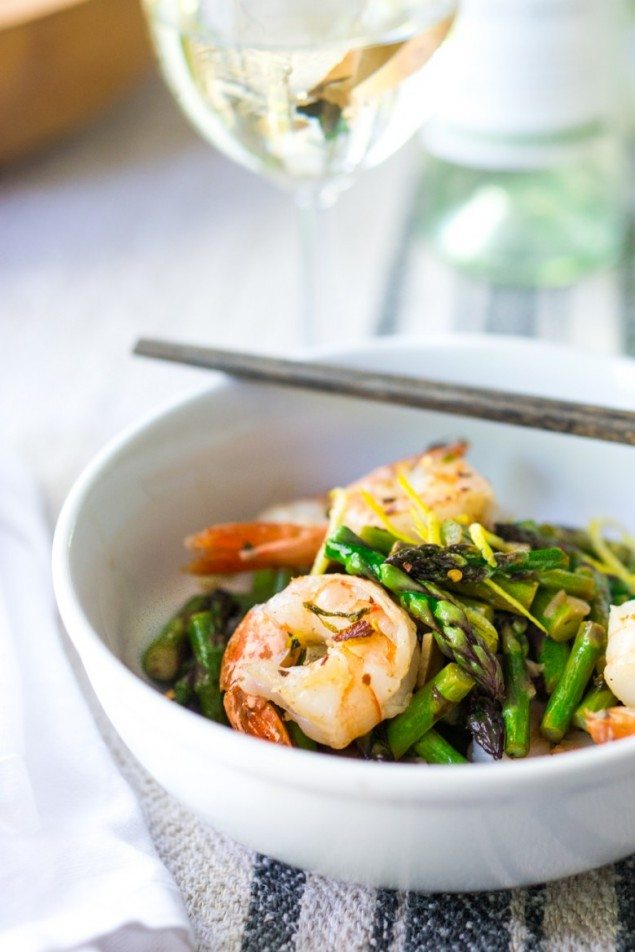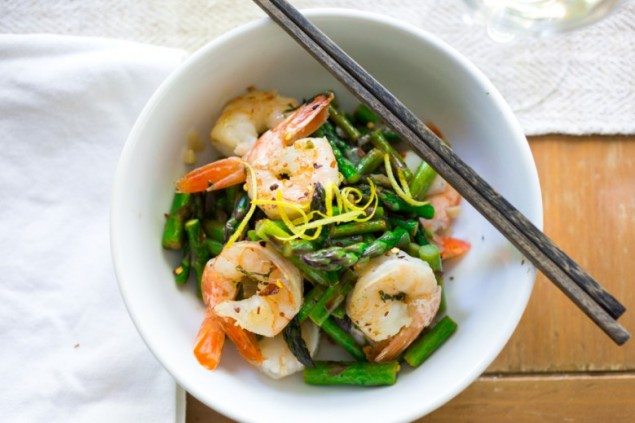 National Pinot Grigio Day: Quick Lemon Basil Shrimp and Asparagus
Sylvia
In just 15 minutes, you could be enjoying this bright lemon basil shrimp with asparagus and a glass of wine
Ingredients
2

tablespoons

olive oil

1

shallot- diced

4-6

garlic fat cloves- rough chopped

10-16

ounces

asparagus

10-12

ounces

shrimp

raw or cooked or use pan-seared tofu ( see notes)

kosher salt and pepper to taste

start with ½ teaspoon

1

lemon – zest and juice

10

basil leaves

cut into ribbons ( or try Thai Basil!)

chili flakes- optional but delicious
Instructions
Thaw shrimp in cold water.

Heat oil in extra large skillet over medium heat. Saute shallot until tender about 3 minutes. Add garlic and cook until 2 minutes until fragrant.

Add shrimp and asparagus. Stir frequently and season generously with salt and pepper for about 2-3 minutes.

Squeeze with the juice of one medium lemon, toss, and cover pan for 1-2 minutes until asparagus is tender and vibrant green. Taste, adjust salt and lemon.

Right before serving, stir in the fresh basil ribbons. Divide among two bowls and top with lemon zest and chili flakes. Serve with chop sticks. Enjoy!!!
Notes
If making this with pan-seared tofu or chicken, pan-sear it first in olive oil, seasoned with salt and pepper. Set aside, then add to pan after asparagus is cooked.
For extra richness, add a pat of butter at the very end of cooking- for example- I'll often add this to my husband's portion, after I take mine out. This way he's happy with his buttery shrimp and I'm happy with my lighter version.
Sylvia Fountaine
Caterer and chef of Feast Catering Co., my blog Feasting at Home is where I share wholesome, seasonal recipes we cook at home.