Traditionally, Nasi Goreng is made with leftover rice and is flavored with Soy-sauce, lime or tamarind, meat, fish or vegetables and topped with fried egg.
By Nandita Nataraj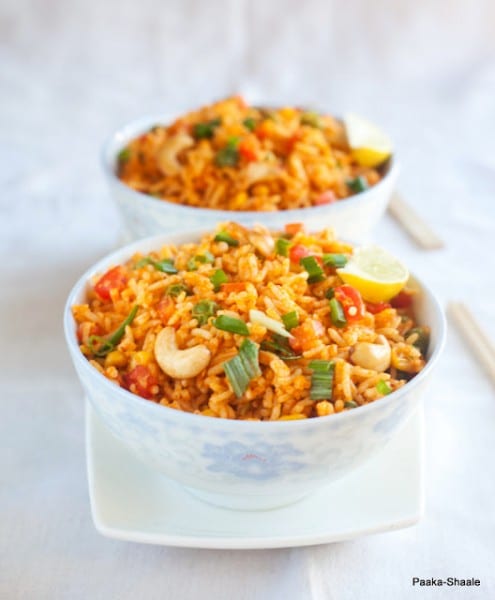 Print
Nasi Goreng – Malaysian Fried Rice
Traditionally, Nasi Goreng is made with leftover rice and is flavored with Soy-sauce, lime or tamarind, meat, fish or vegetables and topped with fried egg.
Author:

Nandita Nataraj

Prep Time:

10 mins

Cook Time:

15 mins

Total Time:

25 minutes

Yield:

4
Long grained rice- 1 cup
Sesame Oil- 2tbsp
onion- 1 large, chopped fine
Garlic- 2 cloves
Kashmiri red chilis- 3, deseeded
Ginger- 1″ piece
Fresh or frozen peas-1/4 cup
Fresh or frozen corn kernels-1/4 cup
Grated fresh coconut-2tbsp+2tbsp
Light soya sauce-1-1/2 tbsp
Sugar- 1 tsp
Salt to taste
Lemon juice- 2tsp
Freshly ground Pepper powder to taste
To garnish:
Chopped and toasted cashews, spring onions and chopped tomatoes
Instructions
Cook rice in 1-1/2 cup of water and set aside.
Grind the red chilies, ginger garlic,onion, along with 2 tbsp of coconut and set aside.
Heat oil in a heavy bottomed pan and add the peas and fry for 2-3 min.
Add the corn and fry for a min more. Stir in the ground mixture and keep sautéing the mixture for 5 more min or till most of the water is evaporated.
Stir in the remaining coconut, rice, salt soya sauce, sugar and pepper and mix till the rice is coated with the spice mixture.
Transfer the rice to a serving dish. And garnish with chopped and toasted cashews, spring onion greens and chopped tomatoes.
Notes
You can substitute the cashews with roasted and crushed peanuts.
You can substitute the corn kernels with equal quantity of peas.
Nandita Nataraj
Nandita was born, bred and spread in India, but right now lives in Tanzania where her quest for simple and exotic pleasures of food led to the creation of the blog Paaka-Shaale. She believes that food is not just a means to feed a body. But it is also meant to appeal the mind and satiate the soul.