Nan Khatai – Indian Almond Semolina Cookies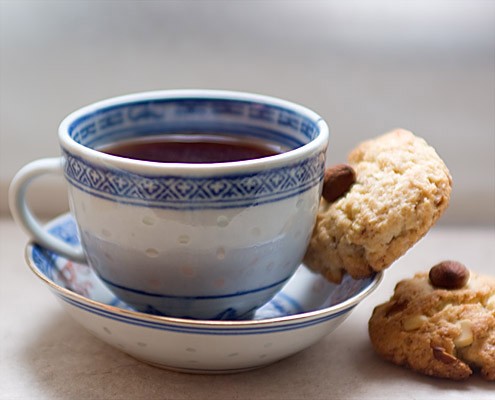 Nan Khatai are eggless, crumbly cookies made with semolina and spiced with cardamom. Perfect for Afternoon Tea.
Text And Photo By Nancy Lopez-McHugh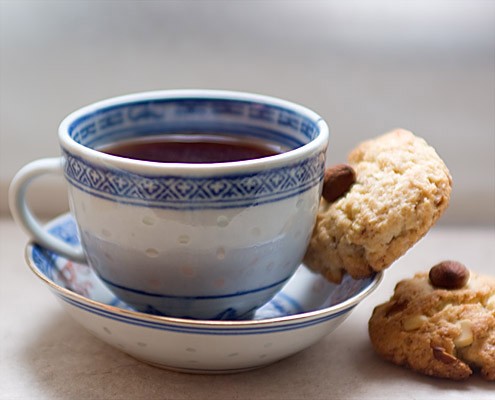 Every once in a while I need some crunchy almond biscuits or cookies to go with my afternoon tea. One of the cookies or biscuits I like to enjoy with my tea are Indian Nan Khatai.  Nan Khatai are eggless, crumbly cookies made with semolina and spiced with cardamom. They are the perfect accompaniment to tea but just as delicious as a special treat. They can be topped with almonds, pistachios or even cashews. In the past few years that I have been making Nan Khatai I usually reach for almonds but the fun of this recipe is that you can prepare to your mood. Since I like a little extra almonds in my cookies I also add them to the dough but this is optional. My recipe is a bit different from a standard Indian recipe but the results will be delicious.
Since it's just my husband and I, sweets or cookies are made in small batches. Feel free to double or triple the recipe to your own needs. Nan Khatai are so easy to prepare and will take very little of your time. Really there is no excuse not to make them. The sweet reward of dunking a Nan Khatai in your tea or coffee says it all. As a matter of fact as I sit here typing I can smell the sweet almond cookies waiting to be dunked in my Earl Grey tea.
If you'll excuse me I have some dunking to do, but go on and make yourself a batch.
See Also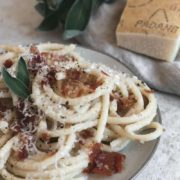 Nan Khatai or Indian Almond Semolina Cookies
My Take on Nan Khatai or Indian Almond Semolina Cookies.
Author:
Nancy Lopez-McHugh
Recipe Type:
Baking, Cookies
Ingredients
Dry Ingredients:
½ cup or 118 g all purpose flour
¼ cup or 60 g fine semolina
½ tsp. ground cardamom
⅛ tsp. baking soda
¼ cup or 60 g granulated white sugar
crushed almonds, optional to add to the dough
extra almonds to decorate cookies
Wet Ingredients:
¼ cup or 60 g unsalted butter
2 tbsp. whole milk (you can also try soy or almond milk)
½ tsp. almond extract/essence
Instructions
Melt the butter and set aside to cool. In a mortar and pestle or chopper breakup the almonds for the dough into coarse chunks, set aside. In a large bowl sift together the a.p. flour, semolina, cardamom, baking soda, and sugar. Next add the coarse almond pieces and stir until well combined.
Pour the milk and almond extract into the cool melted butter, stir until well combined. Pour the liquid mixture into the dry ingredients, stir until well combined and a firm dough is achieved. If you find the mixture is not sticking together add a couple more drops of milk- but only a little bit at a time. Form a ball with the dough, cover and allow to sit 10 minutes.
Preheat oven to 350F/180C and prepare a cookie sheet. Divide the dough into even sized balls. Evenly space the balls on the cookie sheet, use the palm of your hand to flatten the cookies. Place on whole almond in the center of each cookie. Bake in center of oven for 10-15 minutes or until lightly golden brown.
Nancy Lopez-McHugh
Nancy Lopez-McHugh is a food blogger, photographer and published author. Most recently she has published "Yummy Pics: A Food Blogger's Guide To Better Photos".