These mixed Mushroom Toasts can be served with herbs and an egg on top to be a hearty and satisfying breakfast, lunch or dinner.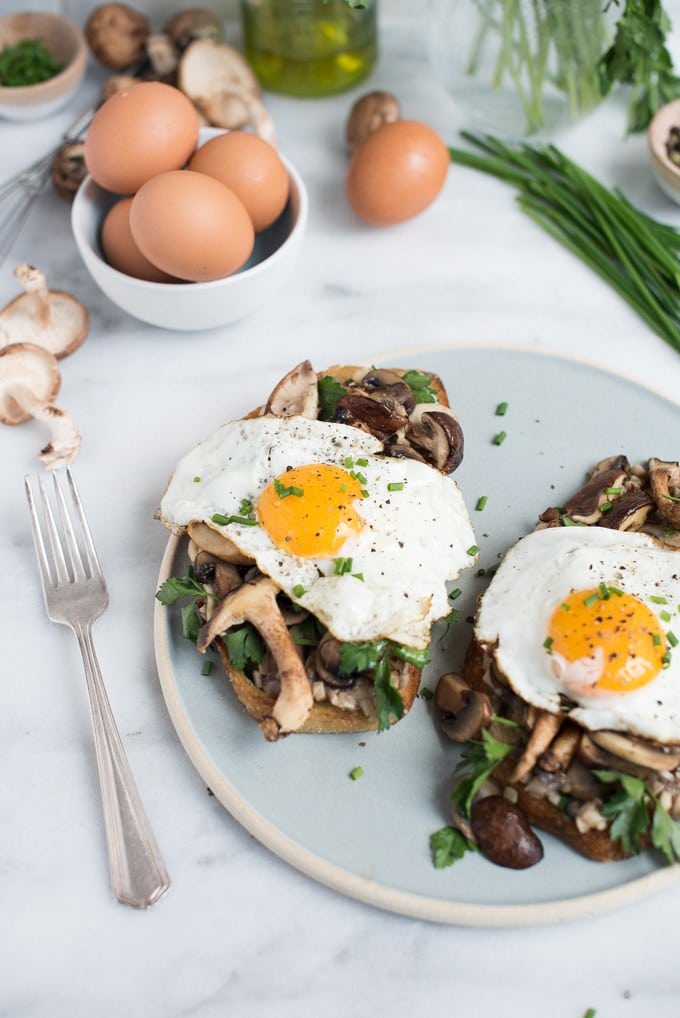 Inspiration for our recipes at superman cooks comes from many sources. These Mushrooms Toasts with Egg on Top were definitely inspired by a meal Jackie just couldn't forget (and wouldn't let me forget it either). She had a "bee in her bonnet" again. Jackie's favorite meal is brunch. Brunch in the city is a popular ritual on the weekends, and it is very different from most brunches served in the suburbs. Most New York restaurants serve simple (yet overpriced in my opinion) egg dishes, but we enjoy them anyway and like to use this time to connect with friends.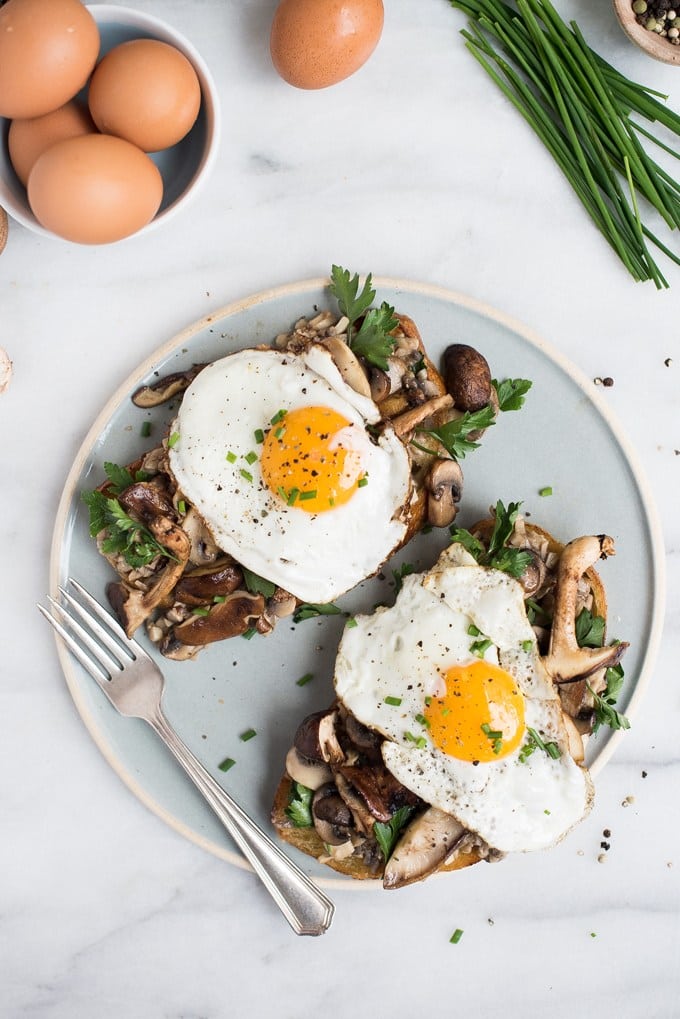 Jackie spent a weekend upstate with one of her girlfriends last fall, and for breakfast she served Jackie a mushroom toast. This was many months ago, but it has stuck in Jackie's head. Since that weekend, she has been ordering a variety of toasts every time we go out for brunch. Now I love to make my girl happy, especially by cooking for her, and she has been asking me to make mushroom toasts for quite some time now.
Yes, it took me a while, but I finally fulfilled my girl's wish, and I have to admit I am glad that I did. I am the type that likes a more hearty meal for brunch, one that includes potatoes. But the mushroom mixture is hearty and satisfying, and proved to be a healthy option. I am now glad that the infamous bee landed in Jackie's bonnet.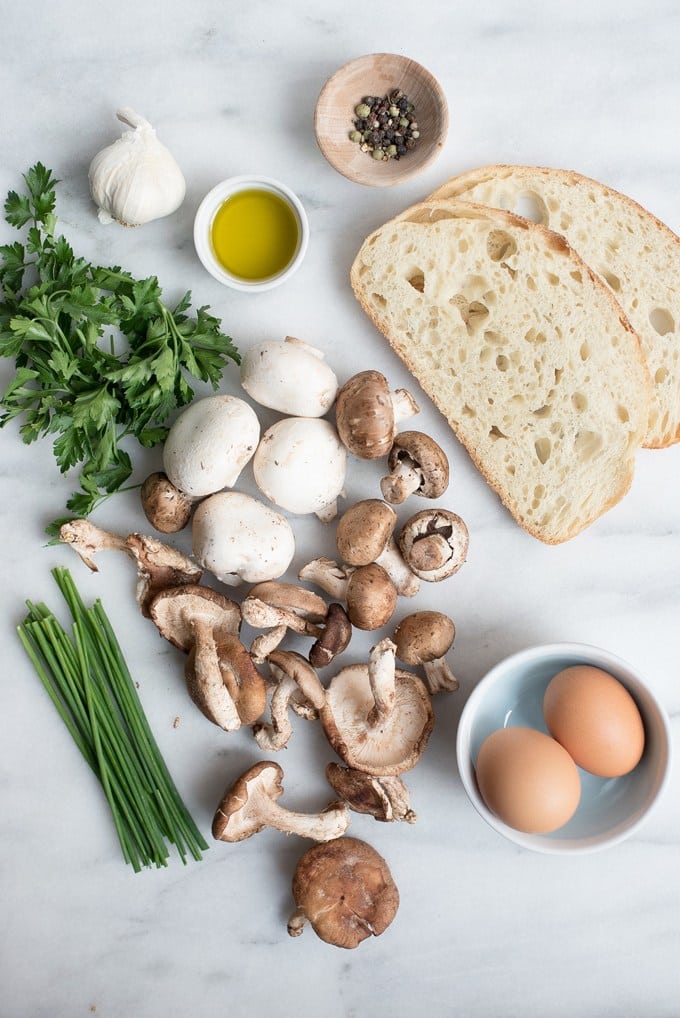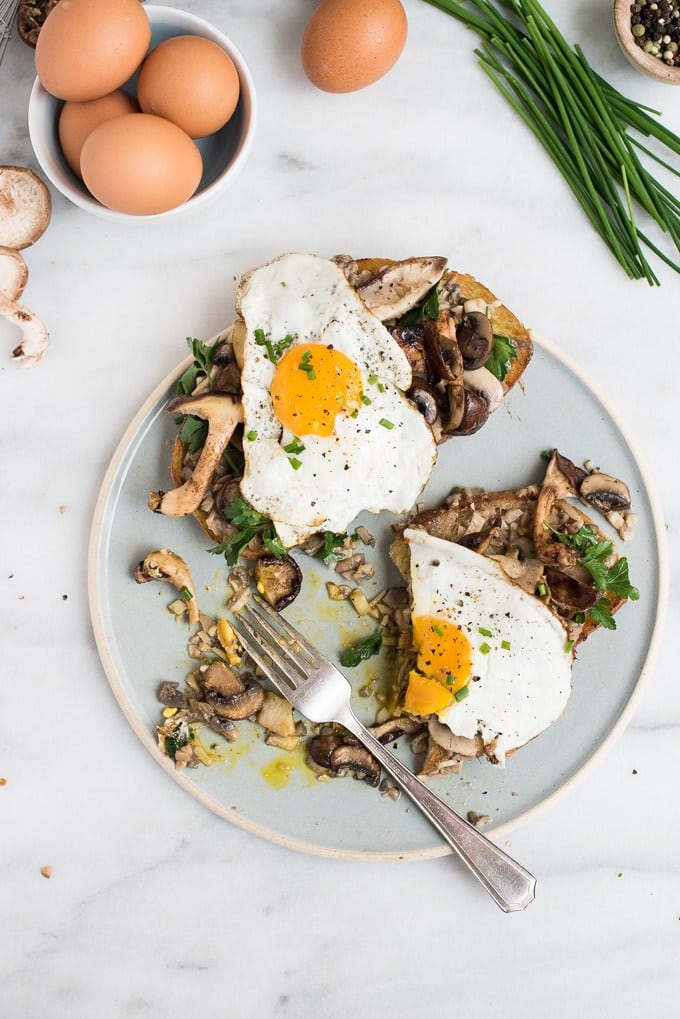 Check out some of our other favorite brunch recipes: Hearty Vegetable Frittata, Asparagus Egg Cups, Triple Chocolate Banana Pancakes
Print

Mushroom Toasts
---
Author:

Keith Jackie

Total Time:

25 minutes

Yield:

2

toasts

1

x
8 oz

white or mini crimini mushrooms

8 oz

variety mushrooms (we used shitaki, oyster, and portabello)

2 tbsp

olive oil

2

garlic clove

½

C white wine (can use chicken broth)

1 tsp

black pepper

1/4

C chopped parsley

1 tbsp

chopped chives

2

thick slices Italian bread

2

eggs
cooking spray
---
Instructions
In a large skillet, heat over medium high heat.
Spray bread slices with cooking spray and place in pan until bread is golden brown.
Remove bread and place olive oil in pan.
Using a food processor, chop the 8 ounces of white mushrooms to resemble a small coarse grind.
Place this in pan along with the garlic cloves and black pepper. Sauté over medium high heat until nicely brown, about 5 minutes.
Add white wine and cook for an additional minute. Remove from heat and add chopped parsley.
Place in bowl. Add rough chopped remaining mushrooms and cook for 2 minutes.
While the mushrooms are cooking, use a non stick pan sprayed with cooking spray and cook two eggs until whites are set.
To assemble toasts, place half of the white mushroom mixture on toast and top with the variety mushrooms, then top with egg.
Garnish with pepper and chopped chives.
Prep Time:

10 minutes

Cook Time:

15 minutes

Category:

Breakfast
Keith Jackie
We met on a warm summer evening. His square jaw and engaging smile reminded me a bit of Clark Kent. We share a passion for life: music, baseball, and especially food. He makes me feel like I can fly. Welcome to our exploration of food, recipes and ideas that celebrates our life together. He creates the recipes and prepares the food, and I am the documentarian. My superman can cook! Check out our site, Superman Cooks.