Experience the comforts of Murray's Cheese Bar, the legendary cheese shop's new flagship store offering all things cheese.
The rattles of the 7 train tremble as runners and pooches pass the limited outdoor dining tables set up along Murray's Cheese Bar. Greeted by Greg, store manager of Murray's flagship restaurant, he smiles through his mask, and boisterously says "Welcome!" I reply smiling through my mask, thanking him for hosting me to experience the full pleasures of cheese. The sun beaming on my back, Greg shares Murray's white graphic menu and immediately apologizes for the change in service due to the new rules of dining. "It's a weird time," we both say and I assure him I am completely fine sipping water, waiting for my guest to arrive.
Typically, I start with a drink to kill the time, this time I cannot because it's illegal to serve alcohol without a meal. One of the many rules for safe dining during the pandemic in New York State. I sit as the 7 train continues to rattle every 5 minutes. Sweat seeping down my back from New York's intense summer sun. A couple of minutes later, my guest arrives and our cheese-filled orders are set.
Murray's Cheese Bar.
Home to Murray's cheese aging caves, Murray's Cheese Bar LIC is the new restaurant's flagship location. It has a full-service bar and an adjacent cheese shop offering more than 400 specialty items. The menu curated by Chef de Cuisine Clare Malfitano highlights cheeses and fresh dairy alongside seasonal produce, meats, and ingredients from the shop.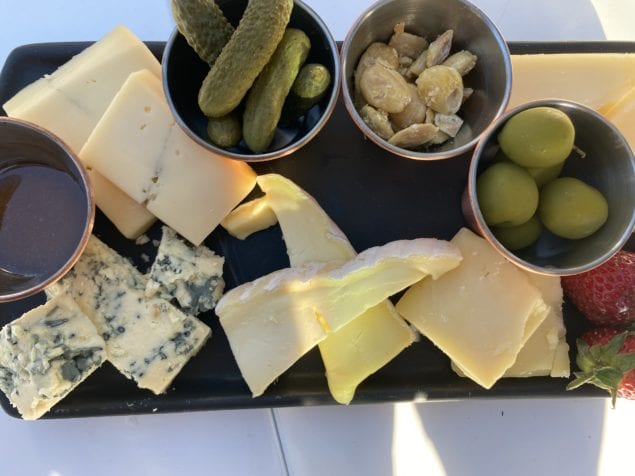 "I really appreciate the neighborhood feel here. There's something really special about seeing the same faces from around the neighborhood. Getting to form bonds with our guests. I also appreciate the feeling of walking from the kitchen through the shop. Providing a different perspective on our products and what I'm excited about. It's just as special to share those moments with guests as it is to share them with my peers", says Murray's Chef de Cuisine Clare Malfitano.
On the Menu.
Murray's Cheese Bar seasonally inspired menu features a bento box style cheese board, lunch, dinner and drinks (alcoholic and non-alcoholic). All curated by Chef de Cuisine Clare Malfitano. On the cheeseboard, you'll get a selection of slices like Wisconsin Young Cheddar, Stilton Blue Cheese from England, and a Washed Rind Cheese. From their rotating selection of pre-cut cheeses. The cheeses are paired with specialty items such as fruity pebble tasting almonds, pickled cucumbers, infused honey, and baguette slices.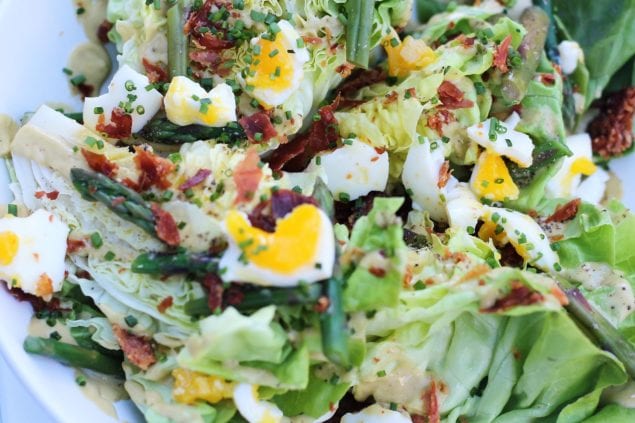 I am by no means a cheese connoisseur but based on my sweeter inclined taste buds. I suggest taking a dab of French Brie Washed Rind cheese. Smear it on the bread, drizzle the honey and top it either with a strawberry or the fruity pebble tasting almond. It is HEAVENLY. The cheese has a hint of pungency, intense buttery flavor, and tender rind linger. Either ask superb waiter Andrew to select a wine or drink to pair as I did. I chose a lighter red wine which didn't tip the balance of the heavenly tastes from the cheeseboard.
For my main meal, I chose the Summer Cobb Salad from the lunch selection. The pungent crumble of Bayley Hazen Blue Cheese was the star of this creamy bib lettuce cob salad. With a fudge-like texture and toasted-nut sweetness, the blue cheese perfectly complemented the fresh bites of crisp lettuce and earthy asparagus. Then soft chews of boiled egg followed by crisp salty bacon bits delight the buds. All drizzled by a house-made creamy avocado vinaigrette. Licking the fork to prepare for the next morsel, I no longer heard the 7 train rattles.
On the other hand, my guest ordered the creamy risotto from the dinner selection. A dish pleasantly intensified by Murray's Cavemaster Reserve La Mancha. Described by Murray's as a cheese that boasts a slightly less nutty profile with an herbal sweetness and light buttery essence. As I mentioned I am not a cheese expert. But like the salad's blue cheese, the profile of this cheese complimented the risotto beautifully. The summer-inspired risotto also featured charred corn kernels and roasted tomato. The roasted tomato added a bit of tanginess whereas the corn added a sweet smoky summer flavor.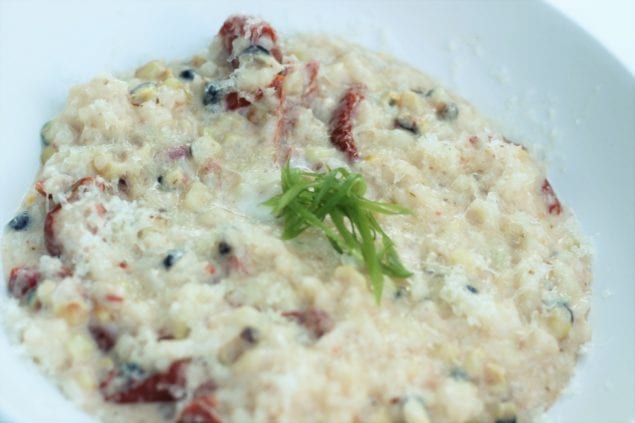 Enchanted by Murray's Cheese Bar's offerings the effects of the train and effects of nature soon became a blur. Temporarily forgetting we're in a pandemic. The comforting powers of cheese and great service from Murray's Cheese Bar left both my guest and me in a daze. As the sun's rays dimmed, we toasted our cheesy experience with another slice of French Cheese dipped in sunflower infused honey.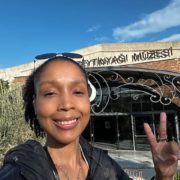 Alyssa Holder
Alyssa Holder is a writer specializing in food and travel topics since 2015.