Luscious and elegant, these cupcakes have quickly become Tamara Novacoviç's favorites.
By Tamara Novacoviç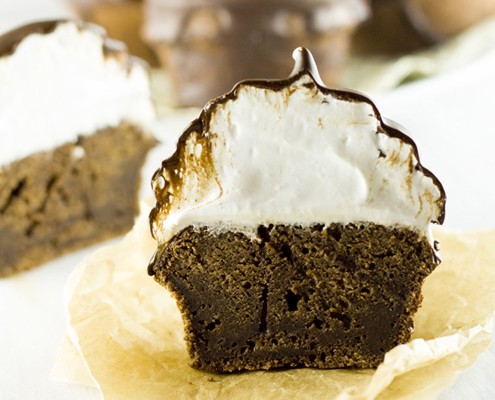 These are some of the best cupcakes I have tried. My cupcake-baking "career" is not that eventful and long, but that still doesn't change the fact that these are one of my favorites so far. I will most definitely be baking them again, for parties and celebrations.
Are you familiar with munchmallow cakes, the ones you buy at your local stores? I was always a fan of those. But now they're nothing compared to these. Even if you don't like munchmallow, I guarantee you will like these cupcakes. The secret is in their frosting and the process of its preparation, which may seem complicated, when in reality it's a pretty simple thing. Don't be alarmed by the long recipe, it's just me explaining everything to the tiniest detail, making sure you get the perfect cupcake. The frosting is so delicate and in contrast with cocoa cupcake batter. Add chocolate coating (please use high quality chocolate for this) and you get pure heaven. If you don't like and have never liked munchmallows, I am again positive you will like these cupcakes. Forget about that artificial store bought meringue, this is the real deal.
The recipe is adapted from Martha Stewart.
See Also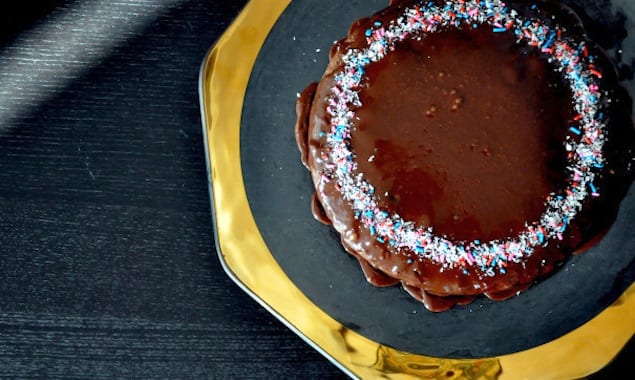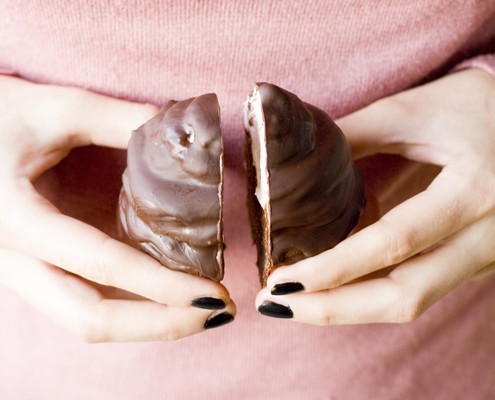 Print
Munchmallow Cupcakes
These cupcakes are a real treat: they look luscious and elegant.
Author:

Tamara Novacovic

Prep Time:

30 mins

Cook Time:

2 hours

Total Time:

2 hours 30 minutes
Cupcake batter
1 1/2 cups

(

113 g

) unsalted butter, room temperature, plus a bit more for pans

3/4 cup

(

80 g

) cocoa powder, plus a bit more for pans

3/4 cup

(

180

ml) hot water

3/4 cup

(

180 g

) sour cream

1 7/8 cups

(

200 g

) all purpose flour, sifted

1 tsp

baking soda

1/2 tsp

salt

1 tsp

vanilla extract

4

eggs

1 1/8 cup

sugar
Munchmallow frosting
3

egg whites

1/2 tsp

cream of tartar (if you don't have cream of tartar, use

1/2 tsp

salt)

1 tbsp

vanilla extract

1/4 cup

(

60

ml) water

1 1/4 cup

(

280 g

) sugar
For the chocolate coating
10.5 oz

(

300 g

) dark high quality chocolate

4 tbsp

sunflower oil
Instructions
Make the cupcake batter first:
Preheat oven to 350 degrees. Butter muffin pans and dust with cocoa powder.
Whisk cocoa with hot water until smooth. Whisk in sour cream; let cool. Into a medium bowl, sift together flour, baking soda, and salt; set aside.
In the bowl of an electric mixer, beat butter and sugar until light and fluffy, 3 to 4 minutes. Add eggs, one at a time, beating to combine after each; scrape down sides of bowl as needed. Beat in vanilla. With mixer on low speed, add flour mixture in two parts, alternating with the cocoa mixture and beginning and ending with the flour; beat until combined.
Divide batter between cupcake tins; smooth with spatula. Bake for 18 to 20 minutes. Let cool completely. If they rise during baking, trim the top to get an even, flat top.
Prepare the munchmallow frosting:
In a large heatproof bowl, combine sugar, water, egg whites, and cream of tartar (or salt). Using a whisker, beat just to combine the ingredients. Set bowl over a pan of barely simmering water. Beat whit whisker for 5 minutes. Remove from heat and continue beating, but this time using an electric mixer, for 10 minutes. In the end, stir in vanilla extract,and beat for 2 minutes more.
Transfer frosting to a large pastry bag fitted with a 1/2-inch plain pastry tip. Pipe a spiral of frosting into a 2-inch-high cone shape, using about 1/2 cup of frosting per cupcake. Refrigerate cupcakes for 1 hour.
Prepare the chocolate coating:
Combine chocolate and oil in a medium heat-proof bowl set over a medium saucepan of barely simmering water; stir until melted and smooth. Transfer to a small bowl, and let cool about 15 minutes.
Holding each cupcake by its bottom, dip cupcake in the chocolate to coat frosting, allowing excess to drip off. Transfer to a baking sheet fitted with a wire rack. Spoon more coating around edge of cupcake and any exposed frosting; none of the frosting should show.
Make sure the chocolate is neither too hot nor cold: if it's too hot, it will melt the frosting. If it's too cold, it will be too thick and heavy and the frosting will fall off the cupcake when dipped into it.
Another alternative is to grab chocolate coating with spoon and pour it over the frosting. This is slightly messier, but it's what I did. This way you don't have to be too careful about the chocolate temperature.
Refrigerate cupcakes for 30 minutes to let coating set. Serve cold.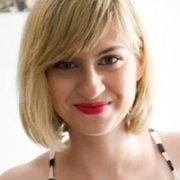 Tamara Novakoviç
Tamara Novakovic is a passionate self-taught cook, food blogger, freelance food writer and photographer behind bite-my-cake.blogspot.com. Her life journey has led her through Faculty of Humanities in Zagreb, Croatia to discovering passion for making cakes. She is currently a weekly food columnist for Croatian newspaper V magazine and food magazine Repete.