How can you go wrong with a combination of caramelized onions, rice and lentils? The truth is, you can't.
By Mehan Dossani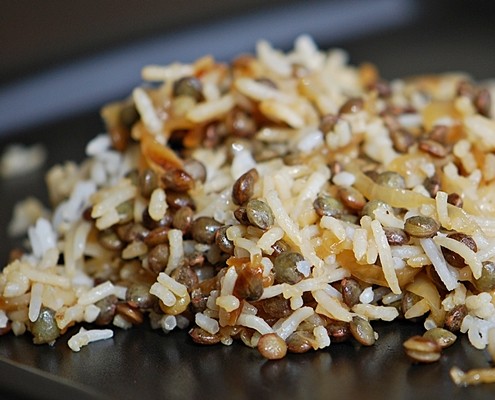 Caramelized onions make things better.  More special.  Sweet, and with a knowing addition that the flavors were slowly coaxed out.  I often find myself craving lentils, of any kind, and this dish has quickly become a favorite of mine.  I was inspired some time ago from the site, Not Derby Pie, and had to make it my own.  It's vegetarian and hearty and healthy and just all around satisfying, comfort food.  You cook up some rice and infuse some flavors, you boil some lentils and infuse some flavors, and you caramelize some onions, toss all three together, and then mix up some spiced yogurt to pair it with.
Mujaddara, serves 4
2 large onions, thinly sliced
1 cup basmati rice, rinsed, and soaking in water
3/4 cup (7,5dl) French lentils, rinsed and drained
Aromatics: bay leaf, peppercorns, cloves, cinnamon stick, green chili
1. Place lentils in a pot and cover with water (about 5 cups (1,25dl)). Salt generously and toss in a bay leaf, a few black peppercorns, two cloves and a sliced chili (seeds removed). Bring to a simmer and cook lentils about 25-30 minutes, until tender. Drain and set aside.
2. Cook rice how you wish, in a rice cooker, or in a pot with 1 and 1/2 cups water, add in some aromatics such as clove, peppercorns and cinnamon stick. Bring to a simmer, cover, turn stove to low for 15minutes and then turn off and leave covered for 10 more.
3. Caramelize onions by heating some butter and olive oil in a large pan, stir in onions, salt and pepper.  Let onions soften on medium for about 25 minutes.  Add more oil or water to moisten the onions and when they are light brown, increase heat to brown them.
4. In a medium serving bowl, toss together rice, onions and lentils.  You can serve this with some Greek yogurt mixed with fresh mint and lemon juice.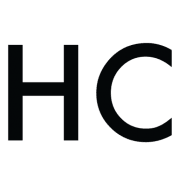 Mehan Dossani
Mehan Dossani is the creator of the food blog Mehan's Kitchen, where she writes about her passion for spending time in the kitchen, cooking and entertaining for those she loves. She is also constantly learning as much as she can from her favorite home cook, her mother.