A semolina bread is stacked with buffalo mozzarella cheese, crisp radicchio, olive oil, and red onion from Tropea to make a delicious panino with the flavors of southern Italy.
By Veronica Lavenia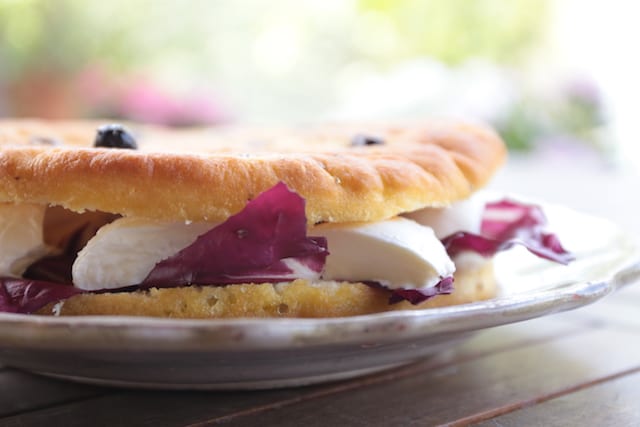 G. Giustolisi
Here is a panino that is full of the aromas and flavors of southern Italy. The focaccia from Altamura PDO, Apulia region, is made only from the best durum wheat semolina (available, as all the other ingredients, in the Italian specialty food shops and best supermarkets).
Enjoy it just warmed in the oven, enriched with buffalo mozzarella cheese, crisp radicchio, extra virgin olive oil and red onion from Tropea. This onion, famous for the sweet taste and for its digestibility ("it does not cry"), takes its name from the charming town of Calabria (southern Italy) overlooking a clear blue sea.

Mozzarella, Radicchio and Tropea Red Onion Panino
Semolina bread is stacked with buffalo mozzarella, crisp radicchio, olive oil, and red onion from Tropea to make a panino with flavors of southern Italy.
Recipe Type:
Main, Sandwich
Ingredients
1 red onion (if possible, red onion from Tropea available in Italian food shops)
10 radicchio leaves (red chicory)
400 g (14 oz) buffalo mozzarella cheese
Extra virgin olive oil to taste sea salt and pepper to taste
2 Italian focaccia
Instructions
Clean and slice red onion, leaving it to soak in water for 30 minutes.
Wash and cut radicchio, dry the excess water and set aside. Slice the buffalo mozzarella. Season the vegetables with olive oil, salt and pepper.
Cut each focaccia into two and heat in the oven at 180°C (350°F/Gas 4) for 5–10 minutes. Once baked, stuff focaccia with mozzarella and vegetables.
Serve hot.