Mole poblano and chili are a match made in heaven. Dried chiles, earthy spices, and roasted tomatoes add depth, while fresh chiles, cider vinegar, and butternut squash create balance. But the secret ingredient? Smoked Porter.
By Heather Lewis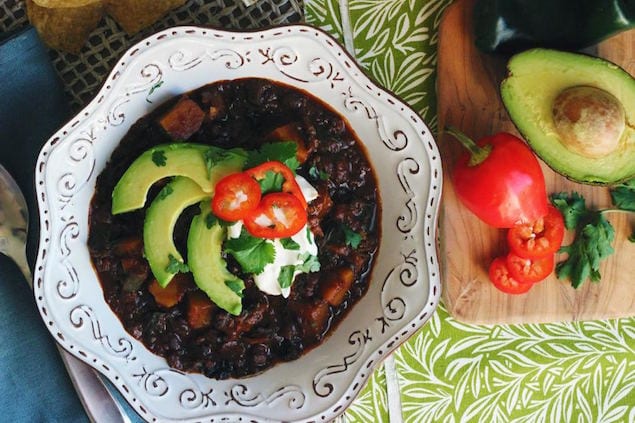 I would be doing Oaxaca an injustice if I didn't mention about how amazing the food is there. When we visited, it didn't matter if we were at a small restaurant without electricity outside of the city or at a high-end restaurant serving elevated classics in the downtown area. I did not have a single bad meal in Oaxaca. Even the crickets were delicious. But the most memorable eats were from the markets. The 20 de Noviembre market was a maze of stalls made up of vibrant colors, lively people, fresh produce, every type of meat imaginable, teetering stacks of chiles, and baskets filled beyond the brim with mole.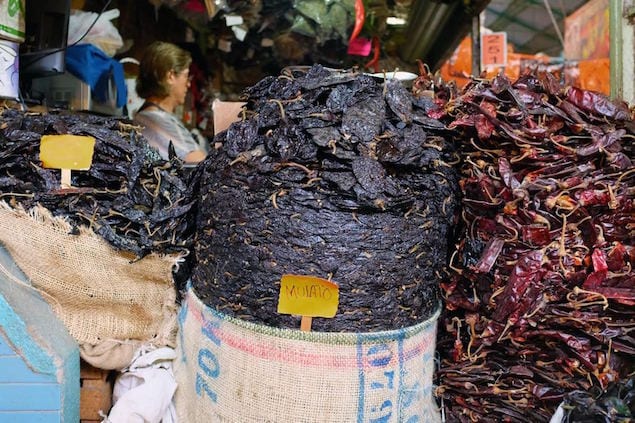 Oaxaca is is known as the land of seven moles and, at last count, I tried four in Oaxaca and another six or seven in Mexico City and Puebla. Each was extraordinarily flavorful and unique. The two that stood out the most were Pipian Verde, a vibrant green mole made with pumpkin seeds and fresh chiles, and Mole Poblano, a rich and complex mole made with dried chiles and chocolate. So of course those were the two I had to try my hand at soon after returning home.
Pipian Verde is incredibly easy to make and pairs exceptionally well with chicken and salmon; my own recipe for it can be found here. Mole Poblano, on the other hand, is made from more than 30 ingredients and requires almost an entire day to prepare. Yikes. So when I started to write a recipe for mole poblano, I brainstormed ways to abbreviate the list of ingredients without compromising the complexity. The result? A mole poblano style chili with butternut squash.
Mole Poblano and Chili are a match made in heaven. Dried chiles, earthy spices, and roasted tomatoes add depth, while fresh chiles, cider vinegar, and butternut squash create balance. But the secret ingredient? Smoked Porter. There are no open flames or comals in my kitchen, which means finding other ways to incorporate the dry roasted and smokey flavors they would provide. A dark, smoked beer is the perfect solution as the malts used in the grain bill emulate those flavors.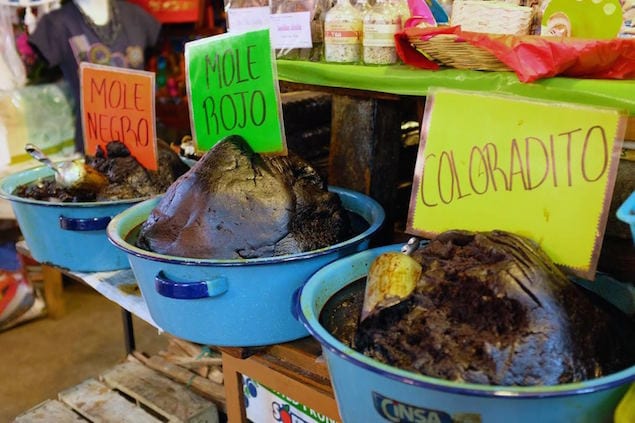 Mole Poblano Chili made with Smoked Porter
Mole poblano and chili are a perfect match. Spices and tomatoes add depth, while vinegar and squash create balance. The secret ingredient? Smoked Porter
Ingredients
2 ancho chile peppers*
2 pasilla chile peppers*
2 guajillo chile peppers*
1 green bell pepper, stem and seeds removed, chopped
1 poblano pepper, stem and seeds removed, chopped
1 red onion, chopped
4 garlic cloves, finely chopped
3 tablespoons vegetable oil or lard
1 tablespoon ground cumin
1 teaspoon New Mexico ground chile powder
or other non-spicy ground red chile powder
½ teaspoon cinnamon
1 teaspoon dried oregano
1½ pounds ground beef (85/15 or 80/20)
or ground turkey or cooked/smoked shredded turkey
12 ounces robust or smoked porter
1 (28-ounce) can crushed fire roasted tomatoes
1 (8-ounce) can tomato sauce
⅔ cup stock (vegetable or chicken)
2 ounces semi-sweet chocolate
2 tablespoons apple cider vinegar
1 to 2 chipotles from a can of chipotles in adobo, stem and seeds removed, finely chopped
3 tablespoons adobo sauce from the can of chipotles in adobo
3 cups butternut squash, cubed
1 (15-ounce) can black beans, drained and rinsed
kosher salt
black pepper, freshly ground
Garnish:
sour cream
freshly chopped cilantro
cotija
sliced avocado
toasted sesame seeds
Accompaniments:
Instructions
Remove stem and shake out seeds of dried chiles. Tear chiles into large pieces and place in a non-reactive bowl; cover with boiling water and soak for 20 minutes. Transfer chiles to a food processor or blender with ½ cup soaking liquid, adding more if needed; puree until smooth.
Add oil to a large pot over medium heat. Once hot, add bell pepper, poblano, onion, garlic, and 1 teaspoon salt; cook, stirring occasionally, until onion is soft and garlic is fragrant. Add ground beef and cook until no longer pink; carefully pour off any excess oil. Add ground spices and cook, stirring regularly, an additional 2 minutes.
Pour in the beer; stir and scrape up any brown bits from the bottom of the pan. Simmer for 5 minutes then stir in tomatoes, tomato sauce, stock, chocolate, cider vinegar, chipotles, adobo sauce, and butternut squash. Bring chili to a boil; once boiling, cover and reduce heat to low. Simmer, stirring occasionally, for 1 hour. Add black beans during the last 10 minutes of cooking. Season to taste with salt and pepper.
Serve in a large bowl and pile on those toppings.
Notes
*All three are dried varieties; if one is not available, substitute with one each of the other two.

For a thicker chili, whisk together 1 tablespoon corn starch and 1 tablespoon water in a small bowl to make a slurry; stir into chili and cook over medium heat, stirring regularly, for 2 minutes. Another option is to add 2 to 3 tablespoons of cornmeal directly to chili; simmer, stirring occasionally, for 5 minutes.
This chili will only get better the longer it simmers, up to 4 hours. If you do opt to let the chili simmer longer, which I highly recommend, hold off on adding the butternut squash until the final hour of cooking. And don't forget, chili tastes even better the second day.
Mexico Photos by Andrew Johnson.

#mc_embed_signup{background:#fff; border: 3px double black; clear:left; font:14px Georgia,serif;  width:635px;}
/* Add your own MailChimp form style overrides in your site stylesheet or in this style block.
  We recommend moving this block and the preceding CSS link to the HEAD of your HTML file. */