Upgrade a basic side salad of green beans with warm, lemony butter and bright mint leaves.
By Jessica Dang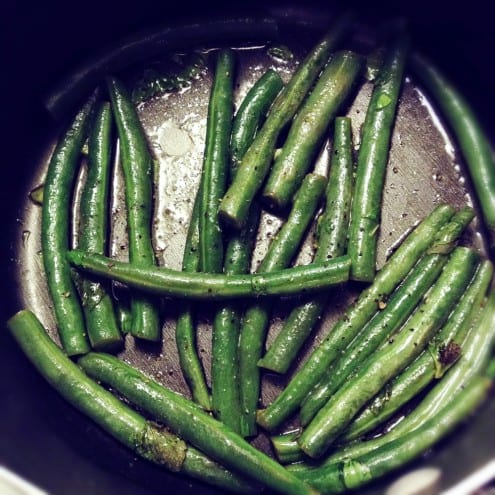 Minty Green Beans in Lemon Butter
Upgrade a basic side salad of green beans with warm, lemony butter and bright mint leaves.
Ingredients
1 package of green beans, cleaned
Extra virgin olive oil
Sea salt
Black pepper
¼ of a fresh lemon
Very good butter
A handful of fresh mint leaves
Instructions
In a small pot, cook the green beans in salted boiling water, with a bit of olive oil, for about 5 minutes or until tender but still bright green. Drain.
Add a knob of butter to the pan and turn the heat on medium. Squeeze the lemon juice into the pan. Swirl it around and stir with a spoon until melted.
Throw the green beans back in and saute for about 8 minutes or so. Turn off the heat, coarsely tear the fresh mint leaves into the pan, season with salt and pepper. Shake everything around in the pan so that the residual heat infuses all of the flavors.