Despite the fact that Barrio Chino (Chinatown) takes up only two small blocks in Buenos Aires' Belgrano neighborhood, it still remains a favorite food destination.
By Allie Lazar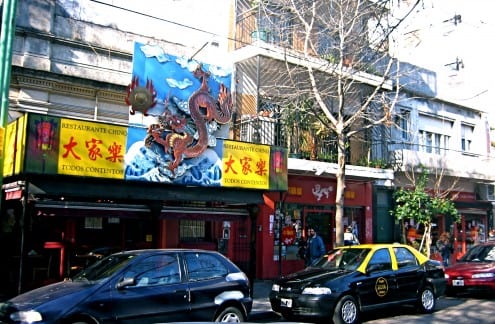 Despite the fact that Barrio Chino (Chinatown) takes up only two small blocks in Buenos Aires' Belgrano neighborhood, it still remains a favorite food destination. In a conservative culinary city that certainly lacks a variety of ethnic flavors, food lovers flock to Barrio Chino for an orgy of exotic ingredients. From tofu to tamarind, okra to MSG, this is the go-to spot to find all your delectable (and not so delectable) goodies. My version of Argentine Disney World, I embarked on a wondrous China Town food hop of gastronomical proportions, to find out the best this neighborhood has to offer.
The Restaurants
Hong Kong Style – Montañeses 2149
Not only is Hong Kong Style one of the best Chinese restaurants in the neighborhood, it makes the cut for top 5 in the whole city. In a town where dim sum is virtually nonexistent, HKS offers the small plates of heavenly bites, while also making a mean Kung Pao chicken and shrimp fried noodles. Warning: don't go too hungry because the kitchen can be quite slow.
Asia Oriental Food Counter – Mendoza 1661 
A simple, affordable, no frills food counter in the middle of a busy Asian supermarket? Sounds like an ideal spot for a Chinese meal to me! There are no menus, just a list of items clearly displayed above the counter in Spanish and Chinese. Everything is fresh and made-to-order, like sesame peanut noodles, dumpling soup or stir fried vegetables. Hop on a stool and do your best to speak up loudly to get the cashier's attention, and hope he understood your order correctly.
Lotus Neo Thai – Arribeños 2265
For a more upscale Barrio Chino dining option, Lotus Neo Thai combines an intimate, romantic atmosphere with bold, spicy Thai flavors. Even though it's far from authentic Thai food, this trendy take makes mean curries, noodle dishes and delicious cocktails. A big plus: for the ultimate hidden summer gem, their beach getaway themed rooftop proves to be a perfect spot for a hot date night.
BBQ Town – Juramento 1656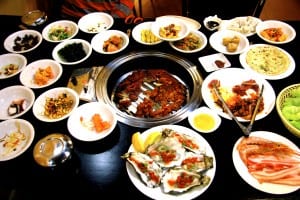 Barrio Chino's only Korean restaurant, BBQ Town brings affordable and spicy barbecue to the 'hood. Stuff face with a fantastic spread of endless Korean side dish delights like kimchi, oysters, boiled peanuts and lettuce wraps, all while cooking your own marinated meat at the table.
The Grocery Stores
Asia Oriental – Mendoza 1661
Upon entering, your nose may get assaulted by the pungent fish stench, but the quantity of imported products, exotic vegetables and fresh fish makes the stank quickly dissipate. The largest supermarket in China Town, it's the place to stock up on Asian bottled sauces, pork butchery galore, industrial sized packs of rice and noodles and fresh seafood.
Almacén Defu – 2212 Arribeños
BA might be a beef-loving country, but at least there is one small shop solely dedicated to products of the soy variety. Think soy milk, soy yogurt and different types of tofu.
 Casa China – Arribeños 2173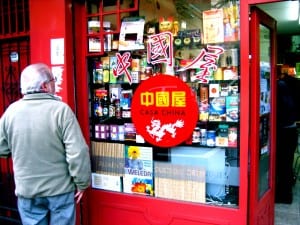 Casa China is the go-to place to get beans, grains, flours, baking goods, dried fruits, nuts, teas, imported snacks and a gluten free section.  Unlike other supermarkets in the area, this grocery store doesn't carry meat or fish but does have small produce and dairy sections and huge bins filled with dried grains and beans.
Ichiban and Sogo – Arribeños 2233 and 2257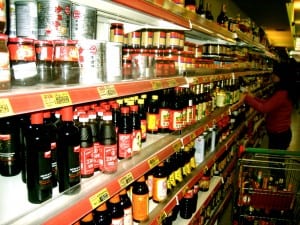 These two sister grocery stores with a very similar layout carry almost identical products at virtually the same price.  Aisles of mystery bottles labeled in Chinese, Japanese and Korean characters, imported Mexican & North American goods and some of the freshest fish and seafood in the city make these two supermercados winning spots. They've also been known to carry okra, edamame and red tuna – all rare commodities in the Buenos Aires food world.
The Street Food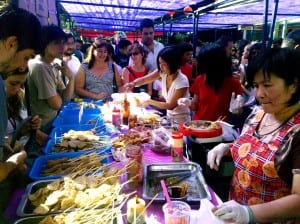 Barrio Chino in Buenos Aires may not have a prosperous street food culture like Chinatown in other cities, but the fried gods are increasing in popularity with more of the greasy goodness opening up shop. Small carts outside grocery stores and tiny kiosk sized stalls are popping up to sell crowd favorites like spring rolls, Chinese chorizos, pork buns, bubble tea with tapioca pearls and the scrumptious Melona fruit flavored popsicles.  Spending the Chinese New Year in BA? You guessed it, Barrio Chino is the place to celebrate with crowds congregating on the small two block radius for a massive street food fest.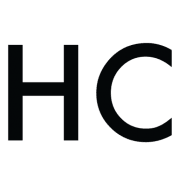 Allie Lazar
Allie Lazar is a freelance eater based out of Buenos Aires, Argentina. An ex-vegetarian born and raised in Chicago, she managed to channel her unhealthy obsession for all things culinary into something a bit more socially acceptable: writing about food and wine. She's always hungry.