Faith Gorsky introduces us to her own column here on Honest Cooking, called Middle Eastern Magic.
By Faith Gorsky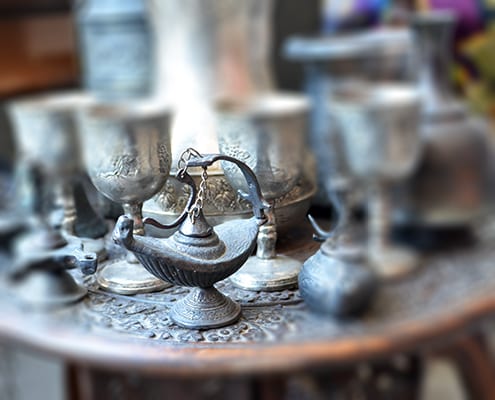 When you think of the Middle East, there's probably a rush of images that come to mind…
Richly spiced air wafting through ancient markets. A caravan in a pristine dessert. Oil lamps that look old and worn enough to house a genie. Steaming hot falafel, freshly baked flatbread. Exotic treats that drip with sugary syrup, scented of rose and orange blossom water. The ubiquitous date, a sweetly perfect treat in its own right without any adornment.
The Middle East conjures up all kinds of magic like that.
I'm thrilled to have the opportunity to contribute to my own column here on Honest Cooking, called Middle Eastern Magic. Why Middle Eastern? Although I was born and raised in New York (upstate, not the city), I had the chance to spend a significant amount of time in the Middle East after marrying into a Middle Eastern family. The longer I stayed there and each time I subsequently returned, I fell deeper in love with both the culture and cuisine. I was nothing short of captivated.
I learned how to cook – both Middle Eastern food and many general cooking techniques, such as frying the perfect egg or whipping up the perfect batch of mayonnaise – from my Syrian mother-in-law. In my mind, her kitchen will forever be buzzing with excitement; scented of rosewater and baharat (mixed spices), decorated with jars of homemade pickles and brightly colored stacks of qamar al deen (apricot leather), and always something soaking in the sink, whether it's rice, chickpeas, or apples for a quick washing. In my heart, her kitchen will always feel like home.
I'll be sharing my Middle Eastern recipes here, both classic dishes, as well as recipes that showcase fresh new twists on Middle Eastern flavors. And because culture is so closely related to cuisine, I'll probably also share a bit of culture as it pertains to food. Like my blog An Edible Mosaic, I'm hoping my column here will be quite an eclectic mosaic that tantalizes and inspires.
Faith Gorsky
Faith Gorsky is the writer, recipe developer, photographer, and food stylist behind the blog An Edible Mosaic. Her recently-released first cookbook, An Edible Mosaic: Middle Eastern Fare with Extraordinary Flair (Tuttle Publishing), is a collection of authentic Middle Eastern recipes handed down to her from her husband's family during her extensive time spent in the Middle East. Faith loves to travel, especially to places steeped in rich culture and history.