PARTNER POST – Be inspired to create beautiful cheese boards with Castello cheese. And what goes better with cheese than wine? Enter to win a trip for two to Napa, California.
Celebrate the abundance of spring produce with a beautiful cheese board featuring candied Meyer lemons and pickled ramps.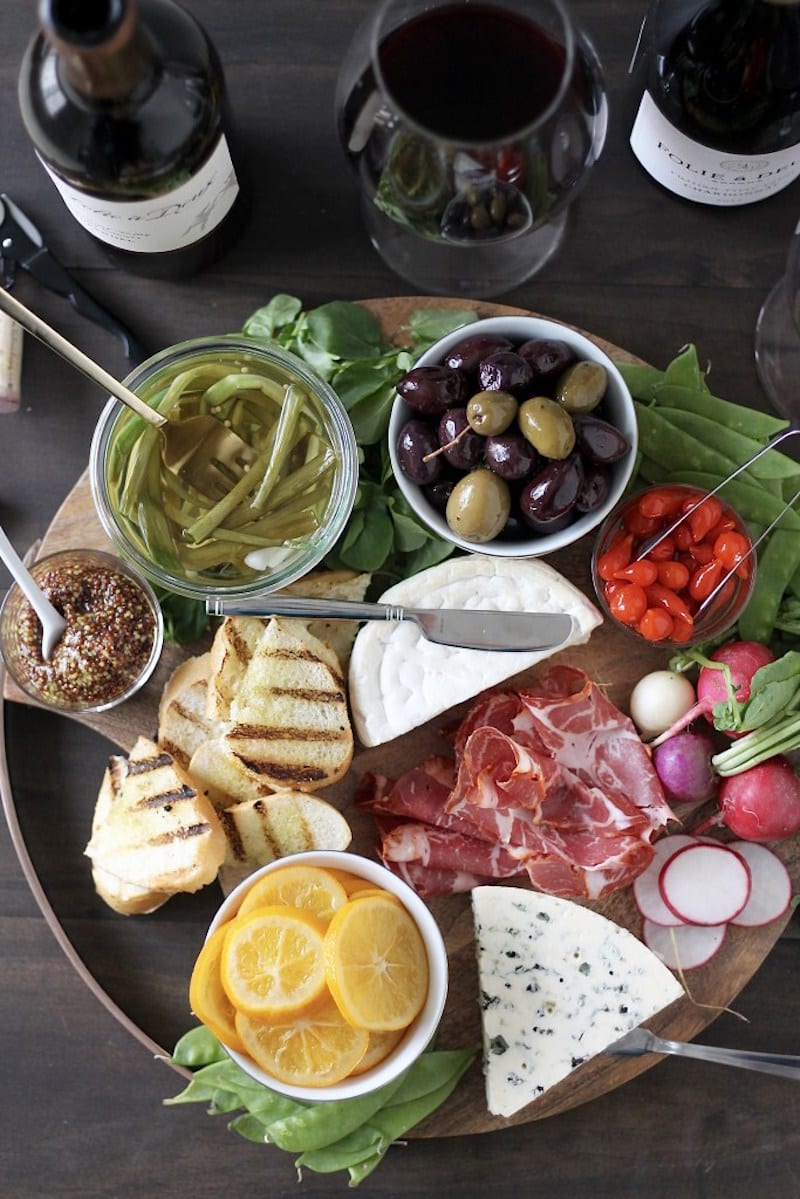 With the end of March coming to a close, spring has officially made its entrance. I love this time of year because of the abundance of vegetables and fruits, and what better way to eat all that fresh produce than by making a spring cheese board.
This cheese board features all of the best parts of spring: creamy and tangy cheese, pickled vegetables, candied meyer lemons (you must make these!), and grilled bread to scoop everything up with. I have two simple and quick recipes for the pickled ramps/green onions and candied meyer lemons which go perfectly with the cheese. While candied lemons may seem like an odd choice, I always love to include something sweet on my cheese board, and because I just can't get enough of them right now, they turned out to be the best accompaniment. I chose two different kinds from one of my go-to cheese brands, Castello to feature on this board. I used a creamy Danish blue and a double creme white because I thought they paired best with my accoutrements, but Castello has a huge variety of crafted cheeses so pick whichever looks best to you – they're all delicious!
And, if you're going to make an epic cheese board, then you must include a good wine. I used a Zinfandel and Chardonnay from Folie a Deux which paired perfectly with the cheeses.
If you need a fun appetizer (or let's be honest, dinner) this spring, then a cheese board featuring the best parts of the season is your answer.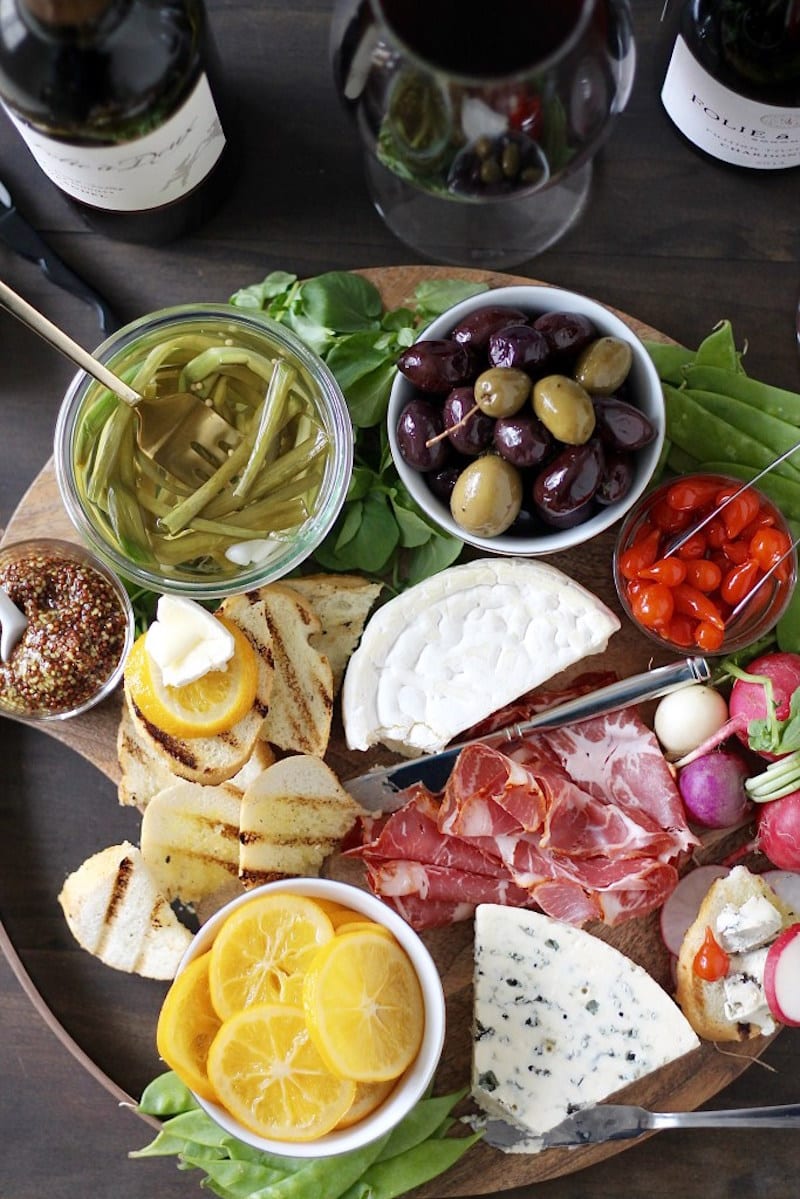 See Also
Finally, and one of the parts I'm most excited about, if you want a chance to win a trip to Napa filled with wine and cheese, head over to Castello now to enter!
For another cheese board addition, try this spicy carrot chutney:
Print
Meyer Lemon and Pickled Ramp Spring Cheese Board
Celebrate the abundance of spring produce with a beautiful cheese board featuring candied Meyer lemons and pickled ramps.
Author:

Taylor McBride

Category:

Appetizer
For the cheese board:
Cheese:
Castello Extra Creamy Danish Blue
Castello Double Creme White
Grilled bread
Capicola ham
Candied meyer lemons (recipe below)
Sliced radishes
Spring peas
Small peppers
Mustard
Pickled ramps/ green onions (recipe below)
Watercress
For the candied meyer lemons:
3

meyer lemons

1 cup

sugar

1 cup

water
For the pickled ramps/green onions
1

lb ramps or green onions (cleaned and trimmed)

1 cup

water

1 cup

white wine vinegar

8

peppercorns

1

bay leaf

1

–

2

Tbsp sugar

1/4 tsp

mustard seeds
Pinch of salt
Instructions
For the candied meyer lemons, sliced the lemons, with the rind on and set aside. In a medium saucepan, combine the water and sugar and bring to a boil. Stir until the sugar dissolves. Add the lemon slices and reduce to a simmer. Let the lemons gently simmer for 20-25 minutes. Then, let the lemons cool completely in the syrup. Remove them from the syrup after cooled and place on a wire rack to dry and let excess syrup drip off. Store in an airtight container in the fridge.
For the pickled ramps, bring a large pot of salted water to a boil. Place the ramps in and cook for 2-3 minutes. Drain and place the ramps into a glass jar with a seal. For the brine, mix together the water, vinegar, peppercorns, bay leaf, sugar, mustard seeds, and salt in a saucepan and bring to a boil. Once the sugar has dissolved, remove from the heat and pour over the ramps in the glass jar. Seal and let come to room temperature, then place in the fridge and let sit for 2-3 days to develop the flavor.
Taylor McBride
Taylor is a self-taught cook currently living in Charlotte, NC. Having grown up around a family of great cooks, Taylor has always had a passion for food, wine, and cocktails. She is a Mexican and Southern food enthusiast and has never met an avocado she hasn't liked. You can find her on her blog, Perpetually Hungry.